In my last article I examined and provided data about some popular equity Defensive ETFs Performance in a Market Correction. I now want to examine how some of the other asset classes held up in that 19% market correction of 2011. We previously discussed some popular "defensive" type equity sectors and their associated ETFs performance for that correction. In this examination let's see how some mostly Non Equity asset class ETFs behaved. This time around I examine some popular ETFs that follow indexes that track U.S. Bonds, International Bonds, gold, REITs, and Mid-Term VIX futures.
As most of us know, these different asset classes, especially bonds, can also exhibit "defensive" market behavior. I'd like to point out a possible exception: most components of the REIT sector, which are typically cyclical and discretionary in nature. REITS, because of their construction, could also be classified as sort of a hybrid between bonds and equity companies. Nevertheless, they are included here because they are a different asset class.
I would again like to define the dates for the correction to form a baseline for the performance comparison. The S&P 500 market peaked on April 29, 2011 at about 1364 on the S&P. The market grinded down all summer with a few counter rallies but ultimately succumbed to worries with our debt ratings downgrade and the Eurozone crisis, bottoming out at about 1099 on October 3rd.
ETF Selection:
Many of you are probably wondering about why I added a VIX component to the mix. The availability of VIX related ETNs and related exchange traded products to the masses have all but morphed themselves into having the VIX emerge as another asset class. I strongly encourage anyone interested in these products to read fellow SA contributor Bill Luby's excellent articles on the details, risks and complexities of these funds.
The VIX fund used for this article's examination is the relatively mild iPath S&P 500 VIX Mid-Term ETN, (NYSEARCA:VXZ). This product is a tad tamer for VIX related products and is more suitable for an intermediate trading time frame for conservative, but active investors. The U.S. Bond ETFs included for this study are the venerable iShares Barclays Aggregate Bond ETF (NYSEARCA:AGG) which is a proxy for the entire U.S. bond market. The others include the iShares Barclays 7-10 Year Treasury Bond ETF (NYSEARCA:IEF). This ETF is a proxy for the popular benchmark 7-10 year Treasuries.
Finally, to round out US bonds we include the proxy for the long dated Treasuries, the iShares 20+ Year Treasury Bond ETF, (NYSEARCA:TLT). International Treasury Bonds (Ex-U.S.) are represented by the SPDR Barclays International Treasury Bond (NYSEARCA:BWX). Gold, which has long been used for a safe haven with limited correlation to equity markets, is represented by the SPDR Gold Trust ETF (NYSEARCA:GLD). Lastly, we include a Real Estate ETF to see how that asset class behaved in that correction; the iShares Dow Jones US Real Estate ETF, IYR.
For a quick visual of these asset classes during 2011's market correction let's examine the graphical image. (Source: Yahoo Finance)
click to enlarge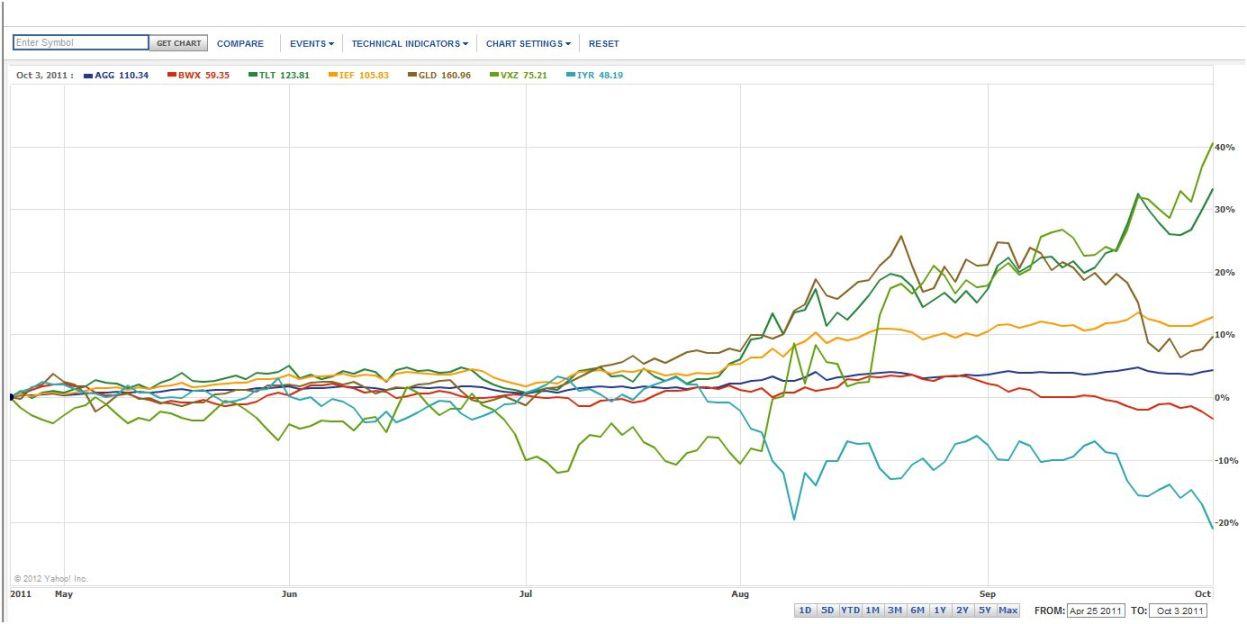 Click to enlarge
Also, here is the performance data from the time period for these non-equity asset classes during the 2011 market correction with maximum drawdown and individual volatility for the timeframe:
| | | | |
| --- | --- | --- | --- |
| Ticker | Total Return 2011 Correction (April 29 Market Peak to Trough October 3) | Max. Drawdown | Volatility |
| AGG | 5.3% | -1.2% | 4.4% |
| BWX | -3.9% | -6.0% | 8.4% |
| TLT | 34.5% | -5.0% | 23.1% |
| IEF | 13.6% | -2.5% | 8.9% |
| GLD | 5.6% | -15.4% | 23.8% |
| VXZ | 46.6% | -13.5% | 40.1% |
| IYR | -20.9% | 22.6% | 32.9% |
| SPY | -19.0% | -18.6% | 27.0% |
| | Data source: etfreplay.com | | |
The long dated treasury ETF TLT had a spectacular showing for this correction. Keep in mind these long dated fixed income investments will be the most sensitive to any movement to the short end of the yield curve. Investors, as expected, flocked to very short end fixed income issues to ride out the market storm. When things settle down and the economy accelerates and/or there is a rate policy change bias toward tightening, we could expect an aggressive bond exodus (and anything else high yield).
For thrill seekers, the VXZ provided a tidy return but you don't want to be the last one to leave a correction party in these types of investments. Gold did indeed live up to its reputation, and provided some positive return insurance during that uncertain market correction. The real estate offering essentially followed its large equity cousin Mr. Market, SPY.
I hope this was an informative exercise to take a glimpse into some other different asset classes general performance during 2011's market correction. We can now perhaps more knowingly ponder
these ruminations the next time the Eurozone crisis flares up or some other delirious event disrupts the market.

Disclosure: I have no positions in any stocks mentioned, and no plans to initiate any positions within the next 72 hours.