AFLAC Inc. (NYSE:AFL) is expected to report Q4 earnings on Tuesday, January 31 before the market open.
(Click chart to expand)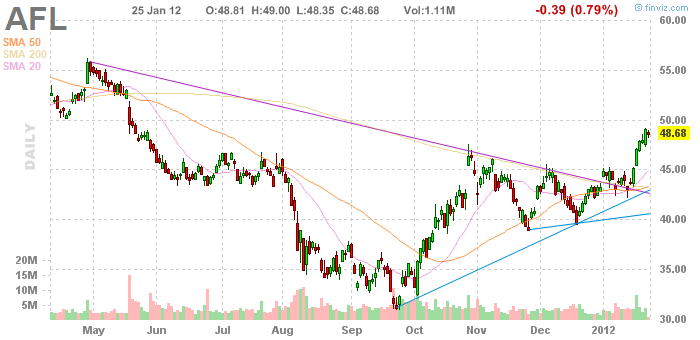 Guidance
For fiscal year 2011, analysts estimate that AFL will earn $6.37. For the 3rd quarter of fiscal year 2011, AFL announced earnings per share of $1.59, representing 25% of the total annual estimate. For fiscal year 2012, analysts estimate that AFL's earnings per share will grow by 5% to $6.66. AFL's current quarter consensus estimate has remained relatively unchanged over the past 90 days at 1.52. Estimates within its Industry have moved an average of 1.0% during the same time period. The consensus range is between $1.47 and $1.67 according to 20 analysts reviewed. Of the past six earnings reports, AFL has three positive and three in-line results. A pattern of increasing sales in conjunction with a rising EPS may influence a buy recommendation.
This stock is up 21% since my recommendation in this article, and I stick with my opinion. AFL shares are currently trading 11.7% above their 50-day moving average of $43.03, and 10.6% above their 200-day moving average of $43.46. This upward momentum should continue well into the year. One pitfall to look for is the low interest rate. A persistently low interest rate environment will likely pressure operating margins for many life insurers in the near-to-intermediate term. While asset quality has improved in recent periods, many insurers will likely incur additional impairment charges in coming periods, which could put pressure on the price, but overall I see further growth with AFL.
Disclosure: I am long AFL.