Forest Oil (NYSE:FST) is a natural gas, liquids and oil producer in Texas and East Louisiana. Production in the third quarter was 323 MMcfe/d. Note that Forest Oil measures production in natural gas equivalents. Like many exploration and production companies, Forest is transitioning from natural gas to oil drilling as quickly as prudent. Evaluating Forest in the transition shall shed light on the apparent deep value in the shares.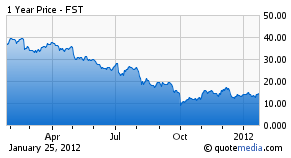 Certainly the Granite Wash position of 103,000 net acres is the current crown jewel of the company. The five to six rigs the company operates here take most of the company's capex. Third quarter 2011 results were a seven well IP average of 15MMcfe/d of which 45% was liquids. These results are strong. However, natural gas is the majority and liquids command half the price of crude oil. Apache's announced purchase of Cordillera on Monday highlighted the value of this asset in Forest with the stock responding by rising 6%.
In the Haynesville Forest has 169,000 acres. In a surprise move last fall Forest moved one rig here. The idea behind resuming drilling is the production results being so strong from the restricted rate program from 2010. Perhaps the capital efficient capex helps to inflate production numbers, but the economics were skinny last fall. With the continued deterioration in natural gas pricing the program must be uneconomic. The Haynesville is dry gas, while the name of the company is Forest Oil.
Yet Forest does have big league oil shale acreage positions with 118,000 acres in the Eagle Ford and 51,000 acres in the Wolfcamp. Forest intends to work hard on the science in these two plays this year. The Eagle Ford is further along than the Wolfcamp in this respect, but the company still needs to crack the code in the Eagle Ford and get IPs higher. Further, Forest is open to joint venture the Eagle Ford which would provide the needed capital to ramp up development. Forest Oil's excellent oil properties can be described as immature in getting development roaring.
Forest Oil has a depressed stock price, down some 65% from the 52 week high. Perhaps the chief reason is the manner in which Forest did a crazy IPO and dividend of Lone Pine Resources (LPR) in 2011. Forest's large asset base does have a high debt load, though expect them to grow into the debt nicely without any solvency concern and no worrisome debt maturities until the end of this decade.
Often high price per acreage numbers are thrown about in the new world of horizontal shale drilling. Time value is the large unspoken idea. Time value allows the large well capitalized industry participants to arrive and pay big money for acreage. The ability to come in and ramp up production by spending heavily on drilling and infrastructure is what allows for the economics to work well. Substantial Forest Oil crude production is coming, just not yet.