2012 has been an interesting year for the stocks of the two largest weight loss companies in America: Weight Watchers (NYSE:WTW) and Nutrisystem (NASDAQ:NTRI). WTW started a bullish run in late December which appears to have precipitated a squeeze in the highly shorted stock. It is already up nearly 38% year-to-date [click to enlarge]:
Its smaller competitor, Nutrisystem saw a similar bounce in tandem with WTW; but NTRI was unable to sustain its rise, and the stock has crashed, before a small rebound Wednesday [click to enlarge]: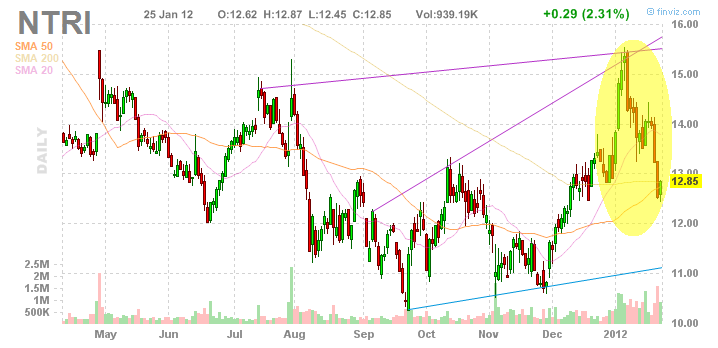 chart courtesy finviz.com
The recent movement in the stocks has created relatively similar valuations in the stocks, with one key distinction:
| | | |
| --- | --- | --- |
| Measure | WTW | NTRI |
| Stock Price | $75.69 | $12.85 |
| Market Cap. | $5.57B | $361MM |
| Price/Earnings* | 18.57 | 27.05 |
| Price/Sales** | 3.14 | 0.85 |
| Price/FCF** | 13.71 | 13.13 |
* -- at midpoint of full-year 2011 guidance ($4.05-$4.10 for WTW, $0.45-$0.50 for NTRI)
** -- trailing twelve months, data sourced from SEC filings
At first glance, investors should wonder why WTW is not trading at a far higher valuation to NTRI. Weight Watchers is the market leader, with its annual revenue of $1.7 billion nearly double the combined sales at the next two largest competitors, Nutrisystem and privately held Jenny Craig. The Weight Watchers brand is more valuable and more well-known, with celebrity endorsers including Oscar winner Jennifer Hudson and former NBA star Charles Barkley, while the program itself often gets better reviews than those of its competitors. Weight Watchers has also moved into partnerships with large employers, who are offering reduced or free memberships in the program in an attempt to improve employee health and lower insurance premiums. And margins at WTW are far higher, as evidenced by the P/S ratio over 3, which still results in comparable free cash flow -- and a better earnings multiple -- relative to NTRI.
Indeed, for the past five years, not only has Weight Watchers outperformed Nutrisystem, it has crushed its second-largest competitor. One need only compare the five-year growth of the stocks, based on market capitalization [click to enlarge]:


WTW in orange; NTRI in blue; chart courtesy ycharts.com
Since the end of 2009, when Weight Watchers' market cap of $2.25 billion was slightly more than double Nutrisystem's $961 million, the stocks have simply diverged. WTW is now worth fifteen times as much as NTRI, with much of the change coming over the last twelve months: WTW has doubled, while NTRI has dropped nearly 30%.
The bull case for WTW is that its growth will continue, justifying its relatively high P/E multiple. As the company noted on its Q3 conference call, margins expanded sharply year-over-year, driven in large part by growth in the online business. The company guided online revenue for the full year to $400 million, nearly a quarter of total revenue, and up 66% from 2010. Credit Suisse analyst Charles Boorady told CNBC in December that "the stock is worth what the online business alone is doing for the company." The company should see revenue growth in the range of 35% in 2011, based on analyst estimates, with earnings growth of 60% at the midpoint of guidance. As more companies consider adding anti-obesity programs, and as more consumers move to the fixed-cost, higher-margin online programs, top- and bottom-line growth looks set to continue.
The problem for WTW investors, however, is that the recent growth is a drastic change, which raises questions about its sustainability. Weight Watchers saw no growth between 2007 and 2010, as revenue actually fell 1% over the four years, while earnings per share were flat, if consistent, ranging from $2.30 to $2.56 per share. Is the strength in 2011 a short-term anomaly? And will Weight Watchers be able to sustain its recent growth spurt going forward, amid continued economic worries and lower consumer confidence? These questions should worry investors, who must also wonder how much potential upside has been swallowed by the recent stock surge. Credit Suisse analyst Boorady was strongly bullish on the stock in his interview with CNBC, and put a price target of $82 on the stock; it closed Wednesday at $75.69, less than 10% below even a bullish forecast.
The worries for WTW are the standard fears that face most higher-multiple growth stocks. Yet the stock seems to have the potential to move higher in the long term. Margin expansion from the online business and revenue growth from corporate partnerships and increasing market share capture can certainly drive a stock that is, as noted, priced at only 13 times trailing free cash flow. The balance sheet is manageable -- average debt in the third quarter was $1.2 billion dollars, about 22% of market cap -- and the company has reduced that debt figure by 20% over the last twelve months. The sharp recent surge may cause investors to wait for a better entry point; but, in the long run, WTW may still have room to run.
NTRI, on the other hand, is anything but a growth stock. While Weight Watchers executives were positively ebullient on their most recent conference call, Nutrisystem's call was a more somber affair. CEO Joseph Redling noted that "the revenue environment has been challenging all year," and the company lowered full-year earnings guidance due to retainer fees paid to the company's newest spokespeople: football Hall of Famer Terry Bradshaw and singer Janet Jackson. Revenue for the first nine months fell by 20%, and margins compressed by 480 basis points year-over-year in the third quarter.
Nutrisystem's struggles may be more than priced in, however. The company guided for $60 million in cash at year's end, over $2/share. Free cash flow has been a bright spot: $49MM in 2009, $47MM in 2010, and $48MM in the first three quarters of this year. Those are strong figures relative to the company's enterprise value of $300 million. Most notably, NTRI offers a dividend of 70 cents, giving a yield of 5.45% at Wednesday's close of $12.85. The payout ratio looks troublesome -- particularly given 2011 guidance between 45 and 50 cents -- but on a cash flow basis, the dividend has been easily covered. In fact, the company has enough cash, and expects enough future cash flow, to authorize a $150 million stock repurchase program. That authorization represents over 40% of currently outstanding shares, and expires in June 2013. Between the repurchase and the high yield, Nutrisystem is clearly intent on distributing a substantial amount of earnings back to its investors.
But as WTW faces traditional growth worries, the fear for potential NTRI investors is that the stock is a classic value trap. Sales have fallen each year since a 2007 peak, and will be down at least a third in 2011 from the 2007 levels. The $60 million in cash on hand, and the roughly $50 million in cash on hand should comfortably cover $20 million in annual dividend payments; but what if the company runs into trouble after expending the cash balance on a potential unsuccessful share repurchase? Nutrisystem has managed its revenue difficulties by cutting marketing budgets and competing on price. So far, it would appear that strategy is failing. Sales are down, margins are compressing, and the stock has been punished as a result.
Still, Nutrisystem's balance sheet and dividend mean the company does not necessarily need to see substantial growth. The fourth quarter investment in marketing and the company's upcoming move into retail-branded products give investors hope for some small level of growth. Given the 5.5% yield, the cash on hand, and the strong repurchase program, the stock may not need much more than that. As CEO Redling noted on the most recent conference call, the company's revenues "revenues are closely correlated with consumer confidence." US consumer confidence jumped sharply in December, and continued slow strengthening on the broader economy could provide a tailwind for the company and some much-needed support on the top line. With a strong balance sheet and a management team intent on returning cash to shareholders, NTRI, unlike WTW, doesn't need much more than that.
Disclosure: I have no positions in any stocks mentioned, and no plans to initiate any positions within the next 72 hours.