On the eve of Sirius XM (SIRI) announcing that it plans to report it full year and fourth quarter 2011 earnings results on February 9 before the market opens, investors learned that 5 million more shares have been hedged against its success. This is another way to say that more skeptics have come circling the skies as vultures in anticipation of a big prey. The question is, will the company oblige?
This put the bet against the stock now as 305 million to one, in short interest shares of course. And by the last count, these vultures who (admittedly) have done quite well for themselves over the past couple of years are seemingly becoming less confident in their position - or have shown of late to cover their shorts much sooner rather than later, as shown by the graphic below. Though the short shares have risen, the average days to cover have dropped to a third of what it was previously. You can draw your own conclusions as to what this means.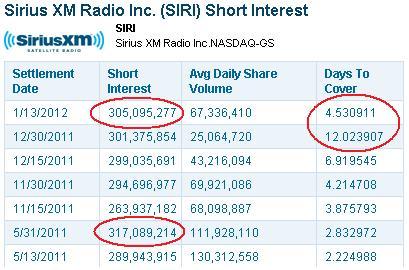 Another thing that the recent report shows is that the short interest level has reached its highest mark since May of last year, when it reached a record level of 317 million. Clearly the company's fundamentals have improved significantly since then yet there continues to be prevailing doubt. For long investors in Sirius, this generates the obvious question, what do they see that we don't? Well, that question is not easily answered and it is one that is predicated only on one's vantage point. Another way to say that is, not all investors are looking at this company and stock from the same colored lenses. And that distinction continues to be the operative words, "company and stock."
The Bad News
A couple of weeks ago, I talked about bulletin board material and why I thought that these large bets are being made against the stock. Yet some of you misinterpreted the thesis, and still yet angry emails are coming in, addressing the perceived negative tenor. First and foremost, (and I apologize if this is redundant) I need investors to understand that the fact that there are now 305 million shares short against the stock is purely from a technical standpoint, because fundamentally, the company has never been in better shape than where it is today, nor has the outlook been better.
For the large holders of these short positions, they continue to circle not over the company, but over the company's shareholders - more specifically, the 71 percent (or so) retail holders of its stock, investors who are perceived incapable of buying and selling at the right times. Said another way, they buy too soon and sell too late or buy too late and sell too soon. But the point remains, the loyalty and the emotional connection tied to the company and the perceived lack of attention to fundamentals all play a toll in the enormous hedge against the 71 percent. This should come as both good news and bad news and should serve (this time) as bulletin board material for Sirius investors rather than Sirius XM the company.
Here's The Good News
The people that matter hold Sirius XM the company and its stock in high regard. It is not the market that is shorting Sirius nor should this be perceived as a "we against the world" type of situation where the media hates Sirius. Let's put this notion to rest. The fact of the matter is, sentiment for Sirius by those who know it well is extremely high. Of the average of the six agencies that covers the stock on a regular basis and those to whom Mel Karmazin answers questions during conference calls, not only are the recommendations in favor of Sirius, but the consensus price target is at $2.35 or 13 percent higher than where the stock is today.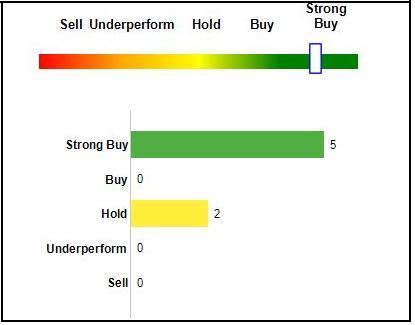 Clearly, the good news is more important than the bad, and more reflective of the overall perceived bright future of Sirius by those who care about metrics such a P/E ratios and conversion rates. I happen to fall into that camp as well. And I encourage current Sirius longs as well as those on the fringe to start appreciating more both good news and bad - these are the current realities that I tend to discuss from time to time and many of which rubs some Sirius investors the wrong way.
Summary
In closing, consensus estimate are at 1.5 million net subscribers for 2012 and coming from someone that appreciates both the good and the bad, I am eager to see if the company will low-ball guidance as has been the norm? The good thing is that Ford (F) reports earnings on Friday. Should our expectations for the year hinge on its outlook? I think it should factor in considering that it should have an excellent gauge on sales projections and I can safely presume that Sirius is in constant contact with their sales department.
For the stock, any projection at 1.5 or below will likely send the shares lower. But any other nuggets regarding stock buyback, dividends or unknown projects may not only stabilize it, but send it higher. As I've said before, I remain bullish on the company long-term and feel that its prospect for this year is outstanding. But for a stock that rarely trades on fundamentals, there's good news and bad news. Which one do you want first?