General Dynamics (NYSE:GD) CEO Jay Johnson Wednesday discussed the company's earnings on its Q4 2011 Results. Company sales were up 6% from last year's fourth quarter, net earnings from continuing operations for the quarter were $1.68 per fully diluted share, and $6.94 for the full year result, an increase of 2% over last year's earnings per share (EPS) result.
I last wrote about GD in detail on September 6, 2011, as well as covering the stock in the Defense Industry Daily's report on the Top 20 Defense Industrial Stocks. On September 6, 2011, GD was trading at $60.94 ($16.39 [21%] below its 52-week high), with EPS of 7.01, PE of 8.70, dividend rate of 1.88 and delivering yield to investors of 3.085 (figures taken from Seeking Alpha). As of January 25, 2012, GD closed at $71.57 ($6.70 [8.56%] below its 52-week high), with EPS of 7.11, PE of 10.00, dividend rate of 1.88 and delivering yield to investors of 2.6268 (figures taken from Seeking Alpha).
Earnings Performance
The strong performance by GD in this quarter has been due to the excellent quarter results delivered by Gulfstream within its Aviation Division, and the Marine Division. Gulfstream's strong performance offset the poorer results of Jet Aviation arising from contract losses and an impairment adjustment. Aerospace sales were up 50% on Q4 2010 results, and overall for the year saw a net increase in sales of 13%. The Marine Systems Division saw quarterly sales rise by 3% and operating earnings increasing 7%.
The Combat Systems Division saw a marginal decrease in net earnings, but achieved its largest order quarter in two years coming off the back of a number of sizable program orders and contracts being awarded, including growth in its international vehicle business. The Information Systems and Technology Division ((IS&T)) had a flat quarter, but performance was sound.
The stock's performance over the last three months is shown below: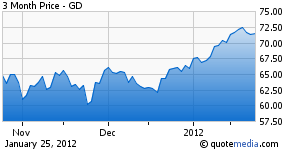 The Downside
One of the key concerns investors have right now with defense industrial stocks such as GD, Lockheed Martin (NYSE:LMT) and Boeing (NYSE:BA), is the potential ramifications from a sequestration budget (pdf). The potential ramifications include drastic cuts in defense spending and capability development programs, limitations on spending and sustainment for current programs, and an inability for defense industrials to generate new business or sustain current cash flows. While these are real consequences, In GD's case I also see new potential upsides; opportunity flowing from crisis, strength rising from adversity.
The Upside
First of all, GD is diversifying its asset base, through business units such as Gulfstream, and IS&T. Its combat systems division has the ability to use its skills and programs borne of the last 10 years of war theatre R&D for other related areas - emergency response vehicles, international military and security forces, sustainment of platforms sold under foreign military sales (FMS) programs. Further, a reduction on military spending overseas does not immediately correlate to a reduction of military spending at home. The key to this last argument will be further reliant on the outcome of the presidential elections, and where national security leadership will take America (and the world) in the ensuing four years.
Second, a core aspect of GD's business is the sustainment of current platforms in service, which require ongoing sustainment of parts, and continuing research and development, especially for force protection measures. Indeed, the lessons learned by GD over the last 10 years and the tightening of funding driven by the global financial crisis, have prepared the company well for dealing with a worst-case sequestration budget and a dramatic cut in spending on new programs. The flipside will be the sustainment of current platforms, and extending the life of type (and survivability) of these platforms well into the future. These factors tie in well with a common fact about military programs - length and duration - as these are often measured in decades rather than years (which is more the case for commercial applications and equipment). How GD controls its management costs, personnel numbers, and how it develops an innovative research and development program will be key to underpinning its successes in the next three to five years.
Last but not least, consider the impact of the strategic security outlook for the next five to 10 years. Tighter spending and personnel cuts within security will require more high tech and adaptive security platforms and information systems; defending an air-sea gap and building a heavier U.S. presence in the Asia Pacific region will draw heavily on areas of expertise across Aerospace, IS&T and Marine Divisions. GD is not on the back foot, if anything it is in a position of strength upon which to drive forward. It can also further limit its risk by entering into strategic alliances with other defense industrials to deliver complex projects. As I have written previously, the evolving nature and complexity of military operations today requires complex hardware and software systems, often beyond the capability of any one manufacturer, and requires a lead project company that can develop, integrate, manage and maintain these complex systems. It is here GD can establish itself as an industry leader.
Summary
From April 2006 through 2011, GD has paid a consistent increasing dividend providing a cash flow return to investors, ranging from $0.23-0.47 per share. On two occasions the company has conducted a 2:1 stock split: March 27, 2006, and April 3, 1998 (for more info see here). Not only has it performed well and delivered consistent returns, it has demonstrated its ability to survive in uncertain and lean times, under increasingly tighter funding for military programs. What it has learned from these experiences makes it a company of strength, and a suitable blue-chip investment to form a core stock within any investment portfolio. I remain convinced that GD is a suitable stock for investors with a higher-than-normal risk appetite willing to take a long position (three to five years) to add value to their overall portfolios. The stock has increased by $10.63 (17.4%) since I recommended it in early September, and is up by $9.04 (14.4%) since I included it in my Sun Tzu model portfolio.
Disclosure: I have no positions in any stocks mentioned, and no plans to initiate any positions within the next 72 hours.
Disclaimer: This advice is general advice only. Investors should seek independent financial advice prior to making any investments of their own.