The market continues to be overbought in our view, and so there continue to be opportunities in shorting (or selling calls of) companies that are overbought. It doesn't necessarily mean we're negative on the outlook of these companies, just that they've run up too far, too fast and a pull-back is warranted.
LodgeNet Interactive Corporation (OTC:LNET)
LodgeNet Interactive Corporation provides interactive media and connectivity solutions for the hospitality industry in the United States, Canada, and Mexico. The company's guest entertainment services include on-demand movies, on-demand games, music and music videos, Internet on television, and television on-demand. It also provides satellite-delivered television programming. In addition the company involves in the design, sale, installation, service, and support of wired and wireless broadband Internet access systems.
Actually, that seems like a pretty good business model to us. This is the type of industry where you expect the margins to be good if you have a leading position and are big enough to offer a complete solutions value proposition to hotels and hospitals. Is certainly has considerable size already:
As of December 31, 2010, the company provided interactive and media networks and connectivity solutions to approximately 1.8 million hotel rooms in North America, as well as hospitality solutions in various international markets primarily through local or regional licensees. It also installed its systems in 56 healthcare facilities, representing approximately 12,200 beds.
That must be a fair percentage of available hotel rooms in the U.S., which actually could also be a negative if that limits growth possibilities in the U.S.
There is still quite a bit of technological development going on that necessitates a lot of investments, but there is hope for the company that it has finally cracked it, as is witnessed in the recent share price development.
That impression is quite confirmed when we look at the cash flow figures. Cash from operating activities is, as we expected, large. $102M in 2010, $41m for the first nine months in 2011. Much of the 2010 operational cash flow went into retirement of debt ($88.5M).
Some metrics (from Yahoo):
Market cap $95M on 25M shares outstanding
Revenue of $428.5M, but it isn't growing
Cash $17.8M with a rather large $366M in debt
The company isn't profitable, for Q4 a loss is expected between 8 and 20 cents per share
This is quite an interesting story, we have to say. There is a rather large short interest, a whopping 29.5% of the float. That makes it into a rather unpredictable situation as it could be forced to cover if the shares don't calm down. On the other hand, the shares are manifestly overbought.
And there is good news to underpin the share price. The iHDTV platform adoption is accelerating. So we see the reason for the rise in the stock price. Things are improving. This year, profit of 47 cents is expected (albeit by a single analyst), which is quite a turn around from losses of 71 cents in 2010 and expected loss of 46 cents in 2011. We actually think the loss in 2011 can be considerably smaller. For the first nine months, the loss amounts to 24 cents per share while the company expects between 8 and 20 cents loss in the fourth quarter.
(Click charts to expand)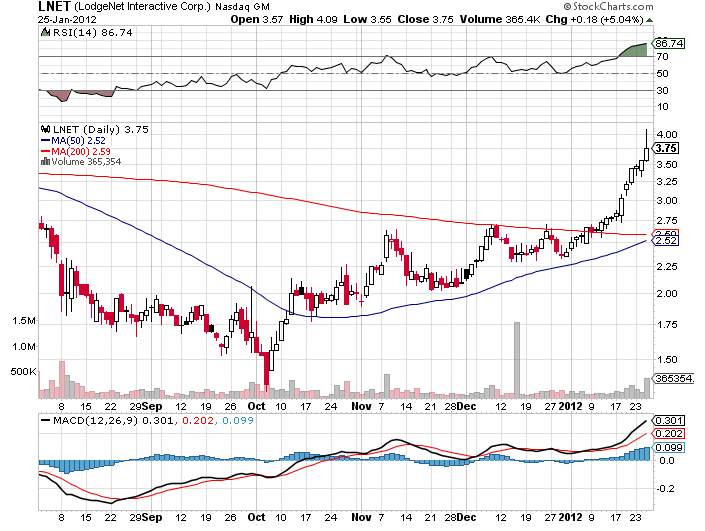 So, all in all, while there is still a large debt outstanding, the company's situation is improving fast, which leads shorts to have second thoughts. This can temporarily overrule the rather massive overbought situation, but we still think a pull-back is imminent. Short above $4 per share.
Mattson Technology (NASDAQ:MTSN)
Mattson Technology, Inc. designs, manufactures, and markets semiconductor wafer processing equipment used in the fabrication of integrated circuits for the semiconductor manufacturing industry worldwide. The chips equipment industry is rather cyclical and as a result, valuations tend to be rather low.
Some metrics (from Yahoo):
Market cap $135M on 58M shares
Revenue $184.5M
Cash $36M, no debt
For 2011, a loss of 36 cents per share is expected (down from 67 cents in 2010), turning to an expected profit of 2 cents this year
Cash flow from operations has been small last year and rather dramatic the year before
Well, we have a feeling this run from $1.40 to $2.30+ this month is stretching it a bit, both value wise and especially from a technological point of view. The RSI is running close to 90, the shares are red hot and need to cool down. The odds for outright shorting at these levels for a quick trade seem to be pretty good to us. Even if the most optimistic analyst turns out to be right and the company makes 17 cents a share this year, it's already quite priced in, and we're still in January.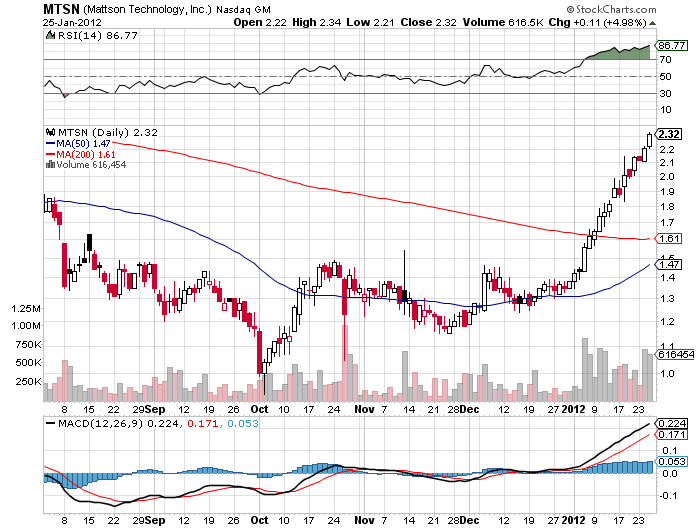 ChipMOS Technologies (NASDAQ:IMOS)
Another chip equipment maker, this time one from Taiwan: ChipMOS TECHNOLOGIES (Bermuda) LTD., together with its subsidiaries, provides semiconductor testing and assembly services for LCD and other flat-panel display driver semiconductors, as well as for advanced memory and logic/mixed-signal products.
Some metrics (from Yahoo):
Market cap $236.3M on 27M shares
Revenue $598.5M
Cash $191.6M with $328.2M in debt
Profits are nothing to write home about except one good quarter (Q4 2010, note that amounts are in Taiwan dollars here, which are about three times U.S. dollars)
The company expects revenue this year to increase 10% on what is otherwise a rather single digit growth affair
There is a rather spectacular rise in the shares, from $5 to almost $9 in less than a month. There isn't much in the performance of the company that warrants such a rise, the only explanation available is the $10M share buyback program started in December last year. That should be priced in by now and the shares are really quite overstretched. Shorting for a quick trade seems to offer good odds to us.
Disclosure: I have no positions in any stocks mentioned, but may initiate a short position in IMOS, OTC:LNET, MTSN over the next 72 hours.