One of the most anticipated earnings releases was that of Netflix (NASDAQ:NFLX), which reported fourth-quarter earnings after the close. Investors pushed the stock up over 15% in after-hours trading where it was trading around $110 a share. It was continuing its run Thursday morning, trading around $115.47 before noon.
Earnings
Revenue hit a new record at $875 million up 47% year-on-year. Although profits came 13% lower compared with last year at $41 million, the $0.73 earnings per share still beat expectations of analysts, who looked for $0.55. Full- year 2011 revenue came in at $3.2 billion, up 48% while net income rose 44% to $231 million.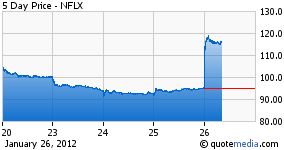 Transformation
The company's core business is in an enormous transformation phase. Traditional DVD subscriptions are getting replaced by streaming content, which is less profitable for Netflix. The transformation has gone incredibly fast over the last half year and it has had a lasting impact on Netflix' share price, which went from $300 in July to $65 in December and now finally has seen a decent rebound on encouraging signs.
DVD
Netflix ended the year with 11.2 million subscribers to its traditional DVD rental. This meant the company lost more than 2.7 million customers in the fourth quarter alone. For the first quarter it anticipates the losses to diminish to 1.5 million. Still the business is vital as it brings in $370 million in revenue and $194 million in contribution profits, thereby being a necessary cash cow to provide financing for the transformation year of 2012.
Streaming (U.S.)
Subscription numbers have been under pressure in the last quarters, but in the fourth quarter Netflix saw its customer base grow by 0.2 million. It is the largest revenue contributor with $476 million however contribution profits of $52 million provide only an 11% margin (compared with 52% for the DVD division). Positive signs include the unexpected customer base growth and the fact that margins exceeded the previously guided 8%. For the first quarter Netflix anticipates 1.5 million new customers and a margin around 11%.
Streaming (International)
Although very small with 1.9 million subscribers it is the fastest growing division of Netflix. Growth (400k net additions in the fourth quarter) comes at a high price. The unit only generates $29 million in revenue, but contribution losses have soared to $60 million.
For the first quarter losses will grow further to $108-$118 million as investments in the UK, Ireland, and Latin America will be ramped up. The subscriber base should grow by almost 1 million to 2.8 million.
Q1 outlook
Transformation is painful for Netflix as it loses customers in its highly lucrative DVD rental unit. Growth in the much lower margin area of streaming cannot offset the adverse impact. On top of that higher investment in the international streaming business will lead to an expected loss of $9-$27 million for the first quarter. In fact the company expects not to make a profit for the whole year of 2012.
Confidence rebuild
Management has lost a lot of confidence after it decided to raise prices over the summer, a highly criticized move. Many also noted the lack of visibility of management as the company was forced by market conditions to raise new capital at $70 a share, while it had bought its own shares just months before at a multiple of that.
Surprisingly strong earnings, a growing customer base in domestic streaming, improved margins and a stronger balance sheet has restored a lot of confidence and it seems that Netflix has finally managed to lose some of that bearish sentiment.
Disclosure: I have no positions in any stocks mentioned, and no plans to initiate any positions within the next 72 hours.