Over the last 50 days, the S&P 500 tracking SPY ETF is up more than 6%. But traders don't have the trading day to thank for that. It's outside of normal trading hours where all of the gains have occurred.
The SPY has averaged a gain of 0.20% in after hours trading (from the prior close to the next morning's open) over the last 50 days. Over this same time period, the ETF has averaged a decline of 0.06% during regular trading hours (from the open to the close).
Below is a chart showing the rolling 50-day average gap (prior close to next morning's open) for SPY as well as its rolling 50-day average open to close change since the start of 2011. From January through October of last year, the market was mostly moving in the same direction outside of regular trading hours as it was during regular trading hours. Since then we've seen some big shifts in these performance numbers. Over the last couple of months, the market has averaged gains in after hours trading and losses during the trading day. Who knows how much we'd be up if the market was actually gaining when it was open for trading.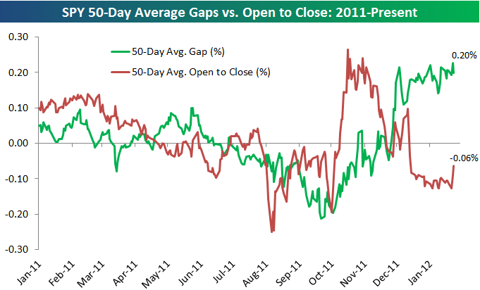 Click to enlarge