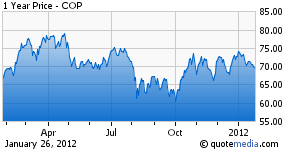 ConocoPhillips (NYSE:COP) beat the Street and illustrated some of the trends impacting the oil patch.
The problem is that while natural gas prices have dropped by half, oil prices remain high. COP is shutting-in natural gas production but pushing ahead in oil-heavy formations like the Bakken in North Dakota and Eagle Ford in Texas.
As a result the gas glut may well continue, according to The Oil Drum, because the two are often mixed. Bakken gas is even being "flared," burned away, because it can't be brought to market, and producers have a ready market for the oil.
While the president bragged about the country's growing output of shale gas in his State of the Union address, some in the industry feel he was secretly laughing at them, because the glut of the commodity just gets bigger. Prices could actually drop below $2 per Million BTUs (MBTU) this fall if stockpiles exceed storage capacity.
The glut has also impacted grid electricity prices, which have fallen 50% putting profits from renewable plays like those of NRG Energy (NYSE:NRG) at risk.
There are ways to deal with the glut but they require investment and time that are not currently available:
Still, demand drivers like these will take time to construct, meaning the present gas glut will continue, keeping electricity prices low as well, through the middle of the decade. Drillers like COP, meanwhile, will try to quietly burn-off excess gas as they continue drilling for oil and other heavy liquids.
What this means for investors anxious about COP's pending split into exploration and refinery divisions? To me, it means you play the refinery card and depend on high spreads between input prices and final product prices to keep your portfolio pumping profits.
Disclosure: I have no positions in any stocks mentioned, and no plans to initiate any positions within the next 72 hours.