I have been a bull on Caterpillar (NYSE:CAT) since I purchased the stock and wrote an article on the company in early December, when its stock price was $97. It just reported a monster quarter, which should mean further gains for investors in one of America's premier manufacturers.
Key highlights from Caterpillar's earnings report:
It reported earnings per share of $2.32 for the quarter which blew away consensus estimates of $1.73.
Revenues also were extremely strong in the quarter as CAT booked sales of $17.24B, which was approximately $1.2B over estimates.
Caterpillar also upped guidance for 2012 to $9.25 a share from the consensus of $9.07.
Management cited rising demand in emerging countries for its revenue growth, particularly China and India
Caterpillar Inc. manufactures and sells construction and mining equipment, diesel and natural gas engines, industrial gas turbines, and diesel-electric locomotives worldwide. It operates through three lines of businesses: Machinery, Engines, and Financial Products." (Business Description from Yahoo Finance)
4 reasons Caterpillar is still a buy at $112 a share:
The stock is showing increasing technical strength and recently crossed over its 200 day moving average (see chart):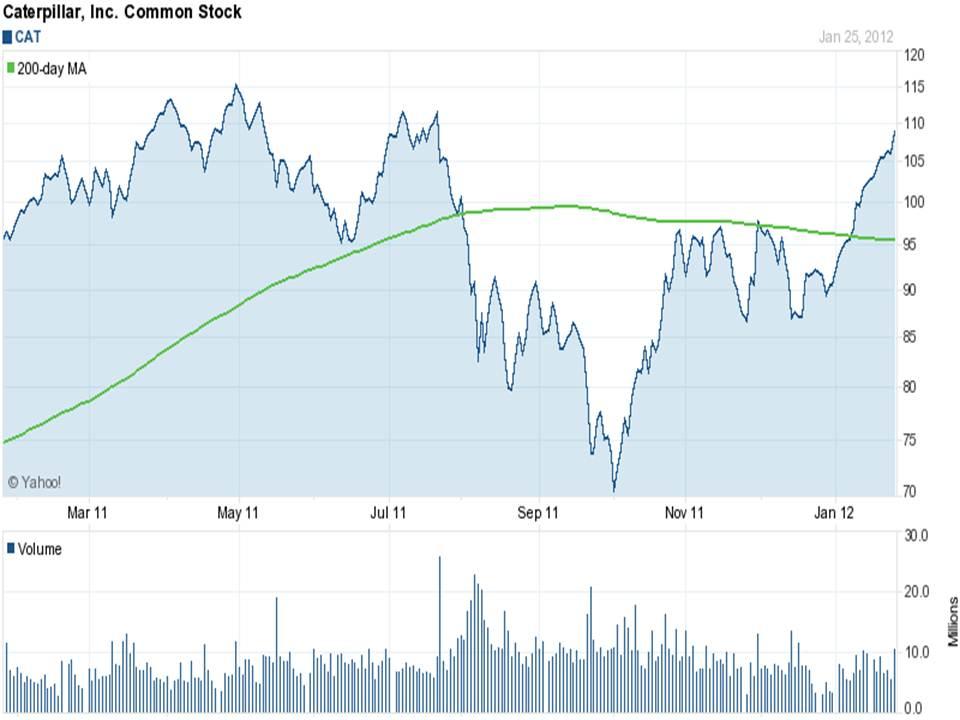 S&P projects average EPS growth of 35% a year over the next three years and has a "buy" rating and a $129 price target on Caterpillar. Credit Suisse has an "outperform" rating on the stock as well.
Despite this projected growth, CAT sells for just 12 times forward earnings and these estimates will be rapidly be revised up after this quarter by analysts.
Caterpillar is managing this growth despite a moribund domestic housing market. If the housing market has bottomed as seems to be an emerging consensus, the company's earnings and sales could really take off.
Disclosure: I am long CAT.