Indian markets are off to a great start in 2012 and were given a dose of encouragement Tuesday when the Reserve Bank of India (RBI) announced a cut - not in interest rates - but in the required cash reserve ratios for banks. This is a loosening of liquidity within India and pushed the markets upward. Although inflation concerns remain in India, many see this latest move by the RBI as a precursor to interest rate cuts. Here's a one month chart of India market performance via the S&P CNX Nifty Index. As the chart illustrates, a nice rebound has occurred in 2012.
click to enlarge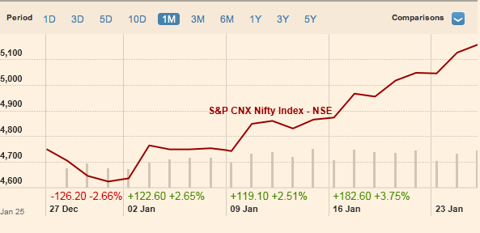 Since the beginning of 2012, Indian markets have gained.
Despite the strong start to 2012, Indian markets still have a long way to go. Dismal 2011 performance due to inflation problems, currency devaluation and an overall economic slowdown pushed markets down substantially. The good news however is that this recent run of strong performance could continue for awhile and still not reach 2011 highs. Here's the one year chart of the S&P CNX Nifty Index.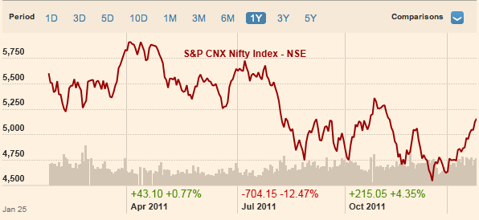 Despite a strong bounce in 2012, Indian markets still have a low way to go.
From this chart, another 10%+ move could occur in the index without reaching the approximately 5,800 level seen in early 2011. This is good news for investors concerned about the recent run up in India.
In terms of India ETF products, the performance has been as good if not predominately better than the S&P CNX Index. Small cap India ETFs are on fire with SCIF and SCIN gaining around 30%. INXX, the Indian infrastructure ETF, has gained more than 28%. Indeed, of the 7 non leveraged India ETFs available, 5 have gained over 20% year to date. Here's the performance chart of all India ETF and ETN products from IndiaETFs.com.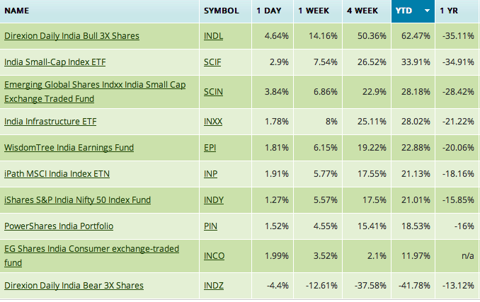 Most India ETFs have gained over 20% in 2012 but are negative over the 12 months.
Like Indian markets, India ETFs still are well off highs over the last month. A quick review of the chart above shows 12 month returns of negative 16 - 34% for non leveraged ETFs. This should mean there is further upside to the recent strong performance but also remind investors that India ETFs are volatile in nature.
In 2012 Indian markets have benefited from lower inflation, a relaxing of foreign investor restrictions, sentiment that interest rates will are close to being cut and an easing of the EU debt crisis intensity. All these factors could all change very quickly and would impact Indian markets substantially. In the short term, investors should consider the fragility and steepness of India's 2012 bull run and be ready for potential setbacks. Over the longer term however, Indian markets are still well off recent highs and appear well positioned for a larger ascent.
Disclosure: I have no positions in any stocks mentioned, and no plans to initiate any positions within the next 72 hours.
Additional disclosure: Christian Magoon is the publisher of IndiaETFs.com.