Annaly Capital Management Inc (NYSE:NLY) is expected to report Q4 earnings on Monday, January 30, before the market open.
(Click chart to expand)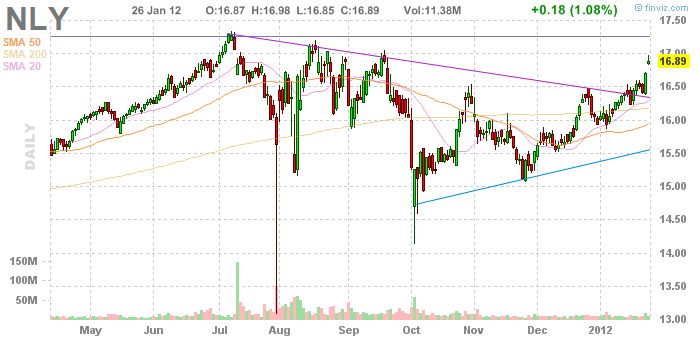 Guidance
For fiscal year 2011, analysts estimate that NLY will earn $2.50. For the 3rd quarter of fiscal year 2011, NLY announced earnings per share of $-0.98, representing -39% of the total annual estimate. For fiscal year 2012, analysts estimate that NLY's earnings per share will decline by 8% to $2.29. NLY's current quarter consensus estimate has decreased over the past 90 days from 0.64 to 0.56, a loss of -12.2%. This trails the Specialty Financials Industry average of -1.0% during the same time period. The consensus range is between $0.49 and $0.66 with an average of $0.56 according to 24 analysts reviewed. Of the past four earnings reports, NLY had two positive surprise and two negative surprise reports of -18.5%, 4.1%, 10.4%, and -14.9% respectively.
On 01/24/12, NLY closed at $16.44, 12.5% below its 52-week high and 17.0% above its 52-week low. NLY shares are currently trading 1.2% above their 50-day moving average of $16.25, and 4.5% below their 200-day moving average of $17.21. NLY is still offering its $0.57 quarterly dividend payment yielding 13.64%. NLY has reduced financial leverage until there is more stability in volatile financial markets. As of September 30, its debt-to-equity ratio was 5.5X, down from 6.4X at the same time in 2010. Even so, the trust has increased its portfolio of mortgage securities by 43% in 2011 using proceeds from several equity raises. Analysts believe that yield spreads may narrow modestly in 2012 due to higher mortgage prepayment rates under government-sponsored programs. The analyst one-year target price of $18 is based on a dividend discount model, which assumes a required rate of return of 14.0% and a perpetuity growth rate of 2%. I recommended this stock in October (up 6% since my recommendation) and believe this stock will continue to increase toward the mid $17s. This is where I see a selling point. I do not believe the company can continue to dish out over 13% dividend yields past 2012, and will see an "in-line" earnings report for the quarter.
Disclosure: I have no positions in any stocks mentioned, and no plans to initiate any positions within the next 72 hours.