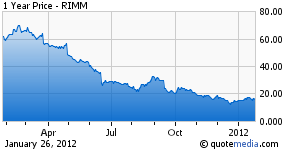 Research In Motion (RIMM) has a troubled past. The comedy of errors from Waterloo, Ontario, would be funny if real investor money was not on the line. BlackBerry appears to be a classic case of too much success for management to handle. I see it all the time with freshly minted stock "gurus" who confuse brains with a bull or bear market.
Company management teams much like traders who are successful understand they must stay hungry and paranoid about making the next move (and the competition). A manager who grows complacent or reach a level of success beyond their ability sooner or later find out the world of business is very humbling. From not understanding what the average enterprise wireless device user wants (was a four inch screen really that hard to figure out?) to fouling up what could have been a smooth and confidence building transfer of leadership ... it has been a mess.
I have been critical of management for most of 2011 (read my articles by clicking here), but in all fairness RIM would not be here or where it is in the marketplace if Mr. Lazaridis and Mr. Balsillie did not take a small start-up and turn it into the multi-billion dollar company it is today. A feat in business many attempt and almost none accomplish and they need to be commended for what was created. It appears also to be a fair assessment that the timing for a change at the helm was upon us and should not be delayed any longer. Watch my last youtube video of RIMM here.
RIM could have and should have provided for greater awareness to investors of the transition plan and not once again appear to be shooting from the hip. Nevertheless, the change was made and what is important now is what to expect moving forward.
German engineering with a history of success. The new CEO Mr. Thorston Heins, age 54, has been with RIMM for about four years may have been off the radar due to the long shadow cast by the previous CEOs. Mr. Heins might be just what investors have wanted even if they don't know it yet. After watching his video interview to introduce himself to investors one may have a first impression of "new boss, same as the old boss." I believe it to be short sighted to walk away not understanding Mr. Heins is likely expressing gratitude for the faith put into him and his words have more to do with allowing Mr. Lazaridis and Mr. Balsillie to save face than what direction Mr. Heins will take the company.
Will RIM now put itself on the auction block? What I find interesting in the selection of Mr. Heins is his work at Siemens (SI) when its mobile phone business was sold in 2005 to Taiwan's BenQ. If the goal is to maximize shareholder value through a sale of the company, it would appear Mr. Heins would be a very good choice to lead the way. One thing is sure about selling out. It's very likely the price will be considerably higher than it is today. Maybe selling out is not the first choice of the board at this time, but can anyone really argue it's not a very close second "plan B?"
While the mail room at the headquarters of RIM was not likely filling up with resumes of candidates wanting for the top spot who value their careers, as an investor and shareholder of RIM stock, Mr. Heins should be looked at as a top tier manager who will add shareholder value. On the outside we can't see all of what Mr. Heins can see, but we can look at the situation and gauge what his motivations may be. He certainly doesn't need to take over a company he believes is going to continue into the abyss. He is cognitive enough to know BlackBerry must be able to maintain critical mass of customers to keep the ship upright. Knowing he knows what is at stake and still willing to take over RIM demonstrates an intelligent insider's view investors can expect an increase in shareholder value.
Mr. Heins faces what may be the toughest lineup of competition ever faced by RIM. Apple (NASDAQ:AAPL) is fully ripe with the success of the iPhone 4S and is slated to release the next version of the market dominating iPad soon. Apple is trading near an all time high and can be counted on producing the next iPhone before smart phone users grow tired of the current model. Apple has proven to be next to unstoppable with a record breaking bottom line profit of $13 billion on over $46 billion in sales for one quarter. With revenue over double per quarter what RIM is able to bring in per year, Apple is clearly the one to beat. iPhones which obviously are made by one company even surpassed all the other manufacturers of smart phones built on the Android OS platform by Google (NASDAQ:GOOG). AT&T recently reported earnings with a record 9.4 million smart phones sold and 7.6 million of the smart phones activated were iPhones. Granted AT&T appears to be the highest performing seller of iPhones relative to the other brands, but this demonstrates Apple's dominance in the space.
Google under the Android OS platform has not only found success in the smart phone category taking market share away from RIM, Microsoft (NASDAQ:MSFT) and others, but appears to be the lone wolf alternative to Apple in tables. While Apple sold the most iPads ever in the last quarter, Android is quickly gaining ground, according to Strategy Analytics. RIM on the other hand doesn't even show up on the radar for tablet sales with the PlayBook and it explains why RIM announced a large write-off due to weak sales.
Microsoft has been written off by just about everyone but Microsoft in the smart phone space. Microsoft has been fighting back with offering greater incentives for developers and recent success with its alliance with Nokia (NYSE:NOK). Nokia just released the numbers for smart phone sales with over 19 million sold. With Apple selling about 37 million phones during the same period, it becomes clear Microsoft and Nokia may still have a dog in this fight. With a market cap of about $250 billion compared to a market cap of less than $9 billion, Microsoft cannot be taken for granted to simply "go away" unless it chooses to do so.
Mr. Heins does have some bullets to work with. For starters RIM is doing well in Asia and services make up a large and profitable segment of business. RIM is expected to have the BlackBerry 10 smart phones ready for sale later this year. It is being reported that RIM has limited its focus to one BlackBerry 10 phone, the "BlackBerry London" after halting the BlackBerry Colt. This appears to be a good idea for two reasons. One, RIM is able to focus on making one very good smart phone instead of several "not so great" devices. Secondly, if the plan is to be taken over by another (even if plan "B"), having lower research and development costs immediately before a sale may also be in the best interest of shareholders.
Mr. Heins also has the support and sales of many governments and large enterprises due to the secure method of communications RIM is able to support. Other phones may have more features, but RIM is known as the "safe" way to communicate.
Because of the relative extreme volatility in the share price it may feel like wearing a seat belt is required to consider RIM as an investment. The heightened volatility can also work for you instead of simply keeping you up at night. By taking a more conservative approach to RIM with the use of stock options, the volatility exposure may be lowered and risk can also be mitigated. For these reasons I am willing to give up some upside potential and have been either writing puts or selling covered calls as my method of exposure to RIM. I am currently invested with covered calls that expire on 1/27/12 and intend on rolling them over shortly before the close of trading on expiration day. I have a target of $24.50 for RIM and believe selling option premium is an effective way to reach my profit goal if RIM doesn't make it to my target price anytime soon.
I use a proprietary blend of technical analysis, financial crowd behavior and fundamentals in my short-term trades, and while not totally the same in longer swing trades to investments, the concepts used are similar. You may want to use this article as a starting point of your own research with your financial planner.
Disclosure: I am long RIMM.