Cisco Systems (NASDAQ:CSCO) has been reorganizing for quite some time, but lately it looks like the reorg is finally taking shape. In the past month the market has been kind to them, and the stock has gone up almost 7.20% in this time. The hourly trading prices over the month on the graph below, provided by Barchart, shows nice, steady progress: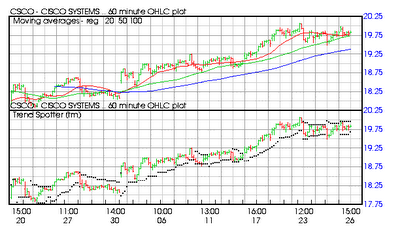 CSCO's Yahoo Finance profile:
Cisco Systems, Inc. designs, manufactures, and sells Internet protocol (NYSE:IP)-based networking and other products related to the communications and information technology industry worldwide. It offers routers that interconnects public and private IP networks for mobile, data, voice, and video applications; switching products, which provide connectivity to end users, workstations, IP phones, access points, and servers; application networking services; and home networking products, such as adapters, gateways, modems, and home network management software.


The company also offers security products comprising span firewall, intrusion prevention, remote access, virtual private network, unified client, Web, and email security and network security products; storage area networking products for data center environments that deliver connectivity between servers and storage systems; collaboration products to integrate voice, video, data, and mobile applications on fixed and mobile networks; video connected home products, including digital video distribution systems and digital interactive set-top boxes; and wireless systems. In addition, it provides optical networking products, Cisco TelePresence systems, Cisco Unified Computing Systems, physical security and video surveillances, and digital media systems.


Further, the company offers technical support services; and responsive, preventive, and consultative support services for its technologies. Cisco Systems, Inc. has strategic alliances with Accenture Ltd; AT&T Inc.; Cap Gemini S.A.; Citrix Systems, Inc.; EMC Corporation; Fujitsu Limited; Intel Corporation; International Business Machines Corporation; Italtel SpA; Johnson Controls Inc.; Microsoft Corporation; NetApp, Inc.; Nokia Corporation; Nokia Siemens Networks; Oracle Corporation; SAP AG; Sprint Nextel Corporation; Tata Consultancy Services Ltd.; VMware, Inc.; Wipro Limited; and Xerox Corporation. The company was founded in 1984 and is headquartered in San Jose, California.
Factors to Consider
Barchart technical indicators:
96% Barchart technical buy signal
Trend Spotter Buy signal
Above its 20, 50 and 100 day moving averages
11 new highs and up 7.20% in the last month
Relative Strength Index 65.26%
Barchart computes a technical support level at 19.57
Recently traded at 19.78 with a 50 day moving average of 18.66
Fundamental factors:
Wall Street brokerage houses like this stock and 39 firms have assigned 46 analysts to follow the company's numbers
Analysts predict sales will increase again by 6.00% this year and another 6.30% next year
Earnings are estimated to increase by 9.30% this year, an additional 9.60% next year and continue to increase by 8.23% annually for at least the next 5 years
These consensus numbers resulted in analysts issuing 9 strong buy, 18 buy, 16 hold, 3 under perform and no sell calls for their clients to consider
How good are these numbers? In the past the stock enjoyed an earnings predictability rating of 85/100 which isn't bad
The P/E ratio of 14.05 is good for a stock with projections of increases in both revenue and earnings when compared to the market P/E of 14.80
The dividend rate is 1.12% which is about 25% of projected earnings so income investors should look elsewhere when you notice the 2.20% dividend rate of the market
The company enjoys an A++ financial strength rating
Sales have been up this year by 12% in North America, 13% overseas and also up by about 10% in the public sector.
Next earnings report is February 8th
General investor interest:
I use Motley Fool to find out the sentiment of the individual investor and 10,826 readers have given opinions on this stock
Of those voting 95% think the stock will beat the market
96% of the more experienced and market savvy All Stars voted 96% for the same result
Here is something interesting: Of the readers sharing their stock picks the top 10 readers making money in this stock were mainly long term short sellers
Fool notes that almost all of the articles in the financial press have positive views on this issue
Some names with favorable comments are: Jim Cramer, Ed Lampert, Jim Jubak, Bill Nygren and Pat Dorsey
Normally I like to compare the price action of a stock to its competitors over the past year, but since we seem to be in a market rally, let's just look at the last 6 months: Cisco is up 28%, Hewlett Packard (NYSE:HPQ) up 14%, Juniper Networks (NYSE:JNPR) up 9%, and Alcatel-Lucent (ALU) down almost 48%.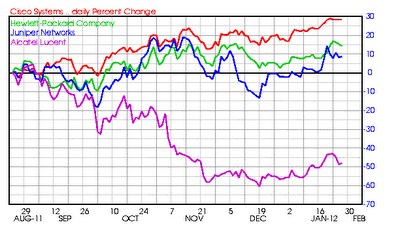 Summary: I look for good things for Cisco Systems. Analysts predict that if all their projections for increases in revenue, earnings and a higher P/E is reached; investors could see an annual total return over the next 5 years in the 17.50% - 19.50% range. My big word of caution is to temper your optimism: Apple (NASDAQ:AAPL) recently soared on a favorable earnings report; if a company reports an earnings disappointment it could tank as easily. My advice is if you decide to buy into CSCO at this point, or accumulate additional shares before its next earnings report, due February 8th, please protect your position with a stop loss at either the lower channel of the 14 day turtle channel or the 50 day moving average. Lately the market moves very fast on both good and bad news.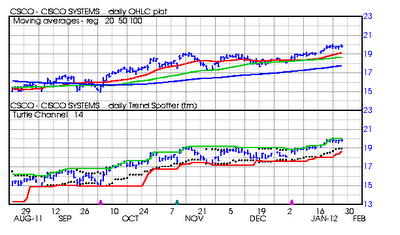 Disclosure: I have no positions in any stocks mentioned, but may initiate a long position in CSCO over the next 72 hours.