Johnson & Johnson (NYSE:JNJ) reported mixed fourth-quarter results Tuesday. Though we weren't exactly enthralled by the firm's performance, we believe JNJ to be a key holding in the portfolio of our Dividend Growth Newsletter. Our fair value estimate for JNJ is unchanged at this time.
The company's fourth-quarter and full-year 2011 sales increased 3.9% and 5.6%, respectively, from the same period last year. Revenue increased in all three segments--consumer, pharmaceuticals, and medical devices/diagnostics--led by strong international growth. Drugs such as Stelara and Remicade continue to garner high demand, while new applications for Xarelto may contribute to expansion in coming quarters.
Though the top-line expansion was decent, recalls and related charges--including litigation and product liability--continued to plague JNJ's bottom line, amounting to significant after-tax charges. Net earnings, as a result, fell to just $218 million in 2011 from $1.9 billion in 2010 (earnings per share of $0.08 versus $0.70 in the prior year). Excluding special items, net earnings came in at $3.1 billion, or $1.13 per share (about 9%-10% growth). The recall of hip replacement devices in the DePuy division as well as the shutdown of a manufacturing facility for consumer OTC are just a few of JNJ's ongoing concerns.
Looking ahead, JNJ expects full-year 2012 earnings per share to come in between $5.05 and $5.15 per share, below consensus estimates. This is on the heels of operational growth of 3.5% and 5.5% for the year, offset in part by negative currency head winds. Despite the lower-than-expected profit levels for 2012, we think JNJ remains on track to achieve our long-term projections, so we won't be making any changes to our fair value estimate at this time. JNJ remains one of our top dividend-growth picks, and the firm's first-quarter dividend of $0.57 will be payable March 13.
We provide our dividend analysis below (click image to enlarge):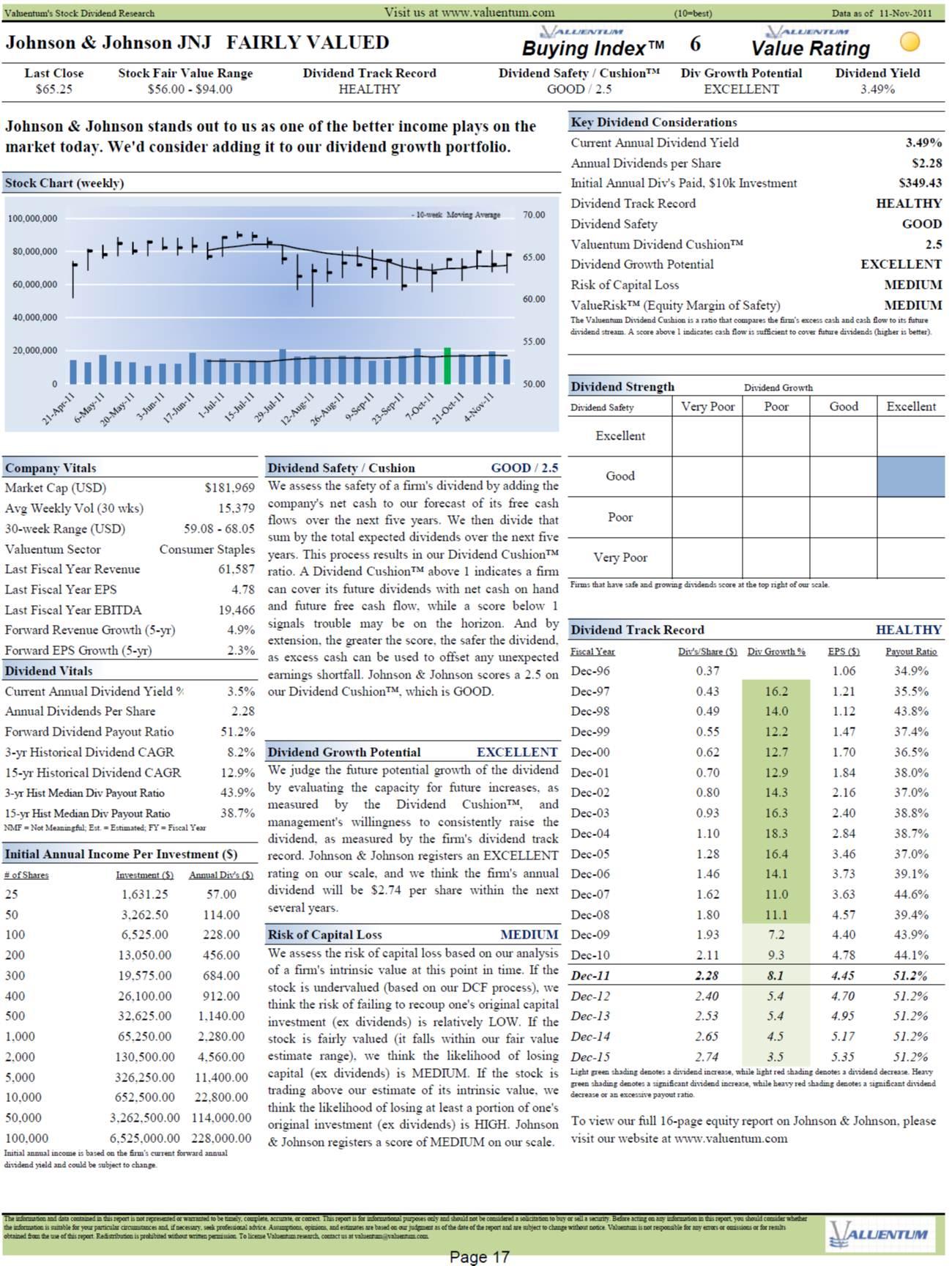 Additional disclosure: JNJ is included in the portfolio of our Dividend Growth Newsletter.