It was only a few weeks ago when I wrote that investors ought to consider taking advantage of a pullback in pawn store operator First Cash Financial (NASDAQ: FCFS). Since then, the stock has bounced back to the tune of 15%. Now with fourth quarter earnings in hand, it's a good time to review the thesis and what's going on with this Latin American consumer play.
A Fourth Quarter More Or Less As Expected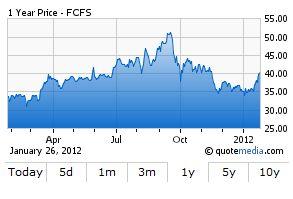 First Cash Financial gave analysts revised guidance closely before its official earnings release and so the reported earnings weren't too terribly surprising. Revenue was a little disappointing relative to original expectations, though 15% reported growth and 20% constant currency growth doesn't sound so bad. Unusually for FCFS, revenue growth in the U.S. was stronger than in Mexico. More on this in a minute.
Profitability was a bit mixed, but again more or less in line with what was expected. Gross margin fell about four points from last year on lower retail margins, lower originations, and flat scrap margins. Management recouped this through tight operating expense control, though, and reported operating profit increased 15% from last year.
A Slower And Maybe More Sustainable Mexico
As mentioned, U.S. growth outstripped Mexican growth (19% to 11%) and same-store sales growth seems to have converged around the mid-teens for both. This was not exactly an accident or a surprise.
While there has been lower traffic in some northern Mexican stores and some adverse movements in the dollar-peso exchange rate, management has been actively looking to reduce loan-to-value ratios and take a more conservative approach to the Mexican business. Accordingly, pawn balances rose just 10% (versus 13% growth in the prior quarter). Although this may seem like a bad sign, I take the opposite view - lenders (and pawn brokerage is a type of lending) ought to be conservative and willing to pull back a bit if the market isn't developing to their liking.
Moreover, it's not as though management has soured on the Mexican market. The company recently acquired 29 stores in Mexico and is looking to open as many as 120 in 2012. With many years of profitable growth ahead of the company, why overreach and risk seriously undermining the company? Frankly that's a lesson a few American banks should have remembered a few years back.
Noise In The U.S. Really Doesn't Matter
As First Cash prepares to expand into new markets (perhaps Argentina, Chile, or Colombia), the payday lending market in the U.S. is convulsing a bit again. The Consumer Finance Protection Bureau is rattling its saber again and this could ultimately become problematic for payday lenders like Advance America (NYSE:AEA) or World Acceptance (NASDAQ:WRLD), but with just about 10% of its business in payday lending (and almost all of it in the generally payday-friendly state of Texas), First Cash has relatively little exposure.
Likewise, it will be interesting to see what comes out of the recent expansion of banks into direct deposit lending. Several well-known banks, including Wells Fargo (NYSE:WFC), U.S. Bancorp (NYSE:USB), Fifth Third (NASDAQ:FITB), and Regions Financial (NYSE:RF), are basically willing to act like payday lenders. If you are an account holder with a job and your checks are direct-deposited to the bank, you can borrow a limited amount of money (several hundred dollars) in exchange for a fee. The bank then cancels the loan by deducting it from the next direct deposit.
Now, these banks charge lower fees than most payday lenders (often about half the going rate), but that's still expensive lending. There's an undeniable convenience to it though, and it's a potential honeypot for banks looking to replace lost fees. Again, this isn't likely to affect First Cash all that much, but it will be interesting to watch the reaction of the public as this practice becomes better known.
The Bottom Line
With about 60% of its lending in Mexico, First Cash Financial is a solid play on the growth of consumer spending there, as well as an ongoing play on the general suspicion of banks that many Mexican citizens have. What's more, it has the lead on Cash America (NYSE:CSH) and EZCORP (NASDAQ:EZPW) in the faster-grower Latin American market.
When it comes to valuation, things get a little trickier. Assuming low-to-mid teens free cash flow growth and an above-average discount rate (to account for the higher risk of its operations), First Cash is still slightly undervalued after this rebound. That said, there is no explicit estimate of a third market in these models and a swift roll-out into a new market like Colombia or Argentina could definitely offer additional upside to the model and the stock.
Disclosure: I am long FCFS.