Amazon (NASDAQ:AMZN) is an online retailer that offers a large variety of products at competitive prices. Last year, the company's stock price was on high momentum until October, as it was up 91% since the beginning of the year. Later on, the stock price endured a crash because the investors realized that the company's profit margin was on the decline for 7 quarters in a row and the company was spending a serious amount (i.e., near $20 billion in the last 6 years) of its revenue on investments such as the mobile tablet Kindle Fire.
Even though Amazon's share price plunged since October's highs, the company still has a very high P/E ratio of 98.69. While it's acceptable for growth stocks to have high P/E ratios, many investors started to question the company's valuation based on this metric. Let's find out why judging Amazon by its P/E ratio alone is misleading.
First, the bad news: Here is a chart showing the company's declining profit margin in the last several quarters. Notice the trend in the last 7 quarters? This is the biggest challenge Amazon is facing today.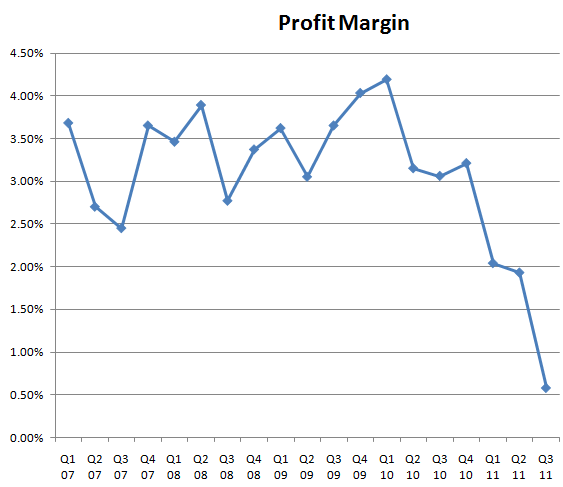 Some of the reasons of this decline come from within the company, whereas other reasons are related to the market conditions. For example, lately, a lot of retailers such as Best Buy (NYSE:BBY), Wal-Mart (NYSE:WMT), Target (NYSE:TGT) and Macy's (NYSE:M) noticed the fast growing online market. As a result, these companies started to increase their focus on their online segments. Fierce competition led Amazon to offer large discounts. The pressure also kept Amazon from raising its prices. Additionally, in the recent quarters the company increased its investment dollars in projects that may prove to be very profitable in the long run.
Now moving on to the good news: Amazon's revenue keeps growing steadily. In the last 5 years, the company's revenue grew between 14.47% and 50.97% each year. The average yearly revenue growth was 35.53%. Currently Amazon generates 45% of its revenues outside of US and Canada. In the first 9 months of 2011, North American revenues grew by 44%. Similarly, the International revenues also grew at the same rate of 44%.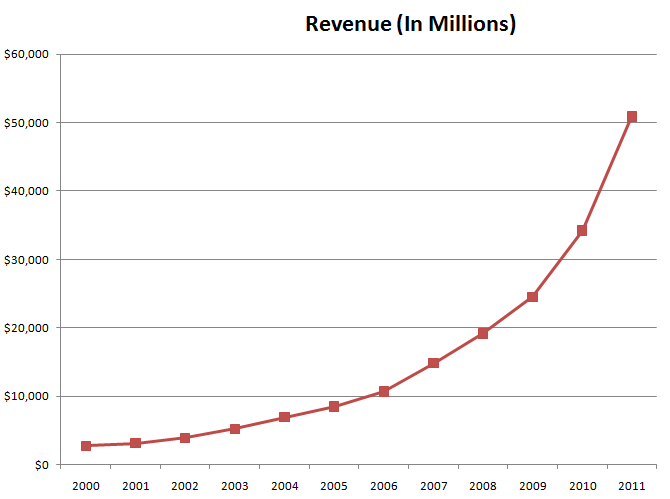 The significant revenue growth of the company in the last decade demonstrates that Amazon has been a growth stock. In addition, the fact that the company keeps investing a significant portion of its revenue on growth opportunities means that Amazon will continue to be a growth stock.
Amazon has a total of 69 distribution and fulfillment centers in US, and 30 of these centers were opened recently. Being able to distribute items to clients fast and efficiently is one of this company's important strengths. Last June, the company signed an agreement with the state of South Carolina stating that it would add 2,000 full-time jobs in the state and be exempt from sales tax until 2016. The company also added similar number of jobs in Indiana, but could not convince the state to be kept exempt from sales taxes. This is partly because of a lawsuit by local store owners who have to charge their clients sales tax. Similar agreements in other states may follow in the future. The new distribution centers will aim to lower the company's shipping and handling costs which currently amount to 1.5% of its revenues.
Amazon's new product Kindle Fire received a lot of heat from the company's investors for being an expensive and adventurous investment; however it might start paying off soon. According to a recent news story, mobile tablet and e-reader ownership almost doubled in the US in the last quarter (up from 10% to 19%). While Amazon sells its tablets for the same price it produces them (i.e., $200 vs. production cost of $201 per unit), the company hopes to generate additional revenue from other content viewable by these tablets such as videos and e-books.
The company has many different revenue generating business segments. One of these segments is Amazon Prime. The members of Amazon Prime pay $79 and receive unlimited free 2-day shipping for a year. Once a client registers for this service, he or she is expected to keep coming back to buy more products in order to take advantage of free shipping. This is a very promising idea for Amazon. In 2009 when the program first started, Amazon had 2 million members sign up for it. Today there are 5 million Amazon Prime members. On average, each Amazon Prime member generates 130% more revenue than a regular member. Also, the renewal rate of Amazon Prime membership is around 90%.
Amazon currently partners with CBS, FOX, PBS, NBC Universal, Sony, Warner Bros, PBS and Twentieth Century Fox to stream their content via Amazon Prime. The last two companies joined the partnership in the last quarter. Amazon Prime currently has a library of 12,000 movies and TV shows. For reference, Netflix (NASDAQ:NFLX) has a library of 20,000 online stream movies. Amazon also owns a publishing company called Amazon Publishing. Last quarter this company released a total of 61 books some of which became Kindle best sellers. Last quarter, the company initiated a Spanish website (Amazon.es) to sell videos, books, music and other material to Spanish speaking customers.
As of right now, the company owns several other online retailers in addition to its Amazon.com brand. These are: AbeBooks, AmazonLocal.com, Amazon Wireless, Audible.com, Diapers.com, DP Review, Endless Shoes, Fabric.com, IMDb, MyHabit.com, Shopbop.com, SmallParts.com, Soap.com, Warehouse Deals, Woot.com and Zappos.com. If the company's past behavior can tell us anything, the company will continue to add profitable online companies to its portfolio in the future.
The chart below shows the amount of cash the company held in each quarter in billion dollars. It looks like there is a cycle where the company waits a couple quarters to build up cash, and then it spends the accumulated cash on new investments. Then the new investments generate new cash, and the new cash gets spent on additional investments. The company doesn't like to keep cash in excess of $1.5 billion.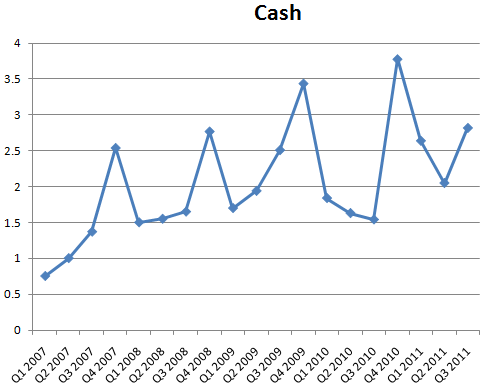 A better way of looking at what Amazon does with its revenue would be to examine its investment spending year to year. The chart below shows Amazon's annual spending of investment in billion dollars. This has been rising since 2007. When the fourth quarter numbers are added, 2011 will likely to be higher than 2010 in investment dollars spent by the company.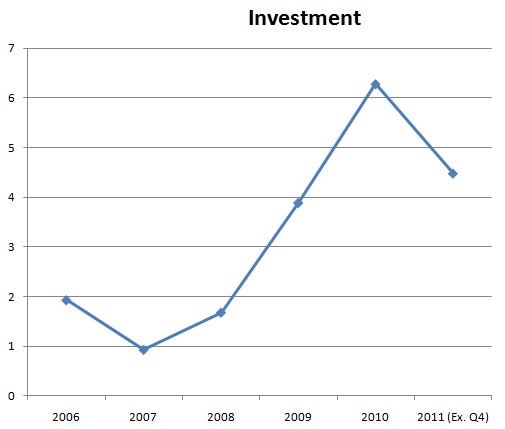 In the last 6 years, the company spent a total of $19.2 billion on investments. The average annual investment was a little over $3 billion. If a company invests a significant amount of its earnings on growth oriented investments, it will not bother me at all as a growth investor.
It is true that any kind of spending will bring a company's net income down and P/E ratio up, but growth investors should not worry too much about P/E value. What matters most for growth companies is whether they can utilize the resources they have for growth, and Amazon seems to be doing just that. Imagine this: if Amazon did not spend $4.5 billion on growth oriented investment last year, its P/E ratio would have been near 10 today, but wouldn't you rather own a growing company?
I am long in Amazon. The company should bring nice returns in the future for patient investors.
Source: All the information was gathered from the company's annual and quarterly SEC fillings unless otherwise noted.
Disclosure: I am long AMZN.