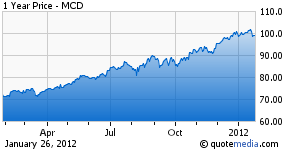 Earlier this week, McDonald's (NYSE:MCD) reported an excellent fourth quarter and very strong year. With earnings and revenue in-line with our estimates, we're sticking with our $88 per share fair value estimate.
Earnings for the year grew 15% to $5.27 a share, while same store sales accelerated to a 5.6% pace compared to last year. However, we were most surprised by the performance in Europe-same store sales grew by 7.3% in the fourth quarter, even as the Eurozone deals with a fiscal crisis and a possible recession. We think this highlights the outstanding value proposition McDonald's offers customers in spite of challenging economic conditions. Margins did fall slightly in the quarter, and though we do not see much room for improvement in the mid-term, operating income grew by 12% in constant currencies--strong performance.
Same store sales for the U.S. in the fourth quarter grew by 7.1%, exceeding our expectations. We think strong new products, increased McCafe offerings, and selective price increases aided top-line revenues. In fact, Chief Operating Officer Donald Thompson noted that prices increased by about 3% in the U.S. The company also expects to release some interesting new products in the U.S., highlighted by McBites [think KFC's (NYSE:YUM) popcorn chicken]. We think new high margin products, specifically of the McCafe variety, should bolster the bottom line in coming periods.
Asia-Pacific, Middle-East and Africa came in with the "weakest" same store sales, an increase of 6.9% in the fourth quarter. We continue to believe that the firm's strategy of building breakfast offerings, as well as the store base in China and other emerging markets remains a great growth opportunity. We do not think the company is nearing saturation, but we like the conservative strategy of not building out too quickly and focusing on creating well-performing stores.
What lies ahead …
Management was transparent with its plan to increase capital expenditures to $2.9 billion, while the company builds around 1,300 new stores and reimages around 2,400. 150 stores will be new McCafe's in Europe, while the rest of the new stores will be spread throughout both developed and mature markets.
1,300 may seem like an enormous amount of stores, but with an experienced management team in place, we think the number is executable. Additionally, we have faith that management will continue to add higher-margin products in developed markets that are either successful or eliminated promptly.
We also suspect that the firm will continue to return cash to shareholders via buybacks and dividends. The firm may only have a Valuentum Dividend Cushion score of 1.3, but with earnings expected to grow steadily, we expect the payout ratio to remain at around 50%, which implies some dividend growth. Yet, with a yield of only 2.8%, and the shares trading around the high-end of our fair value range, we'd wait for a pullback to get more excited about the stock.
Disclosure: I have no positions in any stocks mentioned, and no plans to initiate any positions within the next 72 hours.