New home sales fell sharply in December dropping by 2.2% after rising by 2.3% in November. Sales were not sufficiently boosted by good weather which was probably behind the huge 46.7% one month jump in sales in the Northeast. The Midwest, which was coming off several good months of gains (5.9% in Nov and 8.5% in Oct) gave back 3.7%. Meanwhile, the South, an area where winter does not have such a pronounced effect, saw sales fall by 10.1% after having gained 14.8% in November. The South which is the largest sector by far, dictates the direction of this report. Sales in the West rebounded to rise by 9% in December after having dropped by 19.3% in November (and after rising by 25.8% in Oct).
We continue to caution about reading too much into the winter housing reports weather can have an outsized effect. The recent volatility in these regions seems to underline this phenomenon.
More worrisome and less clearly affected by weather, however, is the huge drop in house prices. Median prices fell from $215.7K in Nov to $210.3 in Dec. Average house prices rose from $250.3K in Nov to $266.0K. The rise in the average price in the presence of a fall in the median price tells of better price action for larger homes which get a larger weight in the average compared to the median.
But house prices are not seasonally adjusted yet have strong seasonal tendencies. So for economic analysis we prefer to look at Yr/Yr trends. Median prices fell by 12.8% Y/Y a sharp deterioration from last month's 1.8% Yr/Yr drop. It's the largest Yr/Yr drop since Feb 2009. Average prices fell by 8.8% a bit less than their 11/.1% drop in November. But the November drop was the largest Yr/Yr drop for average prices since April 2009.
click to enlarge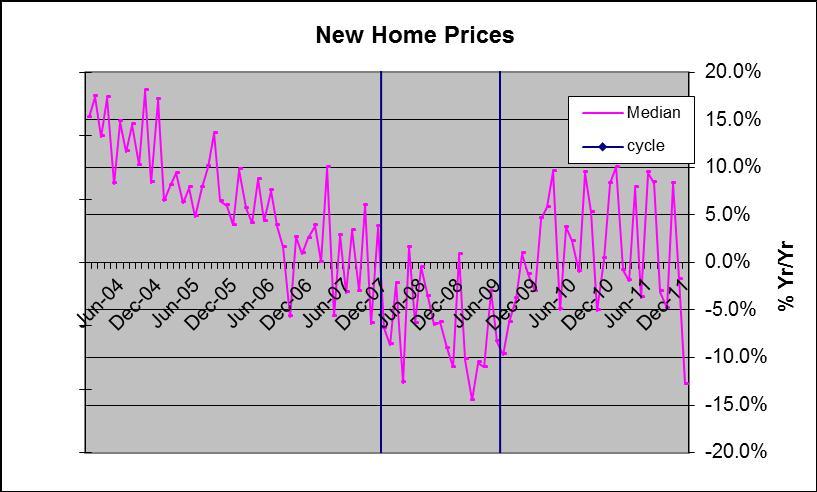 Click to enlarge
On balance the new home sales data are mixed. But the price trends are disturbing. Home affordability is still very, very solid. Mortgage rates are low. But if prices amid affordability are this weak it is a very bad sign. Some of this could be random compositional shifts in house sales or could be related to regional differences. Other more scientifically constructed price indices have not showed this sort of collapse.
There is not much in this report to get excited about. It rather underscores some of our previous arguments about the strength in housing as being weather-related. In the end if prices are not supported, any spurt in sales has to be distrusted. If prices are falling and sales are weak (as in this report, looking at median prices) it is an even more troublesome sign.
Disclosure: I have no positions in any stocks mentioned, and no plans to initiate any positions within the next 72 hours.