In writing a recent article on increasing competition in the oil and gas arena since the founding of OPEC and advent of state-backed national oil companies (NOC's), it was eye-opening to realize that measured by reserves, the only private sector 'Supermajors' to make it into the top 20 are Exxon Mobil (NYSE:XOM), as the 11th-largest oil and gas company in the world, with Shell (NYSE:RDS.A) (NYSE:RDS.B) and BP (NYSE:BP) also in the top 20. It's a simple fact of life that in this day and age the so-called Petro-states are estimated to control approximately 80% of the world's remaining oil.
It's easy to understand why someone would want to diversify their oil and gas holdings with one, preferably the best-of-breed, of these state-backed firms. The first problem is pretty straight forward; you simply cannot invest in most of these firms. And truth be told, many would probably refrain from investing in some of these companies given their current regimes. I think the National Iranian Oil Company (NIOC) and PDVSA of Venezuala are prime examples.
The same "regime" problem is currently haunting the three Chinese NOC's, namely PetroChina (NYSE:PTR), Sinopec (NYSE:SNP) and CNOOC (NYSE:CEO), along with Gazprom (OTCPK:OGZPY) of Russia. Yes, you can invest in any of them and discuss their attractively valuations and growth potential at great length. However, for this article we will focus on NOC's backed by democratically elected governments, and at that point the Chinese NOC's simply fail to make the cut, but we will certainly come back to China's state-backed firms in a dedicated future article to review them. With regard to Gazprom, even in 2012 Russia is still infamous for unreliability on the regulatory, fiscal and political front, as exemplified in the November 28 article, and therefore also fails to make the cut in the eyes of many investors until this materially changes for the better.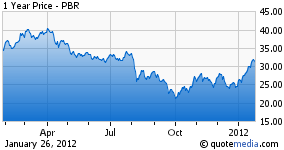 If we eliminate Gazprom from the equation, we are left we with only two viable options, namely Petroleo Brasileiro SA, better known as Petrobras (NYSE:PBR) (NYSE:PBR.A) of Brazil and Statoil ASA (NYSE:STO) of Norway. To start with the latter, Norway's Statoil was long considered the undisputed preferred pick among the state-backed oil companies. Some would argue it still is, and for good reason. Statoil's profitability per barrel of oil equivalent is $4.70 compared to an industry average of $3.60. In addition, Statoil makes $7.40 in capital expenditures per barrel of oil equivalent compared to $7.50 for the industry as a whole. It spends less to make more. On this basis at least, it's every bit Petrobras' equal.
In 2Q11 Statoil spent $6.7 billion on property, plant and equipment to generate $11.3 billion in net operating profits. Petrobras meanwhile spent $19.7 billion to generate a net operating profit of $14.4 billion. These figures speak for themselves, but do not yet provide a complete picture. For a final determination on Petrobras we would need to take a closer look at developments in Petrobras' country of origin, some of the reasons underlying these operational differences, and Petrobras' relative market valuation at this time.
Brazil has become an economic powerhouse in recent years as the economy has grown dramatically. Brazil's economy grew by 7.5% in 2010, growing at its fastest pace in 24 years, and 3.5% in 2011. Last year's reduced pace was attributed to high interest rates and a worsening global economic situation, but despite this "slowdown" The Centre for Economics and Business Research [CEBR] stated in its latest World Economic League Table that Brazil became the world's sixth largest economy in 2011, bigger than India or Russia, and overtaking the United Kingdom. The government is expecting a medium-term growth rate of 4.5 to 5%, which Dilma Rousseff's administration considers reasonable and sustainable.
Huge oil discoveries in recent years off the coast have firmly established Brazil and Petroleo Brasileiro SA. Petrobras is the largest company in Latin America by market cap and revenue, the 8th largest in the world, and active in 29 countries. In September 2010 Petrobras conducted the largest share sale in history, when $72.8 billion worth of shares in the company were sold on the BM&F Bovespa stock exchange. The Brazilian government currently owns 54% of Petrobras' common shares with voting rights directly, while the Brazilian Development Bank and Brazil's Sovereign Wealth Fund (Fundo Soberano) each control 5%, bringing the State's direct and indirect ownership to 64%
Besides producing oil, gas and ethanol, Petrobras is also one of the largest refiners in the world. The company is aiming to expand its operations by constructing a number of new refineries as they work on improving refining capacity to feed a Brazilian market in which demand has grown at about 10% per year. After completion of 3 new plants, Petrobras will have 19 refineries across Brazil, Argentina, Japan and the US.
Petrobras most important discoveries started at the end of 2007, when the first mega-field, originally called Tupi, now called Lula, was found at a depth of 5,000 (16,000 ft) meters below the sea level, the first discovery of the company in the pre-salt layer. The Tupi/Lula field in the Santos Basin had an estimated reserve of 8 billion barrels of oil equivalent (BOE), making Lula the world's largest oil reserve since the discovery of Kashagan in Kazakhstan in 2000. At the time, this field alone resulted in an estimated increase of Brazil's reserves by approximately 60%, and the reserve in the Lula area alone is practically on par with Norway's 8.5 billion barrels of proven oil reserves. Another discovery was announced on January 21, 2008. A new mega-field named Jupiter, said to be of a similar size as Lula (5-8 billion BOE), located in the Santos Basin.
The Franco oil field is a large ultra-deepwater oil prospect discovered in May 2010, also located in the Santos Basin, about 230 km off the coast of Rio de Janeiro, north of the Tupi field. It's considered the second largest pre-salt find in the basin after Tupi. The oil lies under 2,000 metres (6,600 ft) of water and a further 5,000 metres (16,000 ft) of sand, rock and salt layer. The Libra oilfield was discovered in May 2010 at about the same time as the Franco prospect, with oil lying on a similar depth.
Libra is still in the process of being tested and indications are it may turn out to be the largest pre-salt find to date in the Santos Basin, so even ahead of Tupi, making it the largest find since Cantarell Field in 1976. According to consultancy firm Gaffney, Cline & Associates the field's reserves are 3.7 to 15 billion barrels, with the most probable estimate being 7.9 billion BOE. It has since been confirmed by officials that the Franco and Libra fields are not linked with other nearby fields.
On December 29, 2010 Petrobras announced that its Lula well has recoverable reserves of 6.5 billion BOE, and that its Cernambi well has 1.8 billion barrels. CFO Almir Barbassa recently noted that Petrobras' proven reserves of oil, condensate and natural gas rose 2.7% in 2011 to 16.4 billion barrels of oil equivalent, according to standards set by Brazil's oil regulator, or ANP, and the Society of Petroleum Engineers. Barbassa also noted they expect total proved reserves to hit 30 billion barrels soon, exceeding Exxon Mobil's and BP's proven reserves for example, which stand at 24.8 billion and 18.3 billion respectively.
On July 22, 2011 the company approved its updated business plan for the 2011-2015 period, which should be viewed in context of aforementioned discoveries. The plan entails total investments of $224.7 billion (R$389 billion) for a total of 688 projects. Faced with recent significant deepwater and ultra-deepwater discoveries, the current plan sees increased investment focused on exploration and production to 57%, up from 53% in the previous plan. $73.6 billion of this $224.7 billion total investment is allocated to investments in refining and distribution. The updated plan now also includes a divestment program worth $13.6 billion. The plan maintains the assumption by management that there will be no new capitalization process, and additional resources needed to fund the Plan do not envisage an issuance of shares. It will be raised from the various other sources of funding that Petrobras has access to in Brazil and abroad.
The plan foresees strong growth in demand for oil products on the Brazilian market and beyond. Petrobras is upping its production development activities and currently expects to double its proven reserves by 2020, with pre-salt as the main source of growth. The company's production curve is rising strongly due to production getting underway at larger, more productive fields. To reach reserves at ever greater depths the company is continuously developing and acquiring new vessels and equipment, with the receipt of 24 more drilling rigs, apart from other equipment like new ships and platforms.
One example of all this new deepwater drilling technology could be seen in March 2011 in the Gulf of Mexico, when Petrobras commenced operations of a floating production storage and offloading unit (FPSO) with deep water technology never used before in U.S. waters. FPSO's are used in deep waters because they circumvent the need for any pipeline infrastructure and Petrobras, as the largest single FPSO operator worldwide, currently operates approximately 20% of all FPSOs in use due to its extensive experience with deep pre-salt discoveries.
To some extent the competition is finding itself playing catch-up. BP and Total (NYSE:TOT) recently made deals to enter the region, while other firms like Shell and Chevron (NYSE:CVX), who have a presence in Brazil today, are all too willing to expand in coming years. We will have to see to what extent Chevron will face headwinds in terms of liability related to the recent minor oil spill of the coast. Revamped oil laws that give the Brazilian government greater control over pre-salt could also end up deterring some future foreign investment. Previously, oil companies competed to lease offshore concessions, much like in the GoM, with winners gaining the right to explore and produce in the areas and paying royalties to the government on output.
That changed when Brazil approved a new production-sharing system that requires operators to give part of their production from pre-salt to the Brazilian state. Proceeds will go to a fund set up to invest in education, technology and other domestic programs. A bigger shift and clearly favourable is that Petrobras is now required to be lead operator of all pre-salt fields, with a minimum 30% stake in JV's to develop these fields. That's on top of existing regulations that require more than half of equipment and services on offshore projects be sourced from Brazilian companies.
Over the years a financial debate has continued in the financial community about growth investing versus value investing, as some people still believe that growth and value are mutually exclusive. I'm the first to admit that entry points in companies like BP, in the low $30's and high $20's, or Transocean (NYSE:RIG), in the low $40's and high $30's after the recent issuance, as described in prior articles, were predominantly based on fundamentals; balance sheet, income statement, cash flow, operational data. An entry point in Petrobras sub-$25 again bore all the hallmarks of a sound "fundamental" buy, but given Petrobras' future potential I believe we can actually categorise this particular company under the 'undervalued growth stock' section. I therefore anticipate that the recent run-up to the low $30's is merely the beginning and that this company may see significantly appreciation in terms of share price.
Although 2011 proved rewarding for new PBR or PBR.A investors, Petrobras' share price arguably shouldn't have reached sub-$30 in the first place, let alone hit sub-$25 as mentioned. Many pre-issuance Petrobras investors will have been disappointed with the handling of the 2010 share offering and lack of shareholder returns throughout most of 2011, apart from the dividend payments. Many analysts feel that in the offering the government grossly overcharged for new oil wells, transferring billions of dollars of value away from shareholders. Additionally, many initially felt that the $73.6 billion of capital investment in refining and distribution wasn't merely aimed at generating returns, but also at creating Brazilian jobs.
Going forward it's important that the Brazilian government and Petrobras' management team sufficiently protects the image and credibility of Petrobras in the eyes of investors. It's all about finding a good balance between national interests and those of foreign investors. Investors need to weigh up the potential disadvantages resulting from Brazilian government control and intervention against the preferential treatment Petrobras receives and subsequent benefits from profitable development of several of the world's largest oil reserves.
Petrobras' CEO Sergio Gabrielli recently stated that management anticipates Petrobras could be the world's biggest listed company within five years. "Petrobras is growing faster than Exxon Mobil, Total, Gazprom, Shell, Chevron, ConocoPhillips (NYSE:COP)," he said. "If you look at the numbers, by 2016 or 2017". The company aims to more than double production to 6.4 million barrels a day in 2020 from its current daily output of 2.57 million barrels. Petrobras' natural-gas and energy chief Maria das Gracas Foster has been nominated to take the top spot from Gabrielli, who is expected to enter politics in his home state of Bahia, in Brazil's northeast. Foster's nomination must be approved by the board of directors when it meets on February 9. Gabrielli statement, echoed by many others in the investment community, would imply a doubling of the company's current market cap of approximately $210 billion.
One note on Petrobras' dividend. As we can see on the company website, Petrobras pays an attractive dividend, with $1.295 gross distributed to shareholders during FY2011. The reason why several financial sites incorrectly list a 0.5% yield instead of the correct 4% current yield, based on a $32 share price, is related to the fact that the majority of payments are made as 'Interest on Own Capital' instead of 'Dividend'.
Petrobras favourable market valuation compared to NAV, its attractive dividend policy, staggering exploration potential, and rapid production growth, speaks volumes for the company's short-, medium- and long-term potential. Overcoming deepwater and ultra-deepwater drilling challenges will be the name of the game for Petrobras during the next decade. There are always risks; equipment failure, low penetration rates, potential hole-stability problems. Since Petrobras established its pre-salt technological program in 2007, great strides have been made in well technology, well costs, productivity, and casing stability to name a few. Much has been learned during the last few years through extensive testing in the Tupi/Lula and Iara fields and the company seems fully committed to deliver on its ambitious targets. When CFO Barbassa was recently asked about Petrobras becoming the biggest company in the world by 2020 he simply stated "we will try to continue doing our part to make that happen"!