In December, the solar company I manage had a Christmas party for all our employees. After a round of drinks, a fancy dinner with cloth napkins and some great conversation, my boss made an announcement.
"Some exciting news coming at you ... We're giving out gift cards as bonuses this year. Don't spend 'em all in one place."
Despite the groans of disbelief from all my fellow coworkers, I couldn't have been more excited. Call me weird but gift cards, as far as I'm concerned, are the ultimate gift because they allow you to buy whatever you want at a specific location. After all the gift cards were distributed and we discovered they were not all for the same amount, our employees began bargaining: "I'll give you my $200 Home Depot Gift Card for your $175 Target gift card!"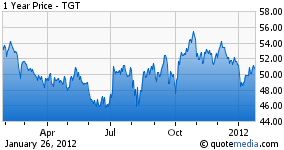 No way, buddy. Didn't you know I'd knock over my own mother for a Target (TGT) gift card? Target is one of my favorite companies -- I even own its stock -- and with the stock trading at attractive current valuations, I'll argue it's undervalued with a long term perspective.
For you poor unfortunate souls out there who have never heard of Target, it operates general merchandise stores in the United States providing customers a wide selection of nearly everything from candy and groceries to kitchenware, clothes, consumer electronics, sporting goods and books. Target was founded in 1902 and is headquartered in Minneapolis, MN. The company has over 1,750 locations in the United States with plans to add about another 350 in 2012 and is also planning to expand into Canada over the next couple of years.
The competition
It probably doesn't come as any surprise that Target faces some stiff competition from formidable opponents like Wal-Mart (WMT), Costco (COST), Walgreen Co (WAG), Whole Foods Market (WFMI), The Kroger Company (KR), Sysco (SYY), Safeway (SWY) and others. Target's ability to adapt with current trends while bumping up their marketing campaign has, in my opinion, set them on a path for future success. Despite competition from the above referenced companies, Target's long history and ability to continue to reinvest itself will assist in keeping the company "in the game." Also, I believe Target has been able to differentiate itself by positioning itself a step up from other retailers, earning the nickname "cheap chic" due to its ability to sell discount items while still making them somewhat fashionable with a "high end" reputation. As the economy improves, it's fathomable shoppers who were hit hard by the downturn may find themselves shopping at Target as their finances improve.
Target's finances
TGT sports a $34 billion market cap with nearly $70 in annual revenue, $820 million cash on hand, $19 billion in debt and a trailing and future P/E ratio of 11.85. TGT's PEG ratio sits just above 1.0 with a P/S of 0.5.
Target has paid dividends out to shareholders since 1965 and has raised its dividend every year for over 40 years. With a payout ratio of only 25%, TGT's 2.4% dividend has room to run. As a shareholder, I'm counting on future dividend increases as I inch closer to retirement. Target is trading in the middle of its 52 week range and I feel very comfortable adding to my holdings with dips below $50.
In an ever evolving world of fashion and preferences, Target certainly has its work cut out for it. However, I truly believe Target's long history of competitiveness and its ability to continually reinvent itself while maintaining a "high end" feel at its stores will provide attractive prospects for the company and the stock over the next few decades.
Now if you'll excuse me, I have a $175 Target gift card to attend to.