MCKESSON CORPORATION (NYSE:MCK) is expected to report Q4 earnings on Monday, January 30, before the market open.
(Click chart to expand)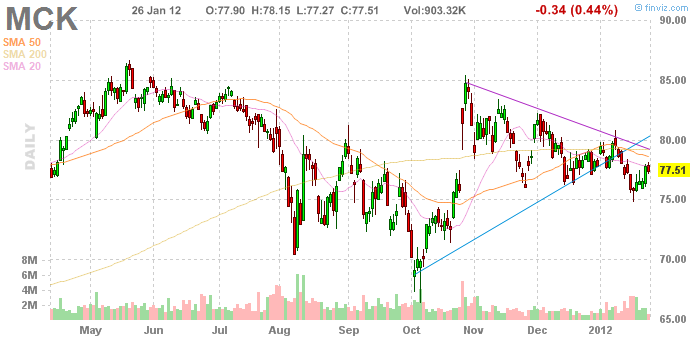 Guidance
For fiscal year 2012, analysts estimate that MCK will earn $6.32. For the 2nd quarter of fiscal year 2012, MCK announced earnings per share of $1.20, representing 19% of the total annual estimate. For fiscal year 2013, analysts estimate that MCK's earnings per share will grow by 10% to $6.96. MCK's current quarter consensus estimate has decreased over the past 90 days from 1.52 to 1.37, a loss of -.6%. Consensus estimates for the Generic & Specialty Pharma Industry have moved an average 0.0% during the same time period. The consensus range is between $1.28 and $1.52 according to 17 analysts reviewed. Of the past four earnings reports, MCK had four positive surprise reports of 9.4%, 3.6%, 11.5%, and 16.8% respectively. A pattern of increasing sales in conjunction with a rising EPS may influence a buy recommendation.
On 01/24/12, MCK closed at $76.55, 12.3% below its 52- week high and 14.9% above its 52-week low. MCK shares are currently trading 2.5% below their 50-day moving average of $78.48, and 3.8% below their 200-day moving average of $79.57. Despite the minor sell-off analysts believe the 12-month target price is $100. This is derived by applying an approximate peer-level 15.7X multiple to the 2012 cash EPS estimate of $6.32. In December 2010, MCK acquired US Oncology, a leading provider of products and services to oncologists, for $2.1 billion in cash and I believe this has put it at an advantageous position for growth that it is currently experiencing. I believe this earnings report will be another positive, and five positives in a row cannot be ignored. I believe this stock is poised for growth, especially after the earnings report.
Disclosure: I have no positions in any stocks mentioned, and no plans to initiate any positions within the next 72 hours.