T. Rowe Price Group, Inc. (NASDAQ:TROW) is a financial services company which services its individual and institutional clients with investment portfolios composed of local and international securities. With over $453.5 billion of their clients' assets under management as of September 30, 2011, the company operates with a relatively low-risk model which focuses on investing on well-managed companies with fast growth expectations. Examples of its most recent investments include stakes in booming social media companies like Facebook and Zynga (NASDAQ:ZNGA) and in Workday, a fast-growing human resource software provider.
According to its results for the third quarter of 2011 (pdf), the company continues to be debt-free with sufficient liquidity. This allowed T. Rowe Price to finance its capital expenditures and repurchase of common stock amounting to $93 million and $470 million respectively. This debt structure of the company fully embodies its low-risk approach and ultimately gives its investors assurance of their investments.
In their management commentary for the same quarter, Mr. James A.C. Kennedy, the company's chief executive officer and president, stated that their long-term financial outlook remains strong amidst the slower economic growth, the European sovereign debt crisis, and the lack of effective decision making by political leaders of both U.S. and Europe. Although he believed that these conditions have diminished investors' confidence due to heightened volatility, he noted that only short-term financial results will be affected. He also added that even if economic growth in emerging economies has slowed, long-term positive case for emerging market growth continues - referring to the strength of their growth stock style of investing.
T. Rowe offers investment advisory, distribution and other administrative services to its investors as its main sources of revenues. Its T. Rowe Price Associates, Inc. and T. Rowe Price International Ltd. subsidiaries perform the investment advisory services of the company. In this arrangement, investors' funds are granted the right to use the name of T. Rowe Price. Revenues from these activities are based on the daily net assets managed in each fund. On the other hand, its administrative services and distribution services are done by its other subsidiaries namely T. Rowe Price Services, T. Rowe Price Associates, T. Rowe Price Trust, T. Rowe Price Savings Bank, and T. Rowe Price advisory Services. Value-oriented, sector-focused, tax-efficient, and quantitative index-oriented approaches are applied to all of these operational activities.
As of December 31, 2011, 75% of the company's funds beat their 10-year Lipper average. Also in this quarter, investment advisory revenues on other investment portfolios increased by $21.9 million or 14% from the third quarter of 2010. On a negative note, market depreciation net of income decreased assets under management by $26 billion.
In comparison to its top competitors like Alliance Bernstein (NYSE:AB), BlackRock (NYSE:BLK), Franklin Resources (NYSE:BEN), Affiliated Managers (NYSE:AMG), Cohen & Steers (NYSE:CNS), Janus Capital (NYSE:JNS), and others, T. Rowe Price exhibited higher revenue growth and interest coverage ratio. In addition, its return on equity and assets, and price to earnings ratio is on par with others.
However, the company is experiencing some issues with a significant amount of assets associated with 401k plans. Issues arise when younger workers, who change jobs, with 401k plans cash out their investments with corresponding penalties paid. As a result, asset management companies like T. Rowe Price lose these assets. The same is true for retirees who move their 401k plans to personal retirement accounts. As more and more baby boomers begin to retire, T. Rowe Price will face increasing asset pressure as funds are removed from retirement accounts.
T. Rowe Price's stock has been in recovery mode over the last six months following its decline beginning in February as shown below: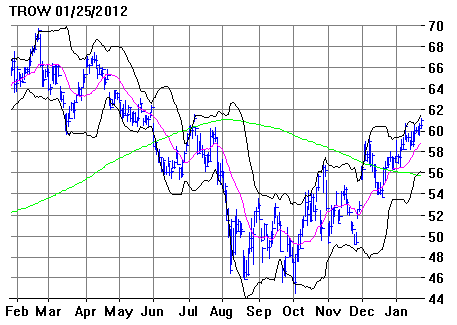 With T. Rowe Price's upcoming earnings call on Friday, January 27 2012, an investor might consider entering a collar position for protection against possible negative news. A collar can be entered by selling a call option against the stock and using some of the proceeds to purchase put option for protection.
Using PowerOptions tools, a collar position was found for T. Rowe Price with a 1.9% potential return (annualized potential return of 13.3%) and a maximum potential loss of 6.6% (even if price of stock goes to zero). The time frame for realizing the potential return is 52 days. The 1.9% potential return and the 6.6% maximum potential loss assume an undeclared $0.31 dividend payment during the time period.
The specific call option to sell is the 2012 March 60 call at $3.10 and the put option to purchase is the 2012 March 55 at $0.70. If the price of the stock is greater than or equal to the $60 strike price of the call option, the position will return 1.9% at option expiration in March. A profit/loss graph for one contract of the collar position is shown below: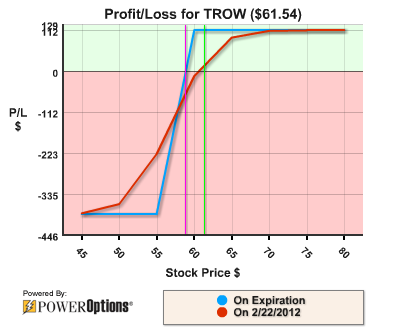 The put option protects the position in case the stock price drops significantly. For a stock price below $55, the value of the collar position remains unchanged with the maximum potential loss fixed at 6.6%.
Disclosure: I have no positions in any stocks mentioned, and no plans to initiate any positions within the next 72 hours.