By Stephen D. Simpson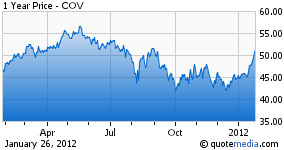 Sometimes healthcare is like real estate and success is all about location. For most of the past decade, Covidien's (COV) strengths were not seen as especially valuable - investors wanted the hot growth stories in stents, ICDs, and orthopedic implants, not a company that makes staplers and vessel sealers. Now, though, Covidien is the med-tech name that is showing good growth and the former winners are struggling to follow.
A Solid Start To The Fiscal Year
Covidien reported organic revenue growth of nearly 5% for the fiscal year; not only beating the analysts' guesses, but showing some acceleration from recent trends. The company reported 6% top-line growth from devices, about 4% growth in the pharmaceuticals division, and basically no growth in supplies. Relative to expectations, devices and drugs were surprisingly strong, while supplies were weak.
Covidien also did quite well for itself below the revenue line. Gross margin improved 120 basis points (on an adjusted basis), while operating income grew 15% and operating margin expanded more than two points. Although Covidien still under-spends many of its rivals in R&D, the company did increase spending here by 21%.
The Same As Before, Only More So
One of the interesting points about Covidien's quarter is that the company really saw a case of the strong getting stronger in its device sub-sectors. Vascular and Energy were both up strongly (16% and 19%, respectively) and did quite well in a difficult market. On the other other end, markets that have been more challenged recently - endomechanical, soft tissue, ventilation, and monitoring - were all laggards again this quarter.
Looking at the endomechanical market, the results from competitors like Johnson & Johnson (NYSE:JNJ) and Stryker (NYSE:SYK) suggest that Covidien may be losing some share in areas like stapling and laparoscopes, even though weakness at Olympus should be helping. These companies all bundle their results differently, so direct head-to-head comparisons can be misleading. That said, Covidien's 2% growth doesn't compare well to the 6-8% growth seen at JNJ and Stryker in this same quarter.
Soft tissue repair is also an area of ongoing weakness. Sales were down just 1% this quarter, but it looks like the company has yet to rebuild momentum relative to rivals like JNJ, Bard (NYSE:BCR), and Boston Scientific (NYSE:BSX).
On a more positive note, the aforementioned energy and vascular businesses are doing well. Direct comps with prime rival JNJ are again difficult, but there's that same 6% growth at Ethicon Endo Surgery compared to the 19% growth in Energy for Covidien. On the vascular side, this seems to be one of the better growth segments in medical devices, as Stryker, Bard, and JNJ are all reportedly seeing solid growth. Still, with 16% overall growth and 35% growth in neurovascular, Covidien rises to the top.
Looking To Be Leaner, More Focused, And More Innovative
With Covidien's expressed intention to dispose of the pharmaceutical business, good sales here don't really mean much other than an improved chance of getting better value for the asset. Longer term, this asset divestiture should improve Covidien's reported growth and margins - drugs are indeed a high-margin business, but Covidien's operations lacked scale.
Management is also addressing years of under-investment in R&D by reallocating more resources in that direction. Though it's true that there's no one-to-one relationship between R&D spending and sales growth, it's hard to get much in the way of internal growth without a productive R&D effort - something JNJ management seems to have yet to learn.
It's also worth wondering if management is close to finished in tinkering with the business. The company's debt load likely constrains management from contemplating big deals, but a few tuck-ins here and there could yet make sense. It'll also be interesting to see how management handles businesses like ventilation and oximetry. These really aren't great growth markets, but it wasn't so long ago that Covidien made deals to expand their businesses.
The Bottom Line
Covidien has had a good and well-deserved run already in 2012, but it's still not especially expensive. The title of cheapest high quality med-tech name is slippery to hold because of all the moving parts, but Covidien definitely compares well with the likes of Stryker, St. Jude Medical (NYSE:STJ), Medtronic (NYSE:MDT) and Bard. With organic revenue assumptions heading higher in 2012 and margins looking pretty good, there's still an opportunity in these shares.
Disclosure: I have no positions in any stocks mentioned, and no plans to initiate any positions within the next 72 hours.