China TechFaith Wireless Communication Technology (NASDAQ:CNTF) is a China-based company with global operations focused on opportunities in mobile phones and the fast growing PC and online gaming markets.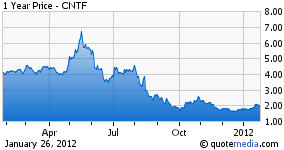 TechFaith has three primary businesses. The company is a leading global mobile solutions provider for the global mobile handsets market. Under its TecFace brand, the company is a leading developer of specialized mobile phones for differentiated market segments, including the rapidly growing smartphone market targeting users and operators through its TecFace brand; outdoor and sports enthusiasts through its Jungle brand; and the teen market through licensed brands. Under the company's 17Vee brand, the company has built a leading, intellectual property based motion gaming business ranging from Bluetooth enabled motion gaming controllers and software.
Initial Public Offering

The company became public via a $141 million IPO at May of 2005.
The underwriters were Merrill Lynch and Lehman Brothers.
Financials
On November 21, 2011 the company announced unaudited financial results for the third quarter ended September 30, 2011. TechFaith reported net revenue of US$80.6 million, a 17% increase compared with US$68.6 million in the third quarter of 2010. Net income attributed to TechFaith for the third quarter of 2011 was US$3.3 million or US$0.06. Ms. Ouyang Yuping, TechFaith's CFO, said:
We were able to achieve revenue above the high-end of our prior guidance in a weaker global economic environment and under the increased pricing pressure in several of the markets we serve. Higher demand levels for Android-based mobile phones and continued developments in our branded mobile phone business and motion gaming business helped us to partially offset the market pressure. We are pleased that we were able to keep our gross margin relatively stable at 24% despite such uncertain market conditions. This performance reflects the success of our higher margin branded mobile phone and motion gaming businesses. In addition, we remained focused on cost control and operating efficiencies, which helped us to further strengthen our balance sheet due to the continued healthy cash flow from our operations. We ended the third quarter of 2011 with US$4.46 per ADS in cash and cash equivalents compared to US$4.17 per ADS at the end of the second quarter of 2011.
Fourth Quarter of 2011 Outlook
The fourth-quarter 2011 outlook reflects TechFaith's current and preliminary view, which is subject to change. Based on current market conditions, the company expects its revenue for the fourth quarter of 2011 to be in the range of US$78 million to US$81 million, with gross margin levels similar to those for the third quarter of 2011. Mr. Defu Dong, Chairman and CEO of TechFaith, added:
We entered the fourth quarter in a very solid financial position which can help us navigate our course among continued market volatility. We continue to build momentum with customers in our mobile solutions business, branded mobile phone business and motion gaming business. We believe that our efforts would more readily translate to growth in our financial results when the broader market environment improves. We will remain conservative in our outlook and approach and maintain strict cost controls in light of the uncertain global economic environment. At the same time, we will continue to invest in the research and development and sales and marketing efforts that are critical to the support of our customers and brands while focusing on profitability. Strategic investments made in our business today will, we expect, fuel our growth when the market situation improves, as has happened in previous market cycles.
Insider Transactions
On April 4, 2011 the company announced that its Chairman and CEO, Mr. Defu Dong, purchased 120,000 ADS on the open market during the month of March 2011.
This follows the announcement on January 6, 2011 that Chairman and CEO, Mr. Defu Dong, purchased approximately 143,000 ADSs on the open market during the month of December 2010.
Chairman and CEO, Mr. Dong, has indicated his intention to purchase additional ADSs through open market and privately negotiated transactions. The timing and amount of such purchase transactions will depend on market conditions and corporate and regulatory considerations.
Conclusion
I recommend buying this stock under its cash position of $4.46 per share. The latest reported insider buys were above $3.50.
Disclosure: I am long CNTF.