Here is a nice utility stock with a consistent bullish uptrend that offers an opportunity for a series of short term options plays. With NiSource (NI) expected to continue up (but for an unknown period of time) we will explore how to use this trend to buy and resell options at a profit.
NiSource Inc., an energy holding company, through its subsidiaries, provides natural gas, electricity, and other products and services. It operates in three segments: Gas Distribution Operations, Gas Transmission and Storage Operations, and Electric Operations. The Gas Distribution Operations segment provides natural gas service and transportation to residential, commercial, and industrial customers. As of December 31, 2010, it owned and operated a total of 58,608 miles of pipelines and certain related facilities.
With a 52 week target of 25.00 we expect NI to surpass that mark. The old mark of 23 was surpassed in December and analysts are looking for volume to pick up again with the start of the New Year. There were some worries of a slow down based upon its obligation for pension funding, but its issue of $500 million in notes last November saw half the total going to the pension fund. With that in mind, we are expecting NI to continue to move up.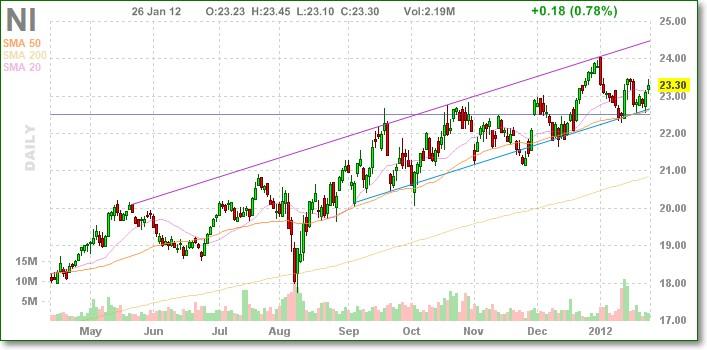 Option Plays for NiSouce
Look at a straight call option buy to start with. As NI continues to move up the bullish zone it is presently in, we would expect it to get closer and closer to 25. Once it hits about 24.5 by mid to end February, we would expect it to bounce off resistance. That would be a good time to resell the option for a profit. The April 2012 25 call option is presently selling for $0.25, so the investment is very reasonable.
If we have a bounce off upper resistance level which should be close to 25 before it moves down. The bullish trading zone span's an area of about 1.50. We would anticipate a move down to about 23 or so. At this point we might buy a 22.5 call option for July and watch the stock go down again and anticipate another resale of the option at a pre-defined profit point.
Playing the trend is a good way to look for small, consistent gains in a stock like NiSource while the pattern remains in play.