Brazil is happening. Once a country badly governed with an economy that was prone to inflation, Brazil has turned itself around in a manner uncharacteristic of the developing world. In just a few short decades, the country is now a democracy running smoothly that's greatly developed its finance sector and agribusiness along with its manufacturing base. No longer is the country reliant solely on its exports of coffee and mining, even though these industries too continue to thrive. They're developing processed food, soybeans, computers, electrical goods, and even aircraft. Growing relations with China, Brazil's largest trading partner, accounted for an increase in the country's trade surplus from $20.15 billion in 2010 to $29.79 billion in 2011.
As a result of this growth momentum, investors who are not keeping an eye on the country and possibly a dipped-toe into its markets risk losing out on one of the greatest success stories to come out of Latin America. Brazil was recently awarded the right to host the World Cup in 2014, and the Olympic Games in 2016, two mega-events that are normally reserved for North American and European cities. This honor not only has the effect of spurring on greater development for the region, but is being seen as acknowledgement of Brazil's "coming of age," and stands as a great motivator for national pride. For investors looking to partake in the growth of the country, they may want to take a closer look at some of the following companies:
| Company Name | Market Capitalization | Price/Book Ratio | Trailing P/E | Industry |
| --- | --- | --- | --- | --- |
| Vale (NYSE:VALE) | $126.6 B | 1.6 | 5.78 | Basic Metals |
| Gafisa (NYSE:GFA) | $1.1 B | 0.5 | 6.59 | Residential Developer |
| Cosan (NYSE:CZZ) | $3.5 B | 1.11 | 4.56 | Sugar & Ethanol |
| BRF - Brasil Foods (NYSE:BRFS) | $17.5 B | 2.22 | 19.23 | Food |
| Companhia de saneamento Basico (NYSE:SBS) | $7.4 B | 1.24 | 9.88 | Water Services |
| Petroleo Brasileiro (NYSE:PBR) | $203.6 B | 1.11 | 9.18 | Oil & Gas |
| Banco Bradesco (NYSE:BBD) | $72.0 B | 2.36 | 11.08 | Banking & Financial Services |
| Tele Norte Leste Participacoes (NYSE:TNE) | $4.5 B | 0.57 | 16.76 | Telecom Services |
Gafisa S.A. stands to benefit as a growing homebuilder in this developing part of the world. The new prospect of lowering interest rates can help spur on the increased demand for residential property development. Already trading at half of book value out of fears of lowered earnings expectations in a tightened environment, investors may be more comforted to know the company holds a current ratio of 3.35 and has continues to grow regardless of the punishment it is receiving in the market. In recent years, the company established a dividend distribution that has been relatively growing. With its discounted share prices, the company is still offering a yield going forward of 4.8% as of January 26, 2012. As a result, investors holding onto this company waiting for a recovery are at least getting income for doing so.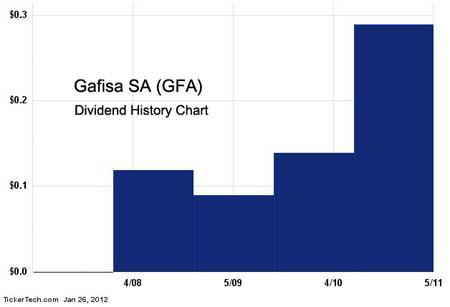 Cosan is another Brazilian company that is sure to have a prosperous future in light of the growing importance of sugar. With the recent end to American ethanol subsidies that helped contribute 45 cents to every gallon of corn-ethanol made, sugar-derived ethanol is sure to fair much better on the open market. As the largest sugar producer in Brazil with the largest domestic ethanol distribution network, Cosan stands to grow from the standpoint of both the international and domestic markets.
Disclosure: I am long GFA.