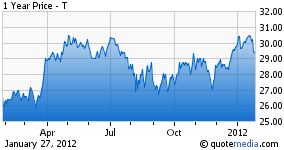 AT&T (NYSE:T) and Verizon (NYSE:VZ) are both rated a "hold" on the Street - a sentiment that I more or less share. Even though the two offer high dividend yields and little volatility, earnings potential does not support meaningful value creation given where multiples stand. Based on my multiples analysis and DCF model, I find that AT&T is more undervalue.d
From a multiples perspective, AT&T is the cheaper of the two. It trades at a respective 15.4x and 12.5x past and forward earnings while offering a dividend yield of 5.8%. Verizon trades at a respective 15.4x and 15.2x past and forward earnings with a dividend yield of 5.2%. And Sprint (NYSE:S), as I describe here, is floundering with frightening operational indicators.
At the the third quarter earnings call, Verizon's CFO noted strong results.
"We had another quarter of solid execution and earnings performance. Adjusted earnings were higher than the same quarter last year and would have been higher sequentially were it not for some extraordinary and, hopefully, nonrecurring challenges this quarter. In spite of this additional pressure from the storms and the strike, which had about a $0.05 impact on EPS in the quarter, we remain on track to achieve our full year earnings guidance of 5% to 8% growth in adjusted earnings per share off a base of $2.08 in 2010.

In terms of cash generation, we had a strong quarter with disciplined capital spending, resulting in a solid increase in free cash flow".
Management also, fortunately, reiterated a commitment to returning free cash flow to shareholders in the form of capital allocation. The board approved raising the dividend yield by 2.6%, which marks the fifth straight year of dividend distributions being raised. Verizon leads the way in 4G LTE development, but this has come at the cost of reduced margins. 2.2M LTE devices and 4.2M iPhone units were solid in the quarter, which increased subsidy costs and thereby cut into margins. In addition, management recently spoke about how the need to drive innovation through employees. One analyst commented about how management is optimistic that the Terremark acquisition was successful in the respect of integrating employees into the corporate culture. Management is now letting external vendors experiment with R&D, which should incentive more progress.
Consensus estimates for Verizon's EPS forecast that it will decline by 3.1% to $2.17 in 2011 and then grow by 16.6% and 13% more in the following two years. Of the 23 revisions to EPS, all have gone down for a net change of -1.3%. Assuming a multiple of 16x and a conservative 2012 EPS of $2.41, the stock is roughly at fair value. This is further confirmed when we model a CAGR of 8.5% for EPS over the next three years and then discount backwards by a WACC of 9%.
AT&T, on the other hand, is trading at a discount to intrinsic value. The company had stellar third quarter results. While mobile broadband performance was particularly strong, top-line momentum held up well across all segments. Even smartphones, despite the challenging macro phenomenal, posted impressive returns. And the third quarter was the first time in around 3 years that the company had sequential growth in wireline. With broadband penetration progressing smoothly in emerging markets and improving free cash flow generation, the company is well positioned to gain from a macro recovery after failing to acquire T-Mobile from Deutsche Telecom (OTCQX:DTEGY).
Consensus estimates for AT&T's EPS forecast that it will decline by 2.6% to $2.24 in 2011 and then grow by 8.9% and 6.6% more in the following two years. Assuming a multiple of 16x and a conservative 2012 EPS of $2.39, the rough intrinsic value of the stock is $38.24, implying 25.8% upside. If the multiple were to decline by 13x and 2012 EPS turns out to be 9.8% below consensus, the stock would fall by 5.9%. Accordingly, AT&T merits more than its "hold" rating on the Street.
Disclosure: I have no positions in any stocks mentioned, and no plans to initiate any positions within the next 72 hours.