Ben Bernanake announced on Wednesday that he will extend his zero interest rate policy (ZIRP) to at least the end of 2014. Although the markets in the short run have responded positively to this news, continuing ZIRP in the long run is disastrous for both investors and the economy as a whole.
The meaning of continued ZIRP can represent one of three things. It can show that the Fed expects the US economy to decline again into recession. The rate extension can also imply that the current recovery from 0.7% to 3.0% annual GDP growth is so fragile that it cannot handle a twenty five basis point interest rate hike for another three years. The third and most sinister possible reasoning behind extended ZIRP is the Fed and the US Treasury deliberately trashing the dollar for political reasons. Debasing the currency artificially improves nominal GDP and nominal exports while creating a politically easy away to reduce US government debt through inflation at the expense of American savers and real wages.
Any one of these three reasons reflects is a bad long term sign for both the US economy and the stock market. It either shows the desperation of the Fed to save the US economy from imploding from debt deleveraging, or a desperate attempt to monetize their way to avoiding becoming Italy. Either sign is a bearish signal for the long run economy, as it hurts savers and the growing amount of retirees from generating interest income to spend or reinvest in the economy.
It also harms the economy due to ZIRP's long run upward drive of commodity prices, which will stimulate price inflation without wages catching up. It will also continue to putting inflationary pressure on emerging economies as many Asian and Latin American countries import inflation through pegging currencies to the US dollar. Negative real interest rates also hurt investors, because central banks send false signals to financial markets that distort the ability to use fundamental or technical analysis to make prudent investing decisions.
So what does another three years of zero interest rates mean for investors? First, volatility in equity markets will rise as monetary intervention disrupts price discovery. I believe that precious metals such as gold (GLD) and agricultural commodities (DBA) to benefit the most from lax monetary policy. Mortgage REITs such as American Capital Agency Corp. (AGNC) and Cypress Sharpridge (CYS) are also a big winner because low interest rates allow them to have spreads to continue to pay out yields above 10%.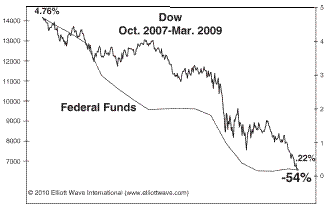 Stock prices, on the other hand, may not end up higher because of lower rates. As seen in the chart above, interest rate cuts actually have a negative correlation to equity prices. When the economy is strong, the Fed has risen rates to prevent high inflation. Holding interest rates, on the other hand, is a signal of a lack of confidence in the US economy to grow free of government manipulation.
My price target of 1,000 on the S&P 500 (SPY) remains unchanged. Extending the time frame for ZIRP does not equal the quantitative easing that the bulls need to fuel this rally and economic indicators such as home sales, jobs claims, and the leading indicator index failed to meet expectations. Technicals are also starting to weaken for the S&P and I have added onto shorts of financials (XLF), the S&P 500, and homebuilders (XHB).
Disclosure: I am short XHB, SPY, XLF.