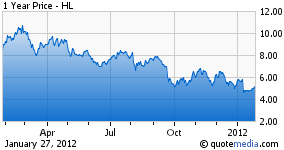 Matters have gone from bad to worse at Hecla Mining (NYSE:HL) with recent EPS revisions down 1.9%, taking the company more towards a "sell" rating. On the polar opposite of Hecla is its competitor, Silver Wheaton (NYSE:SLW), which is rated near a "strong buy". With Hecla shares down more than 40.3% in the last six months, valuation is at the low-end of the 52-week range and investors have an opportunity to benefit from high risk-adjusted returns. Based on my multiples analysis and review of the fundamentals, I find that Hecla actually has the potential to outperform Silver Wheaton but I still caution against opening a long position.
From a multiples perspective, Hecla is by far the cheaper of the two. It trades at a respective 12.4x and 11.8x past and forward earnings while being 110% more volatile than the broader market. Silver Wheaton trades at a respective 26.2x and 14.9x past and forward earnings and is only 50% more volatile than the broader market. At the same time, Hecla also has a dividend yield that is 60 bps greater at 1.6%. With that said, Silver Wheaton has performed better operationally than its competitor has of late.
At the third quarter earnings call, Silver Wheaton's CEO, Randy Smallwood, noted strong performance:
"We are pleased to report that Silver Wheaton delivered another quarter of solid financial results. Continuing strong silver prices combined with our unique business model of essentially fixing operating costs, have resulted in operating cash flows more than doubling to $167 million over the quarter. This occurred despite silver sales continuing to lag production, something I will discuss in a bit more detail in a few minutes.

At quarter end the Company had cash on-hand of approximately $716 million, which reflects the third scheduled payment of $137.5 million that we made to Barrick in September for their Pascua-Lama project. With access to an additional $400 million undrawn revolving debt facility and expected strong future operating cash flows, Silver Wheaton remains very well positioned to continue its goal of accretive growth by acquiring additional silver stream interests".
The company is less vulnerable to raw material volatility due to contract flexibility. Capex at the Yauliyacu mine has been significant, but sales were still lower than expectations. Management is showcasing confidence in the underlying fundamentals by leveraging towards ever-greater silver plays.
Consensus estimates for Silver Wheaton's EPS forecast that it will grow by 111.4% to $1.67 in 2011 and then by 41.3% and 14.4% more in the following two years. Assuming a multiple of 14.5x and a conservative 2012 EPS of $2.34, the stock is trading roughly at fair value.
Hecla, on the other hand, has greater upside, if at the cost of greater risk. Recently, management had to shut down operations at a major plant and the suspension is estimated at a year. Built-up accumulation of cement and sand at Lucky Silver's Silver Shaft motivated regulators to order the plant closed. This will significantly reduce production by as much as 3.3 Moz to 7 Moz in 2012 - a negative impact, however, that has already been accounted for in the market valuation. The firm's contract to supply lead zinc silver to Teck's smelter has thus been disrupted and could warrant force majeure. Going forward, Hecla has major catalysts in the San Sebastian and Star scoping studies. It has already quickly progressed at Star Mine and the Equity ramp. Furthermore, third quarter results were strong in terms of improving liquidity.
Consensus estimates for Hecla's EPS forecast that it will grow by 46.4% to $0.46 in 2011, decline by 8.7% in 2012, and then grow by 52.4% in 2013. Assuming a multiple of 14.5x and a conservative 2012 EPS of $0.39, the rough intrinsic value of the stock is $5.66, implying 14.1% upside. If the multiple were to hold steady and 2012 EPS turns out to be 16.7% below consensus, the stock would fall by 12.5%. This latter case is an extreme example and highlights how the substantial risk has dramatically limited downside.
Disclosure: I have no positions in any stocks mentioned, and no plans to initiate any positions within the next 72 hours.