This is the fourth in a series of articles that is looking at high-profile technology stocks as growth and dividend income selections. Our first article in the series laid a general framework around 10 high-profile technology stocks as dividend growth candidates. Additionally, our first article also covered Intel Corp. (NASDAQ:INTC) and Taiwan Semiconductor (NYSE:TSM) more specifically . Our second article featured Harris Corp. (NYSE:HRS) and KLA-Tencor Corp (NASDAQ:KLAC). Our third article covered Microsoft (NASDAQ:MSFT) and Honeywell (NYSE:HON), and can be found(here).
With this, the fourth article in this series, we will look at the "essential fundamentals at a glance" of two high-profile technology stalwarts, Hewlett-Packard (NYSE:HPQ) and Applied Materials (NASDAQ:AMAT). From the table below, it can be seen that they represent numbers seven and eight out of our ten selections ranked by dividend yield.
Since these articles are primarily focused on the operating fundamentals of these technology companies, we will refrain from any elaborate dissertation on each company. If potential investors are intrigued by what they see, we will leave that task of digging deeper into each company's business models to their own interests or desires.
Our goal is to introduce technology titans that we believe possess the two keys; sound or attractive valuation and above-average earnings growth, that provide the potential for strong long-term operating results However, we will offer a brief description of each company's business for introductory purposes.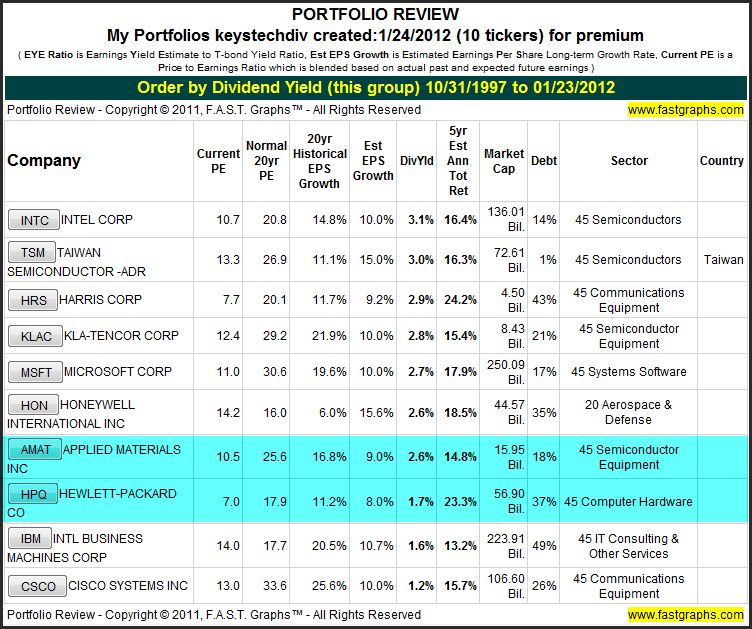 Click to enlarge
(Click to enlarge)
Applied Materials Inc. and Hewlett-Packard
Although the statistics in the table above provides a compelling argument for undervaluation and above-average future earnings growth on each of the respective 10 technology companies, statistics unto themselves can lie to or mislead investors trying to find the best candidates to add to their dividend growth portfolios. Therefore, we intend to follow-up on each of these 10 examples with the more comprehensive perspective provided by earnings and price correlated graphs. In this fourth installment of this series we will look at two leaders in their respective industries, Applied Materials and Hewlett-Packard .
Applied Materials History
Here's a brief description of this leading semiconductor wafer fabrication equipment company taken directly from a press release:
"Applied Materials, Inc. is the global leader in providing innovative equipment, services and software to enable the manufacture of advanced semiconductor, flat panel display and solar photovoltaic products. Our technologies help make innovations like smartphones, flat screen TVs and solar panels more affordable and accessible to consumers and businesses around the world. At Applied Materials, we turn today's innovations into the industries of tomorrow."
A quick glance at the long-term earnings growth history of Applied Materials paints a clear picture of the very cyclical nature of this leading technology company. Even though Applied Materials' earnings growth rate of 16.8% is above average, the predictability of earnings results from one year to the next is obviously very tenuous. We can also see that the company paid its first dividend in calendar year 2005 as illustrated by the light blue shaded area sitting on top of the earnings, which is the green shaded area.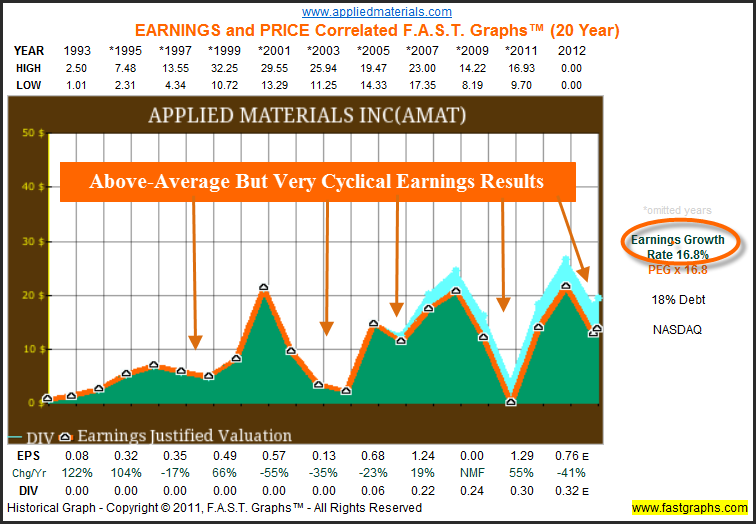 Click to enlarge
(Click to enlarge)
When we add monthly closing stock prices (the black line) to the picture, we immediately learn a couple of important historical facts. First of all, we see that stock price was very strong over the first seven and a half years (light green shaded area), and that price correlated very closely to earnings growth. Remembering that this was the irrational exuberance period, we also discover extreme valuation with Applied Materials' peak stock price in April of calendar year 2000. The huge demand for anything tech during this very unusual time in history attributed to both the lofty price and strong earnings results.
For added perspective, Applied Materials achieved a 57% rate of change of earnings growth from 1993 to 2000. And, since the market was looking very positively on anything tech at that time, it applied a lavish valuation to Applied Materials' shares that significantly exceeded its extraordinary rate of earnings growth. Consequently, it's arguable, at least, that much of Applied Materials' extraordinary stock performance was mostly justified by its simultaneously strong earnings growth.
Following the same train of thought, it is also clearly evident that stock price performance suffered as Applied Materials' earnings became very cyclical after the tech bubble burst (see light red shaded area). From the below graph we see that Applied Materials' stock price moves sideways to even drifting down since the end of the technology bubble.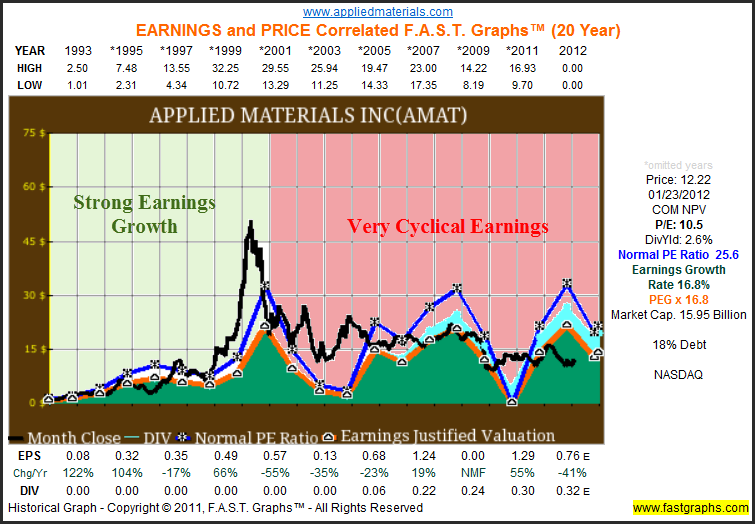 Click to enlarge
(Click to enlarge)
When we shorten our time frame and review Applied Materials' earnings and price correlating graph since calendar year 2003, we see a very cyclical company and a very poor long-term stock price reaction. Applied Materials' sensitivity to recessionary times is also graphically depicted as earnings disappeared and went to a deficit during the great recession of 2008. Since that time, earnings have been better but still erratic and rather unpredictable.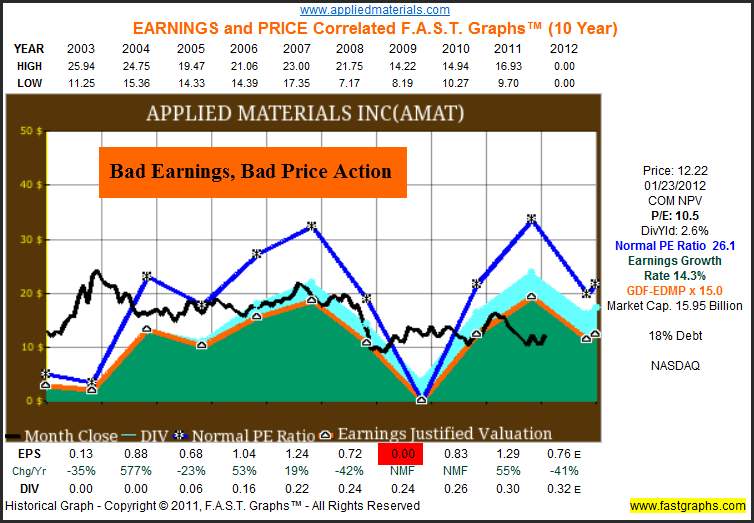 Click to enlarge
(Click to enlarge)
When we review the performance associated with the above graph, we discover a couple of important factoids. First of all, after initiating a dividend in calendar year 2005, their record of paying dividends has been solid but not great. Although they never cut their dividend, they did temporarily freeze it during the recession of 2000. Nevertheless, investors should take some solace in the fact that Applied Materials' management has clearly made a strong commitment to rewarding their shareholders through a rational dividend policy.
Second, when looking at capital appreciation only, we discover two critical factors. In addition to cyclical earnings results, Applied Materials was also overvalued during calendar years 2003 to 2006. Consequently, shareholders did suffer a small loss with the value of their shares since the beginning of calendar year 2003, however, the dividend policy did at least allow shareholders to approximately breakeven.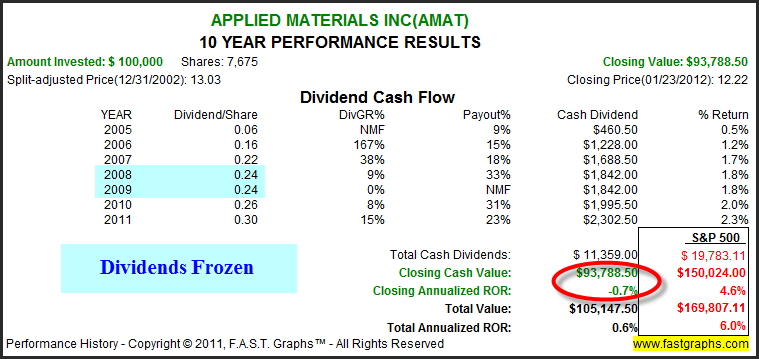 Click to enlarge
(Click to enlarge)
From the standpoint of Applied Materials' historical PE ratio, the current blended PE ratio of approximately 10.5 is at least historically attractive. Consequently, prospective investors can at least make a case that current valuation is on the low side and perhaps attractive at this time.

Click to enlarge
(Click to enlarge)
Reviewing Applied Materials based on its price to sales ratio, we discover that the current price to sales of 1.52 is one of the lowest that has ever been placed on their shares. Therefore, this metric would indicate that the company is undervalued at this juncture.

Click to enlarge
(Click to enlarge)
The Future for Applied Materials
As we repeated many times throughout the series, investors can learn a lot from the past but can only invest in the future. The consensus of 16 analysts reporting to Capital IQ forecast a down year in fiscal year 2012, followed by a strong fiscal 2013 and then a compounded five-year earnings forecast of 9% per annum.
A check with 18 analysts reporting to Zacks shows that they expect approximately the same results for fiscal 2012 and 2013, however, they forecast a five-year estimated earnings growth rate of 12%. Institutions like RBC Capital have recently been raising their ratings and price targets. With that said, prospective investors should carefully consider the unpredictable nature of this blue-chip technology titan's recent earnings growth performance.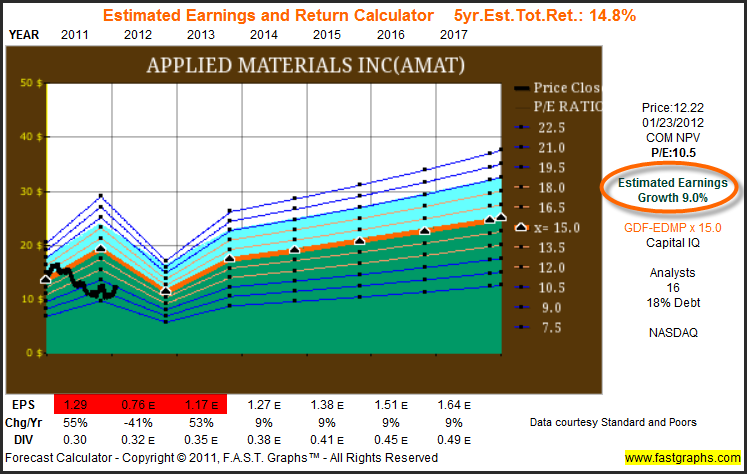 Click to enlarge
(Click to enlarge)
Based on the estimated earnings projections depicted on the Estimated Earnings and Return Calculator above, Applied Materials offers an earnings yield of 6.2% for fiscal 2012. Therefore, assuming these target growth rates are achieved, and further assuming that they're done in a reasonably consistent fashion, the five-year estimated total annualized return expectations on Applied Materials are just under 15% at 14.8% per annum (seen brown cell on the earnings yield estimate table below.)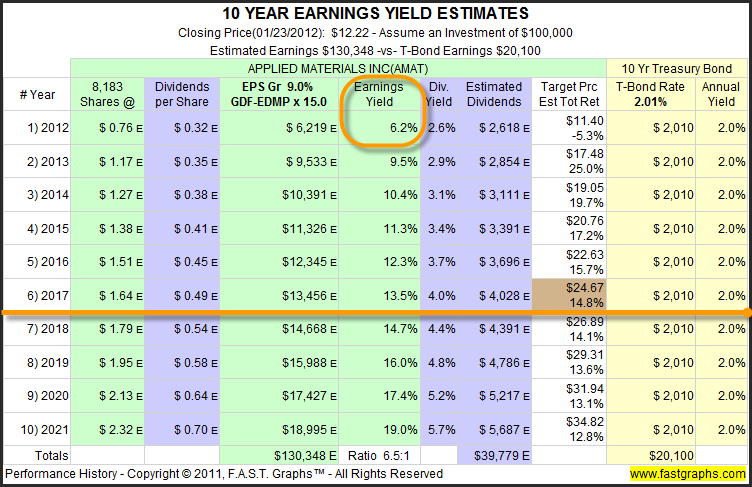 Click to enlarge
(Click to enlarge)
Hewlett-Packard History
Here's a brief description of Hewlett-Packard taken directly from a press release:
"HP creates new possibilities for technology to have a meaningful impact on people, businesses, governments and society. The world's largest technology company, HP brings together a portfolio that spans printing, personal computing, software, services and IT infrastructure to solve customer problems. More information about HP is available at http://www.hp.com."
Hewlett-Packard & Co. is a technology titan and we believe a franchise technology company with an interesting history and a somewhat storied recent past. From a quick glance at their long-term historical earnings and dividend record we discover a company that has experienced the occasional moderate cyclicality followed by strong periods of above-average earnings growth. And even with earnings flat due to some missteps by the controversial actions of two recent CEOs, this technology giant still managed an earnings growth rate averaging over 11% per annum.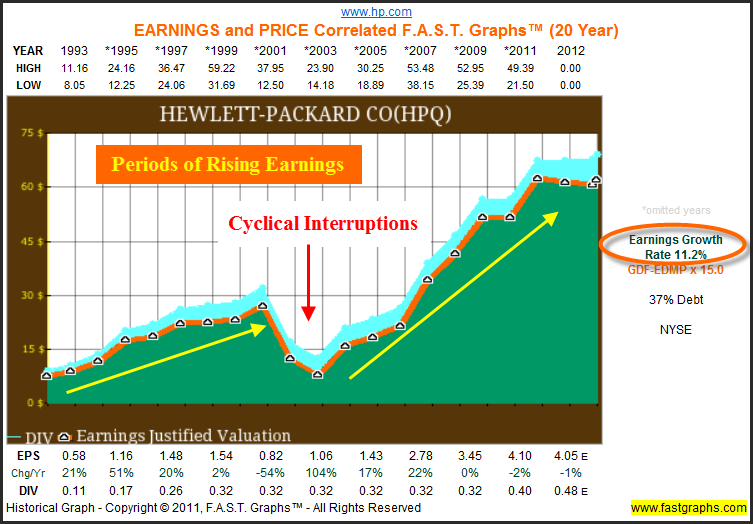 Click to enlarge
(Click to enlarge)
When we bring monthly closing stock prices into the equation, we discover a most fascinating graphic illustration of this company's long-term earnings and price correlated relationship. First of all, up until February 2010 we find a very reasonably correlated price-to-earnings pattern. Although we did have ludicrously high stock values during the irrational exuberance period, we see a very quick reversion to the mean as stock price followed earnings down in calendar years 2001 and 2002.
With both earnings and stock values collapsing, Hewlett-Packard brought in Mark Hurd as CEO in early 2005. Under Mark's tenure, Hewlett-Packard experienced a powerful earnings recovery up to and through his scandalous departure in late summer 2010. Additional faux pas by Hewlett-Packard's board has led to Hewlett-Packard stock price currently trading with the lowest valuations ever for this blue-chip technology titan.
Since these articles have been written to represent only a starting point for further research, we leave it up to any prospective investor readers to ferret out the details of Hewlett-Packard's future potential on their own. However, the primary reason this company was included relate to its franchise status in the extreme low valuation that the market is currently placing the shares.
Although we are not denying the company has problems and has made several missteps recently, the current valuation should at least attract investor attention. Takeaway the recent news, and focus solely on the fundamentals suggests an interesting and perhaps even compelling opportunity for long-term investors to consider building a position in Hewlett-Packard.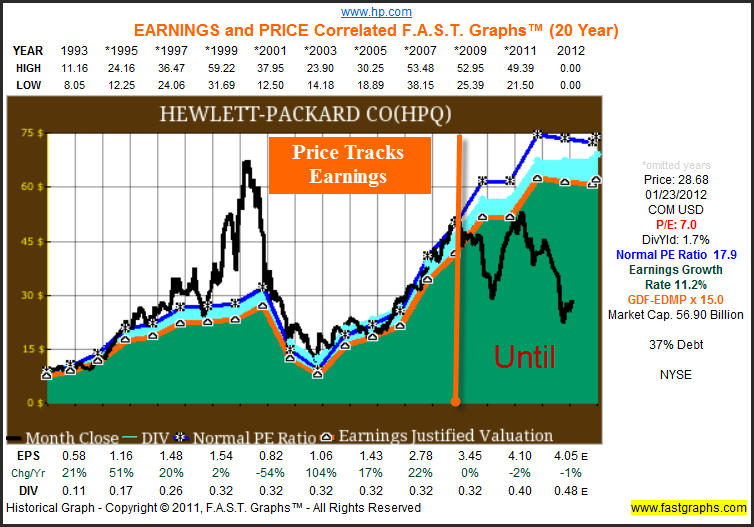 Click to enlarge
(Click to enlarge)
When you shorten the time frame and look at Hewlett-Packard since calendar year 2003, we discover that the company has achieved a significantly above-average earnings growth rate of 22.8%. This is in spite of the fact that fiscal 2011 and 2012 are down years. The point is, at least based on the earnings and price correlated graphs, the market reactions to Hewlett-Packard's woes appeared grossly overdone.
Click to enlarge
(Click to enlarge)
Perhaps what's most fascinating about Hewlett-Packard's story is that its performance since calendar year 2003 has been better than the S&P 500, notwithstanding the fact that it's currently valued at approximately half of the broader market's PE ratio. This speaks volumes about the power and protection of strong earnings growth regardless of how irrational the market can behave in the short run.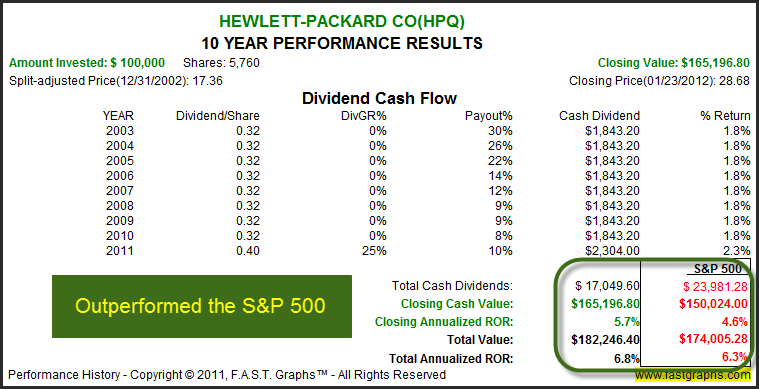 Click to enlarge
(Click to enlarge)
As previously stated, the current PE ratio on Hewlett-Packard is extremely low historically. We believe a strong case can be made that it's significantly lower than it deserves to be.

Click to enlarge
(Click to enlarge)
In addition to the historically low PE ratio, Hewlett-Packard is also training at one of its lowest price to sales levels ever. A price to sales level less than one is normally indicative of very attractive valuation.

Click to enlarge
(Click to enlarge)
Hewlett-Packard - The Future
But just like we have argued for every company covered in this series, investing is much more relevant by looking to the future than it is by looking at the past. However, in the case of Hewlett-Packard, this principle is perhaps more relevant than for any of the other 10 companies discussed over the series. Consensus estimates by 26 analysts reporting to Capital IQ forecast earnings growth at 8% per annum over the next five years.
We believe that there is a great deal of negative bias underneath the current earnings forecasts for Hewlett-Packard. However, we leave the task of determining whether that statement is true or not up to the reader. One thing we are confident about is based on current fundamentals and financial health, Hewlett-Packard represents an extremely undervalued technology stock at today's prices.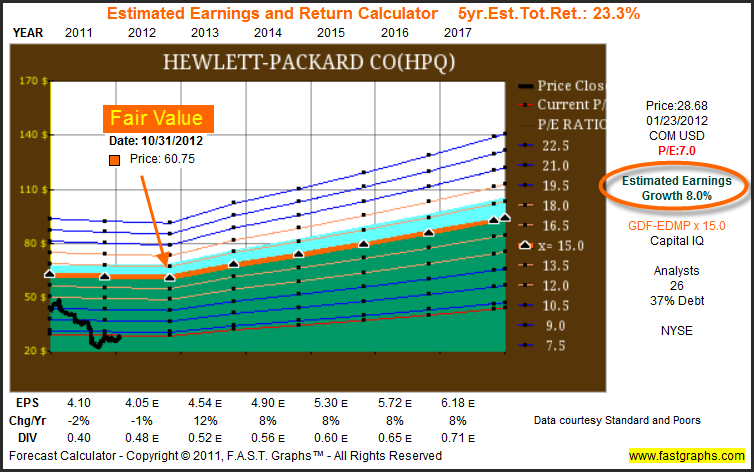 Click to enlarge
(Click to enlarge)
Based on Hewlett-Packard's low valuation and moderate future earnings forecasts, the company offers prospective investors an earnings yield of 14.1%. This high level of earnings yield implies a high level of risk, but today's low valuation logically seems to indicate otherwise.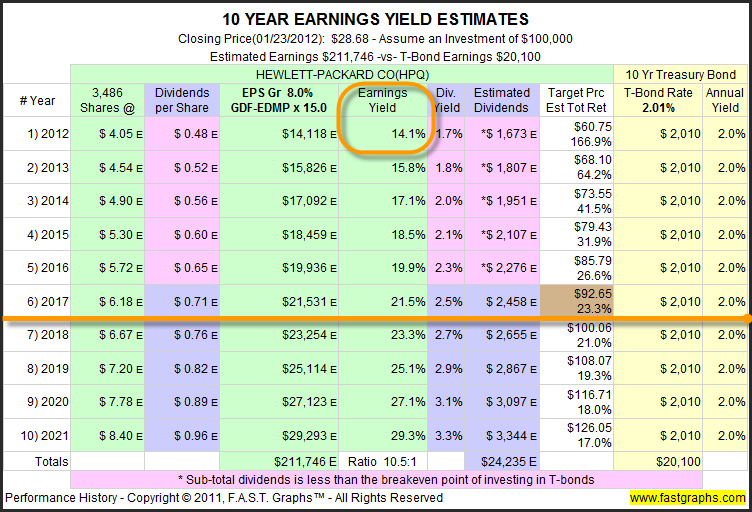 Click to enlarge
(Click to enlarge)
Conclusions
In many ways, this may be one of the most interesting sets of technology titans that this series of articles has or will cover. Based on PEs, dividend yields, balance sheets, price to sales ratios, and other important fundamentals, both Applied Materials and Hewlett-Packard Co. appear to be solid choices for investors seeking growth and dividend income. And in truth that may be true.
However, when you see their earnings and price relationships correlated and presented graphically, you discover a different perspective than the one that the raw numbers indicate. We believe these companies represent classic examples of how statistics can lie, and how a picture is truly worth 1000 words. Most importantly of all, we believe this article casts a bright light on the importance of a comprehensive due diligence and research effort.
Disclaimer: The opinions in this document are for informational and educational purposes only and should not be construed as a recommendation to buy or sell the stocks mentioned or to solicit transactions or clients. Past performance of the companies discussed may not continue and the companies may not achieve the earnings growth as predicted. The information in this document is believed to be accurate, but under no circumstances should a person act upon the information contained within. We do not recommend that anyone act upon any investment information without first consulting an investment advisor as to the suitability of such investments for his specific situation.