Our central belief is that in a low interest-rate world, retirees are experiencing dwindling incomes from their risk-free assets (e.g. government bonds and cash equivalents). With ultra easy monetary policy the Federal Reserve will continue to pick the pockets of savers by keeping rates low.
From the recent Fed press release:
Federal Reserve officials said their benchmark interest rate will stay low until at least late 2014 and anticipate that unemployment will remain high and inflation "subdued." The Fed extended its previous pledge to keep rates low at least until the middle of 2013 as inflation remains tame and more than two years of economic growth have failed to push unemployment below 8.5 percent.
Investors should not count on interest rates at the short end of the curve rising any time soon. The debt burdens of sovereign governments as well as consumers are simply too high.
We have been including the debt chart below in alot of our articles lately because we think investors should ingrain the image into their minds.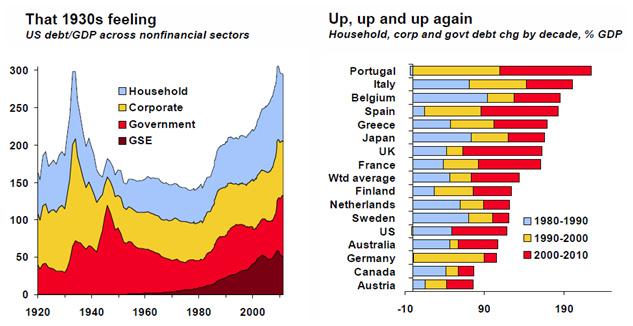 Source: Citigroup
The sad reality is that the debt situation in the U.S. is even more grim than this chart depicts. Including entitlement liabilities, U.S. debt to GDP is closer to 600%.
The global economy will continued to be weighed down by a debt problem that took over two decades to create. The leverage that has built up in the system will not unwind for years to come and it will continue to provide significant uncertainty and market volatility.
As central banks drive down short-term rates to deal with high debt levels and low growth rates, investors have been flocking to dividend stocks in search of yield. That said, any pullback in the market should be an opportunity to add to your low-beta dividend stock positions.
In the current market environment, it is important for income investors to choose their dividend stocks wisely as they are putting new money to work. As volatility increases (especially downside volatility), investors may want to add some low beta stocks to their holdings to help dampen portfolio volatility. In general, companies with low betas will tend to be less volatile than the general market.
Below is a list of 8 dividend stocks that we think should be a core part of any income investors' portfolio.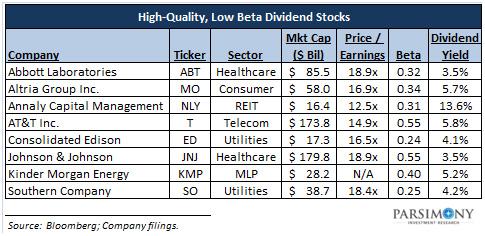 While this is not an exhaustive list of low beta dividend stocks, this sample portfolio would yield 6.1% with an average beta of 0.38.
We have been long-term holders of most of these stocks and we plan to continue holding throughout 2012. AT&T (NYSE:T) and Johnson & Johnson (NYSE:JNJ) have been a core holding for over 3 years now.
It should be noted that REITs, like Annaly Capital Management (NYSE:NLY), have a much different risk reward profile than the other stocks on the list. Even though the REITs have ultra low betas, the asset class certainly carries more risk (hence the 13%+ yields).
That said, we actually like the risk/reward profile of NLY in particular, but we caution investors to do their homework before investing in mREITs. We have written several articles on the sector, including this one.
Tactical Strategy
Due to the current market rally (which we believe will be short lived), investors should consider waiting for a pullback in these stocks to enter a new position or to add to an existing position.
Most of the stocks above are currently in a positive uptrend. As such, investors should be looking for near-term areas of support as potential entry points. Below are a couple of examples:
Abbott (ABT) should get some decent support in the $54.00 range. As shown in the chart above, the upward trend line and the 50-day moving average converge around the $54.50 level. Additional support will likely be found at the 200-day moving average ($51.80). We think that $52.00-$54.00 would be a great near-term entry point for ABT.
Altria (MO) has been trading in an upward range the past few months and we believe that this trend will continue for the stock as investors continue to seek good risk-adjusted yield in a low interest rate environment. That said, the stock should get downward support around the 50-day moving average ($28.46), and we think that investors should consider buying MO on any further dips. As of today, MO just entered the high end of our "Buy Zone".
Consolidated Edison (NYSE:ED) is in a very strong uptrend and we think that it should continue on this path for the foreseeable future. If ED drops to the $55.00-$57.00 area, we will likely open a position. Note: the chart of Southern Company (NYSE:SO) looks very similar to ED. Our "buy zone" on So is $42.00-$43.00.
Kinder Morgan Energy Partners (KMP) has been in a very strong uptrend since breaking out in mid-October. While we think that this up trend will continue, the stock was technically overbought and is in the midst of a healthy pullback right now. That said, we optimistically waiting for KMP to enter our "buy zone". The 50-day moving average ($81.28) should provide near-term support and we think that the $78.00-$80.00 range would be a good entry point in the stock.