VIX - Market Sentiment
Friday saw S&P futures trading up decent until the U.S. GDP number came in .2% light of what was expected. Analysts were expecting 3% Q4 GDP but came in at just 2.8%. The S&P futures had a somewhat decent move today trading more than 12 handles top to bottom as we opened near the bottom around 1307-1308 level. This may have somewhat been expected as puts in popular ETFs were bought across the board yesterday. S&P ETF (NYSEARCA:SPY), Nasdaq ETF (NASDAQ:QQQ), Russell ETF (NYSEARCA:IWM) and even the S&P cash saw large put inflows yesterday with the largest being a 4.6M 1300-1200 put spread I noted on Seeking Alpha yesterday.
This was also somewhat telegraphed as the CBOE Volatility Index (VIX) rallied back toward the 19.00 level only to retreat into the strong close on Thursday. Friday was a little odd with the VIX as spot VIX moved up initially but then leveled off, moving toward the noon hour as volatility began to re-price for the weekend. As one would expect the VIX futures for February dropped just slightly into the noon hour and continued its march down through the rest of the day.
Yesterday
February VIX futures 20.58
March VIX futures 22.50
April VIX futures 24.23
Today
February VIX futures 20.10
March VIX futures 22.20
April VIX futures 23.90
Options Paper
Juniper Networks (NYSE:JNPR) saw some large call rolls when the Feb 23's and 22's moved out to April 22 and 23's. These appear to be call sales as all four were sold below the bid/ask at the time of sale. JNPR reported yesterday and guidance was sad to say the least. Although calls outnumbered puts on the day more than 80% of calls were sold at or below the bid.
Shaw Group (NYSE:SHAW) saw a large rush to upside calls today as the February and March calls were bought across the board. Just yesterday Shaw had puts outnumber calls 9:1 but today calls outnumbered puts more than 50:1 into the noon hour. Also, 97% of the calls were bought at the ask on more than 5x normal call volume. This appears to be a short term bullish bet on SHAW between now through February and March expiration.
Oshkosh (NYSE:OSK) saw a good size bull step today buying the 26 calls 5K times against open interest of only 100 contracts. This appears to be a large trade as options volume is more than 10x normal with calls outnumbering puts more than 45:1.
Popular ETFs and equity names with bullish/bearish paper in terms of call/put ratios:
Calls outnumbering puts:
Sunoco (NYSE:SUN) 28:1
Lions Gate (LGF) 29:1
Men's Wearhouse (MW) 50:1
Fastenal (NASDAQ:FAST) 63:1
KBR Inc (NYSE:KBR) 205:1
Teekay Offshore (NYSE:TOO) 232:1
Harmoney (NYSE:HMY) 26:1
Puts outnumbering calls:
Eagle Bulk (NASDAQ:EGLE) 16:1
Royal Bank (NYSE:RY) 13:1
Genco Shipping (NYSE:GNK) 20:1
Time Warner (NYSE:TWX) 13:1
Volatility Explosion
Huntsman (NYSE:HUN) has seen shares soaring of late and today is no different, but the interesting part is IV starting to move up more than one would expect. This buying pressure appears to have bulls looking for even more upside as the March 13 calls were bought across the board. More than 6K calls traded bought at the ask more than 83% of the time and only 11% being sold at the bid. I am hesitant to ride a stock higher which is up so much on the year, but one must respect the option paper as these are a very bullish indicator.
Volatility Implosion
Solutia (NYSE:SOA) saw IV implode today when the takeover bid from Eastman Chemical came in. This prices the company at 27.65 per share and SOA soared and as one would expect IV came crashing down. Sellers of upside calls came in full force and they used the proceeds to buy puts just in case the deal fell through as it would allow shareholders to be protected. Regardless there is not much of a trade here in this name but calls did just slightly outnumber puts.
Speculative Play Friday
Anyone who got into last week's speculative play - Kinross (NYSE:KGC), just like Walter Energy (NYSE:WLT) - got paid this week.
Click to enlarge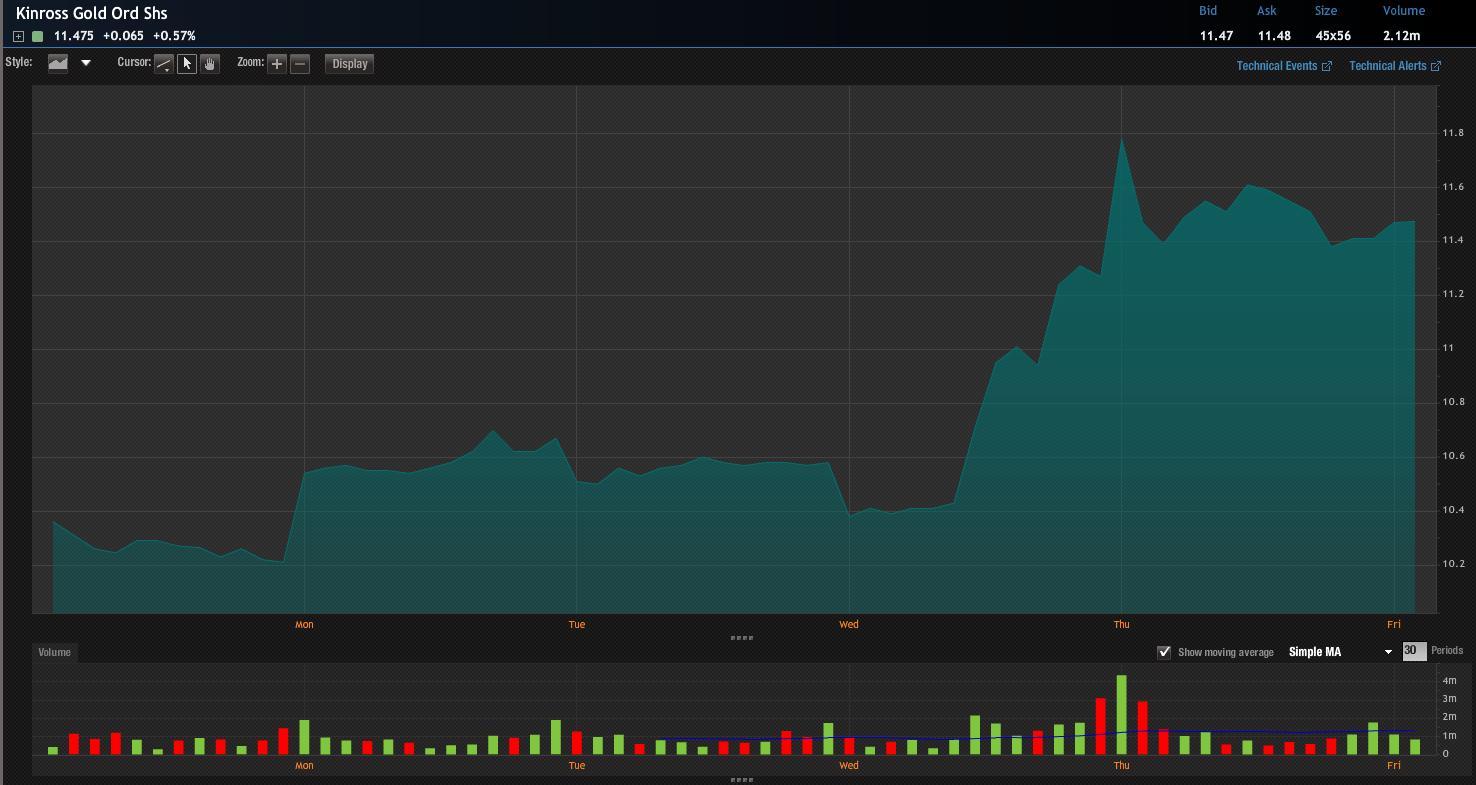 This week's speculative play is nothing like KGC or WLT as this company does not have solid fundamentals or a solid business.
Frontier Communications (NYSE:FTR) early today was taken to the woodshed when S&P hinted at a possible downgrade of its debt rating. FTR traded down more than 18% at one point today when a large March 4 call buyer stepped in buying more than 10K of the calls. Now in fairness the second largest trade of the day was a purchase of August 4 puts which went off to the tune of 1K contracts. On the trading day calls were more than 10x volume and puts traded more than 6x normal volume. My trade here is bullish FTR as the call put ratio and ISE sentiment has been very bullish. Instead of doing a fancy risk reversal or ratio spread on this one I'm just buying outright calls with volatility so low. Although IV30 screamed to the upside today with the buying pressure of both calls and puts overall the pricing still seems to be cheap to me compared to the historical norm.
As always happy trading and stay hedged.
Remember equity insurance always looks expensive until you need it.
Disclosure:
I am long SDS, APC, TBT, VIX, FTR
I am short: SIAL, RAX, TMO, KWK, PBI, FXE
Disclaimer: The opinions in this document are for informational and educational purposes only and should not be construed as a recommendation to buy or sell the stocks mentioned or to solicit transactions or clients. Past performance of the companies discussed may not continue and the companies may not achieve the earnings growth as predicted. The information in this document is believed to be accurate, but under no circumstances should a person act upon the information contained within. I do not recommend that anyone act upon any investment information without first consulting an investment professional as to the suitability of such investments for his or her specific situation.