I truly regret not loading up on put options in iPath S&P 500 Volatility Index Futures ETN (NYSEARCA:VXX) back in October, however I wanted to make sure history could repeat itself. The VIX did contango, and a declining VIX brought the ETN down. Next time VXX bounces to an extreme level, you can be sure I will purchase some leap put options for basement prices and hold on for the ride down (provided the VIX is in contango).
In other news relating to Ultra derivatives, Proshare UltraShort Gold (NYSEARCA:GLL) has been struggling as gold finally regained $1,700/oz. This price move comes a day after we entered as few Feb. 18 GLL 18/19 bear call spreads for a sell limit of 0.20 on Tuesday. My only anxiety now stems from our position in JPMorgan Chase (NYSE:JPM), I've been watching our Feb. 18 39/40 bear call spread like a hawk because I'm weary the banks may continue to rally. As for new trades, my eyes are set bullish on CF Industries (NYSE:CF) and bearish Netflix (NASDAQ:NFLX).
Netflix
Something great happened on Wednesday ... Netflix reported earnings. Netflix beat EPS ($0.73 vs. $0.55) and revenue ($876B vs. $857B) estimates on causing the stock to gap up over 15% in after hours. I regard this move as a gift. I've been waiting for Netflix to move up significantly so that I can place a bear call spread on the stock. As I wrote last Sunday in 5 Stocks For Next Week, I estimated a max high price on NFLX of $97.04 for Feb. 18 based on the historical returns from the Dec-Feb option expiration.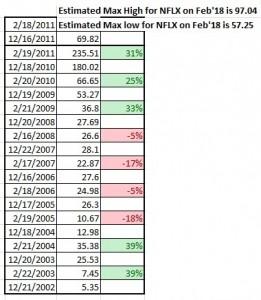 My estimates still hold. For those of you bullish enough to think NFLX is heading to $130 on Feb. 18th then your betting on an 86% gain from Dec. 16, 2011 to Feb. 17, 2012, which I believe is unrealistic. I will be looking to sell this gap up in NFLX with some bear call spreads, however my timing is going to take into account a rising market. In the short term, we may enter one bear call spread at the $130 level followed by another if the stock continues to rise. The reason why I continue to be bearish on Netflix is not only technical but fundamental. The company expects to report a loss in Q1 of 2012 as well as new competitors entering the market such as Amazon (NASDAQ:AMZN) or Wal-Mart (NYSE:WMT). The thought of new competitors (or existing ones such as Hulu) should be enough to keep investors at bay. I think everyone will enjoy this 65% move up on the stock from December expiration, and lock in their profits for a reasonably large gain.
Option Trade: NFLX - Sell Feb. 18th 130/135 call spread (Bear Call Spread)
Size - 4.5% of Giorgio's Corner Portfolio Size = (1 spread)
Entry: Sell Limit: 1.25
Stop Loss: 3.00
Exit Price: 0.00
Max Return: 33.33%
(Note: Return calculation does not include commission. Max Return is calculated as Return at Risk based on my entry, not Return on Margin.)
CF Industries
We recently profited from two options trades we placed on CF Industries back in December. The first was a Jan. 22 125/120 bull put spread which made 11.85% (before commission), and the second was a Feb. 18 135/130 bull put spread which made 40.29% (before commission). The reason for entering these previous trades was the historically bullish data on CF during the winter option expiration time frame. Agricultural stocks, in general, seem to outperform in the winter season. Recently, I looked at the data on CF from Jan-Mar option expiration and found the historical returns to be just as bullish as those during Nov-Jan and Dec-Feb. Please see below: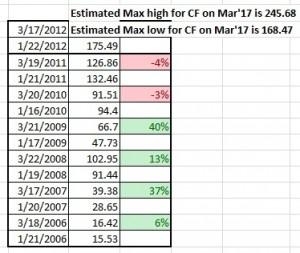 Above, we can see that the average gain during this period was 14.83%, which is very bullish. Recently, I've held off from recommending new positions in this stock through February because its earnings are on Feb. 15 (I'm not one to play earnings). Given the stock's recent breakout, I cannot help but suggest the following trade.
Option Trade: CF - Sell Mar. 17th 150/145 put spread (Bull Put Spread)
Size - 9% of Giorgio's Corner Portfolio Size = (2 spreads)
Entry: Sell Limit: 0.50
Stop Loss: 1.75
Exit Price: 0.00
Max Return: 11.11%
(Note: Return calculation does not include commission. Max Return is calculated as Return at Risk based on my entry, not Return on Margin.)

Charts are from Finviz.com.
Disclosure: I am short TVIX, VXX.
Additional disclosure: Short shares of TVIX, VXX, I own bear call spreads on VXX, GLL, NFLX, JPM. I have no investments in CF.