With the markets testing new highs again and the Volatility S&P 500 (VIX) roaming around its bottom lows, the possibility for another downturn in the market remains a consistent threat. Preparing for a possible top for a company can be just as important as preparing to catch the bottom. Companies that are more volatile, that are trading well above their book values, or that are trading at levels that anticipate significant growth can be setting themselves up for a rude surprise when the slightest kink in the machine allows the company to go awry.
The following four companies have all proven to be very excellent winners on the market in the past few weeks or months. However, each of them appear to be incorporating fundamental trading weaknesses that suggest that they might be approaching a valuation that is either exuberant or unsustainable. By looking at their valuations from a standpoint of both the earnings and their book values in light of higher betas, investors should consider treating these companies with a greater degree of caution.
Colfax Corporation (NYSE:CFX) is an engineering company that specializes in the design and marketing of fluid infrastructure products used by various industries around the world including oil and gas and commercial marine. The company is already showing a relative peaking pattern on its charts. Yet to compound this fact, the company trades at a high price-to-book ratio (P/B) of 5.52 and an above normal forward-looking price-to-earnings ratio (P/E) of 18.49. On the other hand, larger competitor Flowserve Corp (NYSE:FLS) trades with a more conservative P/B of 2.6 and a forward P/E of 12.5. Compounding the issue, a significant portion of Colfax's equity is defined under goodwill and intangible assets, which can often be subject to impairments under less positive circumstances. Colfax trades with an average beta of 1.6, but has seen its shares rise about 55% since October 2011.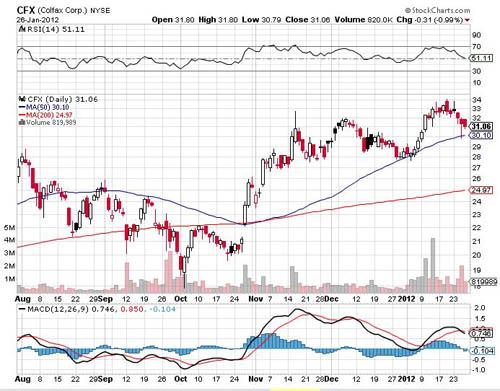 Kodiak Oil and Gas Corp. (NYSE:KOG) is an independent oil and gas company that operates in the Rocky Mountain area and in several zones including the prosperous Bakken Shale formation. The company has shown very productive growth levels in terms of earnings and as a result the company's share price have more than doubled since October 2011. Yet as a result of this explosive growth, the company has a P/B ratio a high 3.68 and a volatile beta of 3.34. The company has a trailing P/E of a whopping 51.1, but levels out with a forward looking P/E of 8.9. For comparison sake, competitor Marathon Oil (NYSE:MRO) trades with a P/B of 1.33, has a similar forward P/E of 8.62 and trades with a 1.24 beta. One of the Kodiak's directors recently sold $862,000 worth of shares in December. Investors should be on the watch for the company's production levels to make sure the company is continually growing to meet investor expectations. With a chart that appears to be leveling out and possibly waning, this company would not be one to be long in if oil and gas prices begin to fall.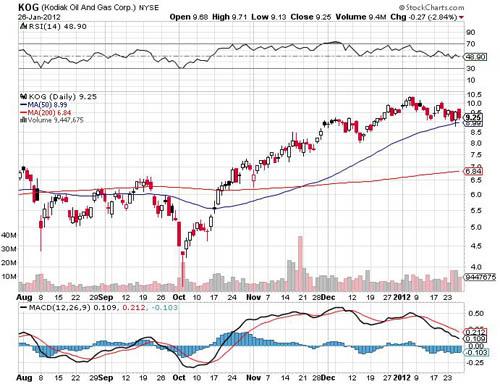 Lululemon Athletica (NASDAQ:LULU) designs, manufactures and distributes a high-end athletic apparel line with pretty comfortable pricing margins. As a result the company's stock has risen exponentially. The company now trades with a whopping P/B ratio of 17.22, a lucrative forward earnings P/E of 39.61, and a moderately high beta of 2.44. Comparable company Under Armour (NYSE:UA) on the other hand sports a P/B of 6.4, forward P/E of 24.7, and a beta of 1.69. The company has had a very steep share price recovery from a December 2011 lull, and has since risen about 40%. Such a rise allows for it to be susceptible to higher volatility.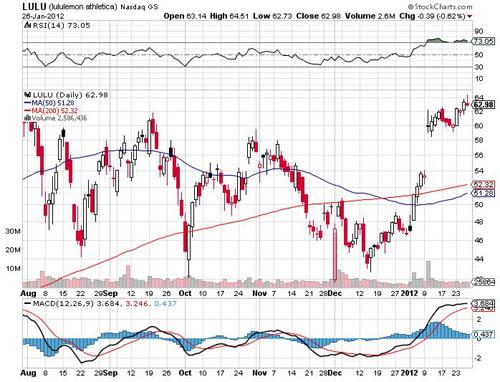 Select Comfort Corporation (NASDAQ:SCSS) is a producer and distributor of sleep-oriented products, primarily making a name for themselves through their Sleep Number brand beds. The company trades with a very high P/B ratio of 12.81, an above average P/E of 19.76, and a very high beta of 3.84. Though seemingly justified through a high quarterly earnings growth of 64.3%, and having no long term debt, the company's ongoing success may be setting in for a top in the near future. Since hitting its bottom lows in March of 2009 which were priced for company failure, Select Comfort has gained over 12,000% in the ensuing years.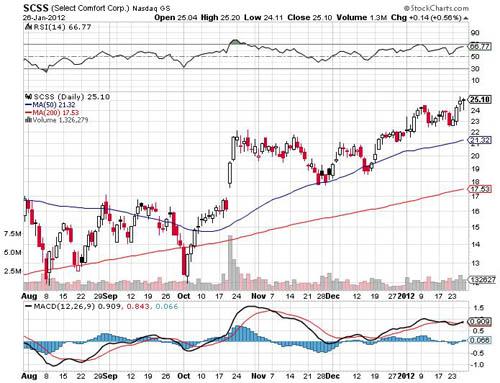 While each of these companies have demonstrated varying degrees of recent success, they continue to press higher and further away from their book values and earning potential. Likewise they exhibit ever higher beta values that are often susceptible to greater degrees of correction in times of market decline. Investors may wish to consider investing with some caution in these companies, and possibly take up short positions to hedge against other long positions in their portfolios that may have greater opportunity for capital appreciation.
Disclosure: I have no positions in any stocks mentioned, and no plans to initiate any positions within the next 72 hours.