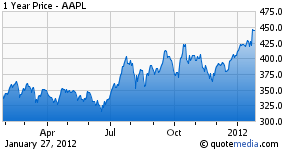 With each passing quarter, the talk about what Apple (NASDAQ:AAPL) will do with its growing "cash" hoard keeps heating up. The truth is, the cash Apple generates is already largely being put to work. Perhaps it's not being put to work in the way shareholders and analysts would like it to be (dividend, buyback, etc.), but the money isn't sitting in cash. Instead, Apple has gone on a shopping spree, buying up debt securities.
The reason I put the word cash in quotation marks in the previous paragraph is because according to the company's latest 10-Q, it officially has $3.956 billion in cash. The remainder of the $97.601 billion (fair value total) is spread out among various securities, broken down into Level 1 assets ($4.698 billion) and Level 2 assets ($88.947 billion). I don't consider any of my bond holdings (whether shorter or longer term) to be cash, and Apple doesn't either. The truth is that Apple has a huge portfolio of investments. Cash is one part of this, debt securities are another massive part.
As of December 31, 2011, Apple held $14.709 billion in U.S. Treasury securities, $11.920 billion of which was labeled as "Long-Term Marketable Securities." In other words, these Treasuries were not T-bills. It also held $20.007 billion in U.S. agency securities, $15.365 billion of which was also labeled as "Long-Term Marketable Securities." In fact, during the final three months of 2011, Apple purchased $3.968 billion of Treasuries and $6.533 billion of agency securities. This means that 65.4% or $10.501 billion of the $16.057 billion increase in Apple's adjusted cost of its portfolio of securities went into U.S. government related securities.
Corporate and municipal securities also experienced purchases by Apple. In terms of corporates, its adjusted cost increased by $3.673 billion. This brought its holdings of corporate securities to $38.914 billion, 79% ($30.745 billion) of which is labeled as "Long-Term Marketable Securities." In terms of municipal securities, Apple increased its adjusted cost by $667 million to $4.078 billion. Of its municipal holdings, 88.47% ($3.608 billion) are labeled as "Long-Term Marketable Securities."
One new area of investment added to Apple's portfolio, which is not showing up in the September 24, 2011, holdings, is asset-backed securities (ABS). At the end of 2011, Apple's adjusted cost for ABS was $549 million, and according to the 10-Q, the securities were valued at $548 million.
During the last quarter, Apple did reduce its holdings in three areas: Non-U.S. government securities, CDs and time deposits, and commercial paper. Based on adjusted cost, Apple reduced its holdings of non-U.S. government securities from $5.559 billion to $5.251 billion. CDs and time deposits saw a reduction from $4.175 billion to $3.837 billion, and commercial paper dropped from $2.853 billion to $1.518 billion.
It should also be noted that Apple is not alone in amassing a massive portfolio of holdings. Microsoft's (NASDAQ:MSFT) latest 10-Q reveals its $59.286 billion (recorded basis) portfolio consists of just $2.349 billion in cash and a total of $10.610 billion in cash and cash equivalents. Like Apple, Microsoft also likes bonds. Among other types of debt, Microsoft has $12.042 billion in corporate notes and bonds and $31.7 billion in U.S. government and agency securities (recorded basis). Microsoft is kind enough to break down the maturity profile of its debt investments. Most of the debt matures within five years, although MSFT does have $3.126 billion (cost basis value) of debt maturing in five to 10 years as well as $2.447 billion (cost basis value) maturing in more than 10 years. Based on the estimated fair value, the five to 10 years and more than 10 years to maturity categories are $3.247 billion and $2.613 billion, respectively.
For investors wondering about the credit quality of Apple and Microsoft's debt portfolios, the 10-Qs for both companies leave the window open for purchases of, and perhaps current holdings in, non-investment grade debt. Apple's 10-Q states, "The company's investment policy requires investments to generally be investment grade" (emphasis added), and Microsoft's 10-Q states, "Our fixed-income portfolio is diversified and consists primarily of investment-grade securities," (emphasis added).
Other popular companies showing an affinity toward debt purchases versus returning money to shareholders (or more money if they already do to some extent) include Google (NASDAQ:GOOG), Intel (NASDAQ:INTC) and Cisco Systems (NASDAQ:CSCO). As an example, according to its latest 10-Q, Cisco held 76.44% of its investments in U.S. government and agency securities and another 8.89% of the portfolio in non-U.S. government and agency securities (based on fair values). IBM (NYSE:IBM), interestingly enough, is an example of a company that actually has more exposure (nearly twice as much) to foreign government securities than it does to U.S. government securities.
The purpose of this article is two-fold. First, far too many people incorrectly call the total portfolio holdings of companies "cash." Yes, it is true that many of the holdings could be quickly turned into cash. However, the money is actually invested in various assets. In other words, Apple, Microsoft, Google and others are putting their money to work in the financial markets just like individuals put their savings to work in the financial markets. Second, in today's low interest rate environment, investors frequently hear industry pundits trash bonds of all maturity profiles and tell investors to stay away. I hope this article shows that even some of the larger and more beloved companies in the world, like Apple, buy huge amounts of debt for their own investment portfolios. This includes debt with ultra-short, short, and longer-term maturities.
Finally, if you are wondering what else they might buy with the money, here is some food for thought: First, if the stocks of these companies are so cheap, as many industry pundits tell us, why wouldn't the companies take every penny not intended to be held as cash and buy their own stocks? Second, if stocks in general can only go higher over the long-term, as many industry pundits tell us, why wouldn't these companies take every penny not intended to be held as cash and buy stocks (whether individual equities or market indices)? After all, if stocks can only go higher, then AAPL, GOOG, INTC, etc. could always sell equities from an equity-dominated portfolio in the future should they need access to the money.
Some of the most widely renowned companies in the world are taking money that could be returned to shareholders or reinvested in the business and are instead buying government securities as well as various other forms of debt. Many of these debt securities are likely even offering negative real interest rates. This might not be the method of putting money to work that shareholders of these companies would choose, but, nevertheless, the money is not simply sitting in cash. Rather, it is being invested in the financial markets.