You have to take any comments relative to Europe with a grain of salt, but the source of the tweet below is credible.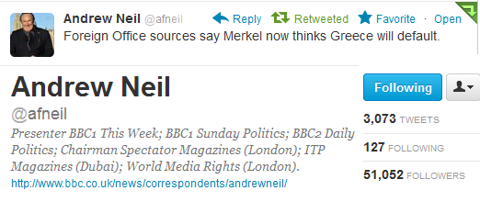 Click to enlarge
As we outlined in the past, the levels of debt in Europe relative to tax revenues and capital needs for insolvent banks produce an unsustainable situation. Any additional funds given to Greece will most likely have similar outcomes to a flush of a toilet in the coming months. According to Bloomberg (01/28/2012), the Germans seem to agree:
Lawmakers from German Chancellor Angela Merkel's coalition rejected increasing aid for Greece, Der Spiegel said, citing members of the parliament in Berlin. There can be no further aid if Greece doesn't implement the agreed adjustment programs, the magazine said, citing Horst Seehofer, chairman of the Christian Social Union, the Bavarian sister party of Merkel's Christian Democratic Union.
Recent reporting from the Guardian also seems to hint at a greater probability of default than what is priced in the financial markets. Excerpts from a January 25 Guardian interview with Angela Merkel are below:
Angela Merkel has cast doubt for the first time on Europe's chances of saving Greece from financial meltdown and sovereign default, conceding that Europe's first ever multibillion euro bailout coupled with savage austerity was not working after a two-year crisis that has brought the single currency to the brink of unravelling.

"We haven't overcome the crisis yet. Of course, there's Greece, a special case where, despite all the efforts that have been made, neither the Greeks themselves nor the international community have yet managed to stabilize the situation."

"There would be no point in promising more and more money without tackling the causes of the crisis," said Merkel. "Amid all the billions in financial assistance and rescue packages, we Germans also need to watch that we don't run out of steam. After all, our capacities aren't infinite, and overstretching ourselves wouldn't help us or the EU as a whole."
Note the ongoing mention of Greece being a "special case" in an attempt to stem the almost inevitable tide of contagion. As we showed graphically on January 27, the ever-increasing yield on Portuguese bonds is indicative of a market that also believes Portugal will be a "special case". Euromoney also expressed concerns about contagion:

Click to enlarge
Disclosure: I have no positions in any stocks mentioned, and no plans to initiate any positions within the next 72 hours.