Chevron Corporation (NYSE:CVX) is a multi-line energy company with revenue-driving business units spread across a number of categories. The company's Exploration and Production division focuses on oil and natural gas. Its Manufacturing, Products and Transportation division deals with manufacturing and refining, global trading of raw materials, wholesaling of gasoline and other refined products, transportation and storage of petroleum and petrochemical goods through pipelines and shipping, development and delivery of multiple lubricant products, and research and development to improve fuels and lubricants performance. Its interests also lie further afield in a diverse range of mining, chemical, energy and technology businesses.
As of January 27th, 2012 Chevron is currently trading at $104 per share, which places it 6.1% below its 52 week high and 20.3% above its 52 month low. The stock's key financials are:
EPS: 13.50

PE: 7.90

Div Rate: 3.24

Yield: 3.0397

Market Cap: 207.13 Billion
The 12 month stock performance is illustrated below:
Chevron Corporation 12 Month Performance (Price and Volume)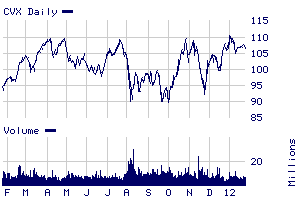 Given Chevron is predominately an energy company, and is looking at sustainable options to cover energy demands for coming decades, liquid natural gas (LNG) will play a large part in delivering these energy requirements to the globe. For American investors, I think it is important to understand the part that the Gorgon Gas Project will play in supplying this demand. Firstly, understand what the project can deliver from a supply perspective:
With a total resource base of more than 40 trillion cubic feet of gas and an estimated economic life of at least 40 years, Gorgon will be a major contributor to our company's future growth. It adds significant long-term reserves and production for Chevron, bolstering our strong resource replacement and underscoring the importance of Australia to Chevron's growing natural gas business.
Source: Chevron Corporation
In strategic terms though, why is this important for Chevron, the parent company? Firstly it diversifies its energy resource base by building its LNG assets offshore from America. Secondly, the project is based on Australia's West coast, an area high in personnel skilled in mining and natural resource extraction and processing. Thirdly, its location in Australia means that the project is based within the sovereign territories of one of the United States' key allies. This means its biggest threats will be from natural disasters rather than from deteriorating economic, political and security conditions often found in third world resource basins. The consumption of LNG as an energy commodity is equally as important to Australia (think: land mass equivalent to the USA, but a population of approximately 22 million) as it is to the rest of the world. An example of this relative to the project is best shown in the following graphic:
Chevron Corporation 12 Month Performance (Price and Volume)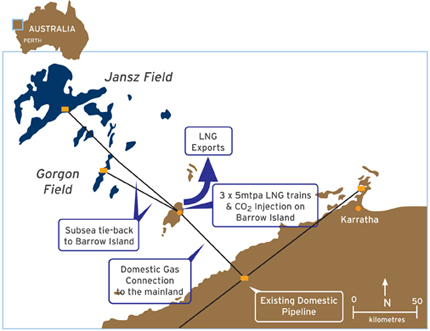 The Gorgon Project, operated by the Australian subsidiary of Chevron [50 percent] in joint venture with Australian subsidiaries of ExxonMobil (NYSE:XOM) [25 percent] and Shell (NYSE:RDS.A) [25 percent], is currently estimated to cost AU$43 billion (US$37 billion) for the first phase of development. First gas is planned for 2014.

Chevron's stake will change from 50 percent to 47.75 percent once relevant approvals have been obtained on equity agreements with Osaka Gas and Tokyo Gas. Chevron will supply Osaka Gas 1.375 MTPA of LNG for 25 years. Osaka Gas will purchase 1.25 percent equity in the Gorgon Project. Tokyo Gas will be supplied 1.1 MTPA over 25 years and will purchase a 1 percent equity stake. Supply from both agreements is expected to commence in the second half of 2014.
The Greater Gorgon Area's projected natural gas resources are equivalent to 6.7 billion barrels of oil. The project's distribution and processing network includes a three-train, 15 million-metric-ton-per-year liquefied natural gas facility and a domestic gas plant.
Part of a Bigger Picture
While the Gorgon project is just one of Chevron's subsidiaries, it will become a key asset within the company's natural gas asset base; of growing importance as natural gas now accounts for 23% of the world's energy demands. In addition to Australia and North America, Chevron's natural gas resources reside within Africa, South-East Asia, the Caspian Region and Latin America. In considering this, revisit the importance of Gorgon to Chevron's asset base, noting the security implications associated within the other regions. In addition to Gorgon, Chevron's other gas investments in Australia include the Northwest Shelf Venture, the Wheatstone Project and the Browse Development - four ventures delivering multi-million-metric-ton-per-year LNG to export contracts with Japan, Korea and China, as well as domestic consumption within Australia.
Performance
Chevron just announced its' fourth quarter and year end results, noting that while performance for the quarter was narrowly down on expectations, the year end result delivered earnings of $26.9 Billion, or $13.44 per share representing an increase of 41% on 2010 results. The company also announced a consistent dividend of $0.81 per share for First Quarter 2012. The company has a track record of paying a consistent and steadily increasing (conservative) dividend, the history of which can be viewed here. The stocks performance over the last 10 years can be seen below:
Chevron Corporation 10 Year Performance (Price)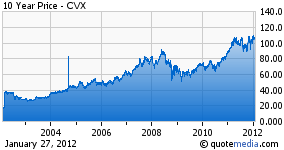 Recommendation
Noting Chevrons' natural gas interests in Australia through Gorgon and other projects, I would recommend CVX shares as an inclusion into a balanced blue chip dividend growth portfolio, or as a more stable stock within a more aggressive capital growth and income portfolio, with an investment time frame of five years or more.
Disclosure: I have no positions in any stocks mentioned, and no plans to initiate any positions within the next 72 hours.
Disclaimer: This advice is general advice only. Investors should seek professional independent financial advice prior to making any investments of their own.