Baidu (NASDAQ:BIDU) is expected to report Q4 results next month. The Street expects the company to earn $0.91 on $699 million in revenue.
In Q3 Baidu delivered solid results:
Revenue $655 million (+85% y/y)

Operating profit: $349 million (+88% y/y)

Net profit: $295 million (+80% y/y)

Total online marketing customer increased by 11.8% to 304,000 and traffic acquisition cost decreased 90 bps to 8% of total revenue.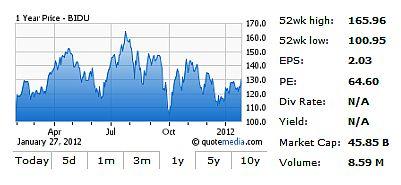 For Q4, investors can expect Baidu to deliver an in line quarter. However, the continued investments on improving user experience and its push into mobile internet will be key catalysts for this year.
In addition to the launch of Baidu Browser that was outlined in my December 29th note titled "Baidu Browser Taking Aim at Google and Sohu", Baidu continues to improve user experience with major updates for Baidu Map, and Leho.com, Baidu's lifestyle social networking site.
Baidu Map recently improved its sidebar on the interface so users can easily search for hotels, restaurants, gas stations, parking lots and subway stations. This new feature greatly enhances user experience and delivers more value to the users than Google Map.
Exhibit 1: Improved Baidu Map with new sidebar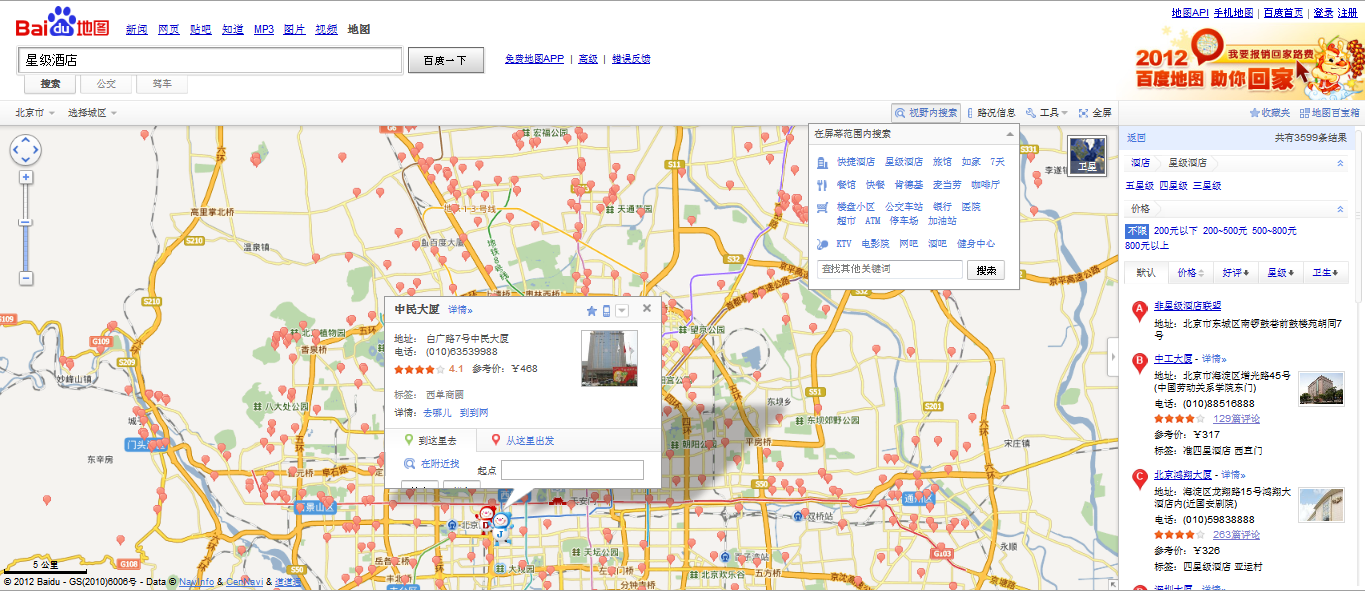 Source: Baidu Map
Last month Baidu introduced its lifestyle-sharing site, Leho.com. The platform allows users to share their leisure activities, experience and the associated cost so internet users could become well-informed and savvier consumers upon reading the activity feeds of the people they follow.
Exhibit 2: Leho user profile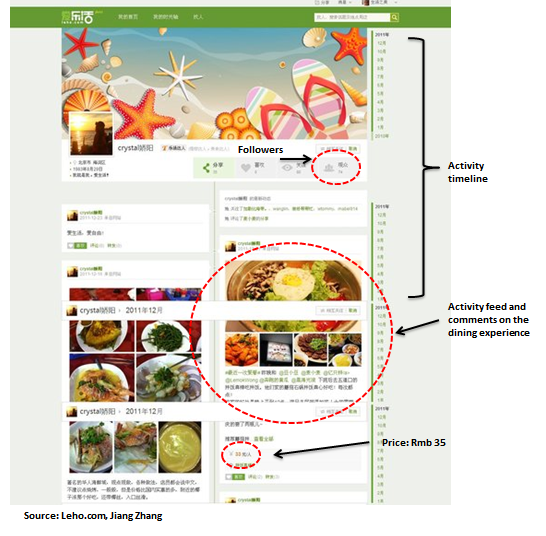 Source: Leho, Jiang Zhang
Leho is part of Baidu's O2O strategy but is different from the other group-buying and restaurant sites such as Groupon (NASDAQ:GRPN) and Opentable (NASDAQ:OPEN) because it operates similar to a microblog in which users broadcast activities to their followers who could potentially become offline consumers. Leho is the first O2O site that allows users to share their consumer lifestyle and where internet users can gain unique perspectives on the broadcasted consumer activities. The platform also features an intuitive user interface that is similar to Facebook's "timeline" to generate user experience and stickiness. The site will likely attract an increasing number of users, resulting in greater network effect and monetization opportunities, in my view.
Finally, Baidu Yi will likely be the major catalyst this year. Last month, Baidu's VP of Technology Mr. Wang Jin outlined Baidu's three-step mobile internet strategy:
Introduce Baidu Yi

Establish a cloud platform

Establish a Baidu Cloud Operating System.
In my December 4th note titled "Baidu Yi Heats Up China's Mobile OS Market" I pointed out that Baidu Yi could be highly successful because it includes feature and functions, such as search, map and apps that are directly relevant to the Chinese users. While I am confident that Dell (NASDAQ:DELL) can help Baidu deliver a quality handset with its Streak Pro D43, I am skeptical of the consumers' reception toward a Dell mobile device. In a market where brand equity weighs heavily in consumers' purchasing decision, Baidu should form partnerships with more well-known handset makers to expand Baidu Yi's footprint. I note that the top five mobile device brands in China are Apple (NASDAQ:AAPL), Nokia (NYSE:NOK), Samsung (OTC:SSNLF), Motorola (NYSE:MMI), and HTC (OTC:HTCXF).
Because Baidu Yi is an Android-fork, many of Google's (NASDAQ:GOOG) Android apps are transferable to the Yi platform. However, this trend is unlikely to continue as Baidu Yi becomes a bigger competitor to Android. Therefore, Baidu is working with developers to build an extensive portfolio of apps for the Chinese mobile users. Heading into the year, we could see several updates to the Baidu Yi platform, possibly a voice-activated personal assistant similar to Apple's Siri due to Baidu's track record of adopting foreign expertise into its own platform.
Disclosure: I have no positions in any stocks mentioned, and no plans to initiate any positions within the next 72 hours.