Good yield at a reasonable valuation is getting harder to find. The rally in the market over the last few months has inflated equity prices and the Federal Reserve seems determined to punish savers. Here are two stocks under $10 with high yields that seem like reasonable bets at current prices.
Astoria Financial (NYSE:AF):
Astoria Financial Corporation operates as the bank holding company for Astoria Federal Savings and Loan Association that provides various banking and financial products and services in the United States. It engages in generating deposits and originating loans. The company's deposit products include passbook and statement savings accounts, money market accounts, NOW and demand deposit accounts, liquid certificates of deposit, and certificates of deposit that comprise time deposits. (Business Description from Yahoo Finance)
4 reasons Astoria Financial is a buy at $8.50 a share:
The stock yields 5.8% and made money even during the depth of the financial crisis.
Astoria Financial sells for just 62% of book value and a PE of just over 10 even given the large dividend.
The stock is selling at 4 times peak earnings (It earned $2.14 in FY2005) and the stock was selling north of $15 a share nine months ago.
The stock looks like it has bottomed and is gaining technical strength (see chart).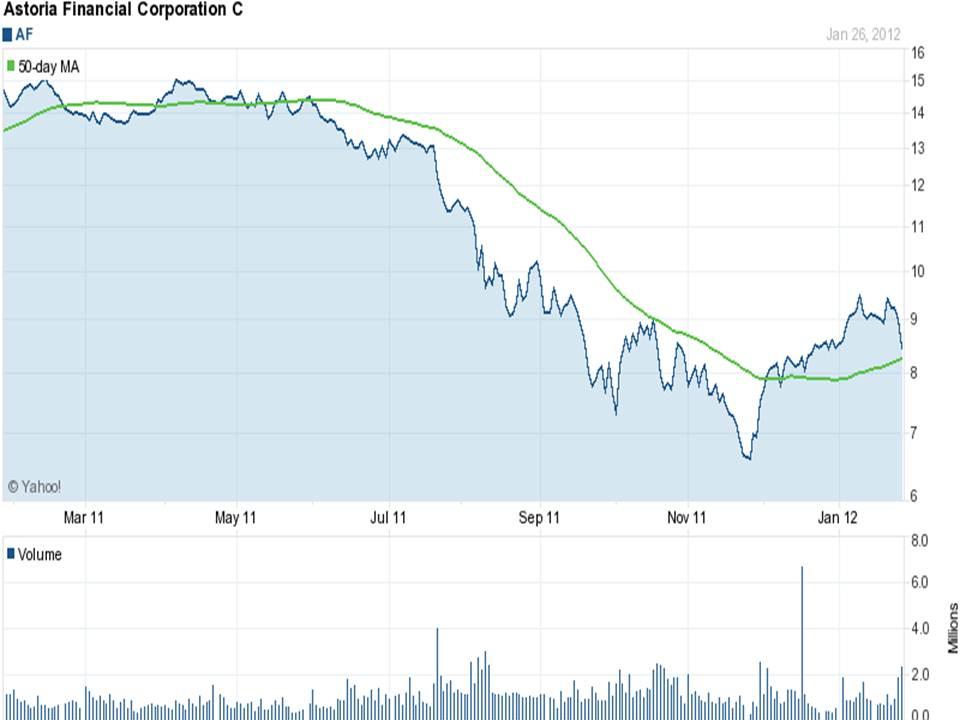 Click to enlarge
Old Republic (NYSE:ORI):
Old Republic International Corporation, through its subsidiaries, provides various insurance and mortgage guaranty products in North America. The company operates in three segments: General Insurance, Mortgage Guaranty, and Title Insurance. (Business Description from Yahoo Finance)
4 reasons FIG is a bargain at under $3.50 a share:
Insiders have bought over one million dollars' worth of new shares over the last few months.
The company is selling at just 64% of book value, appears to have a solid balance sheet and yields a robust 7.4%
Earnings are heading in the right direction. ORI lost 86 cents in FY2011, but is expected to return to profitability in FY2012 with 15 cents per share in earnings. Analysts have Old Republic making 68 cents a share in FY2013. The company made $2.14 a share in FY2006.
Technically the stock is behaving much better over the last few weeks and just crossed over its 100 day moving average (see chart).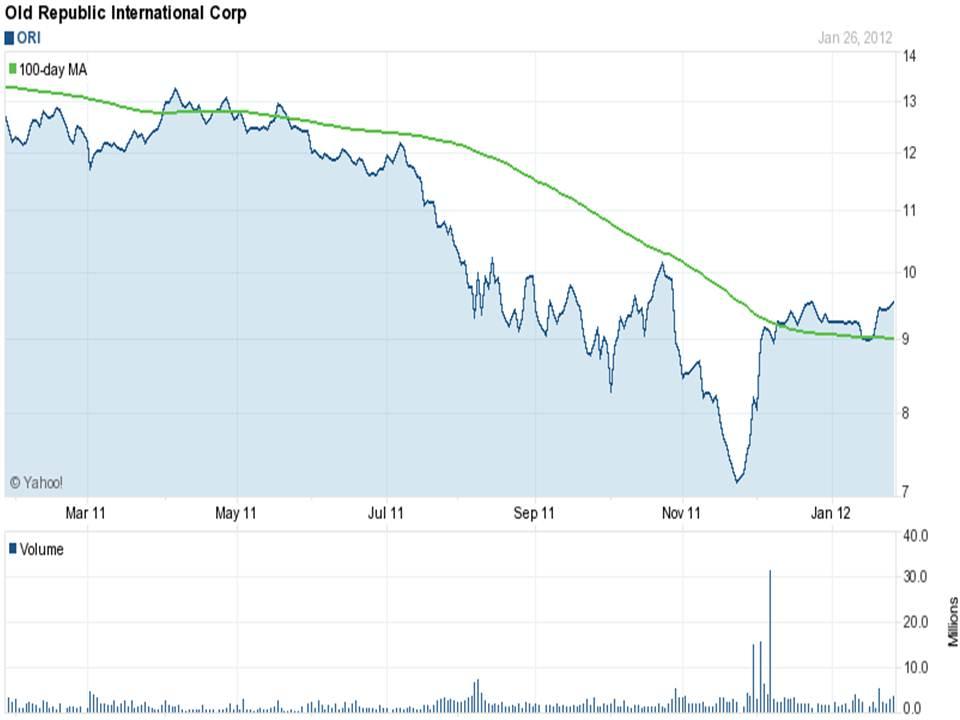 Click to enlarge
Disclosure: I have no positions in any stocks mentioned, but may initiate a long position in AF over the next 72 hours.