Calumet Specialty Products Partners (CLMT) produces and markets specialty hydrocarbon products. No matter what kind of "sticky" situation you get yourself into, the company has a "slick cure." The company markets a whole range of products associated with lubricating oils, gels, solvents and waxes. Applications for the lubricating oils include engines, compressors, automatic transmissions and drilling. Gel products have applications for body lotion, lip balm and diapers. Applications for solvents include cleaning agents, printing ink, paint and hand cleaners. Wax applications include candles, ski wax, waterproofing and polishes.
In its most recent Q3 2011 earnings results conference call, the company noted it had recently acquired Murphy Oil Corporation's Superior Wisconsin refinery. The company indicated strong demand for product with good profit margins. The company experienced especially good profit margins for specialty products and for gasoline. Additionally, the company indicated the export market for the company's product performed fairly well.
Calumet's competitors include CITGO Petroleum (private), Ergon (private) and San Joaquin Refining (private), Chevron (CVX), ConocoPhillips (COP), Exxon Mobil (XOM), Hess (HES), Sunoco (SUN) and Valero (VLO).
Calumet's stock price has performed very erratically over the last year with two previous attempts at breaking through the $23 resistance level as shown below: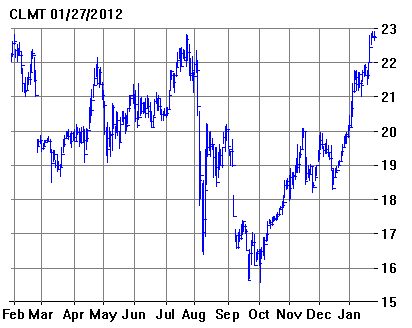 The company has a very attractive annual dividend yield of 9.3% with the next dividend of $0.53 to be paid on February 14, 2012 to holders of record on February 3, 2012 which represents an ex-dividend date of Wednesday, February 1, 2012.
An investor might be considering purchasing Calumet's stock with the intent of receiving the dividend, but with the erratic behavior of the stock may have second thoughts. An investor might consider entering a collar position for the stock in order to participate in the dividend and also protect the position from a dramatic drop in the stock's price.
Using PowerOptions tools, a collar was found for Calumet with a potential return of 3.5% (11.3% annualized return) and a maximum potential loss of 10.4% (even if the stock price drops to zero). The time frame for realizing the potential return is 113 days. The potential return and maximum loss assume dividend payments totaling $1.06 over the time period and also assume midpoint pricing between the bid/ask. The specific call option to sell is the 2012 May 25 at a midpoint price of $0.23 and the put option to purchase is the 2012 May 20 at a midpoint price of $0.65. A profit/loss graph for one contract of the collar is shown below: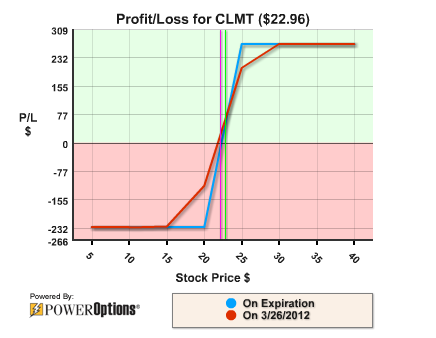 As a bonus, if the price of the stock is greater than or equal to the $25 strike price of the call option at option expiration in May, the position will return 12.1%. For a stock price less than the $20 strike price of the put option, the value of the collar position remains unchanged, even if the price of the stock drops all the way to zero.