Lately, I have been writing a series of articles on how China is about to hit several different markets. Starting with a general overview of China's slowdown, I then extrapolated the coming effects on the steel industry.
China is not just the largest producer and consumer of steel, though. China is the largest consumer of many different industrial commodities, among them, copper. China is estimated to consume around 40% of the world's copper output, with 56% of that consumption going to construction and infrastructure. In the U.S., too, around 40% of the copper consumption is estimated to flow to construction, being used mostly in plumbing and wiring.
So, how construction goes, copper goes. Or better still, how construction in China goes, copper goes. And we also know, from the National Bureau of Statistics of China, that around 3/4ths (76.4%) of the real estate floor space being developed in China during 2011 was residential. So, we can safely speculate that as residential construction in China goes, so will copper.
In 2011, the floor space under construction by the real estate development enterprises accounted for 5,080 million square meters, up by 25.3 percent over the previous year, down by 1.2 percentage points over the previous year, and decreased 2.6 percentage points over the first eleven months. Of which, the floor space of residential building construction area was 3,884 million square meters, up 23.4 percent.
This brings us back to the U.S., to take a look at how residential construction usually behaves. Using the Case-Shiller Home Price Indexes, we can see that home prices topped out during 2006.
Click to enlarge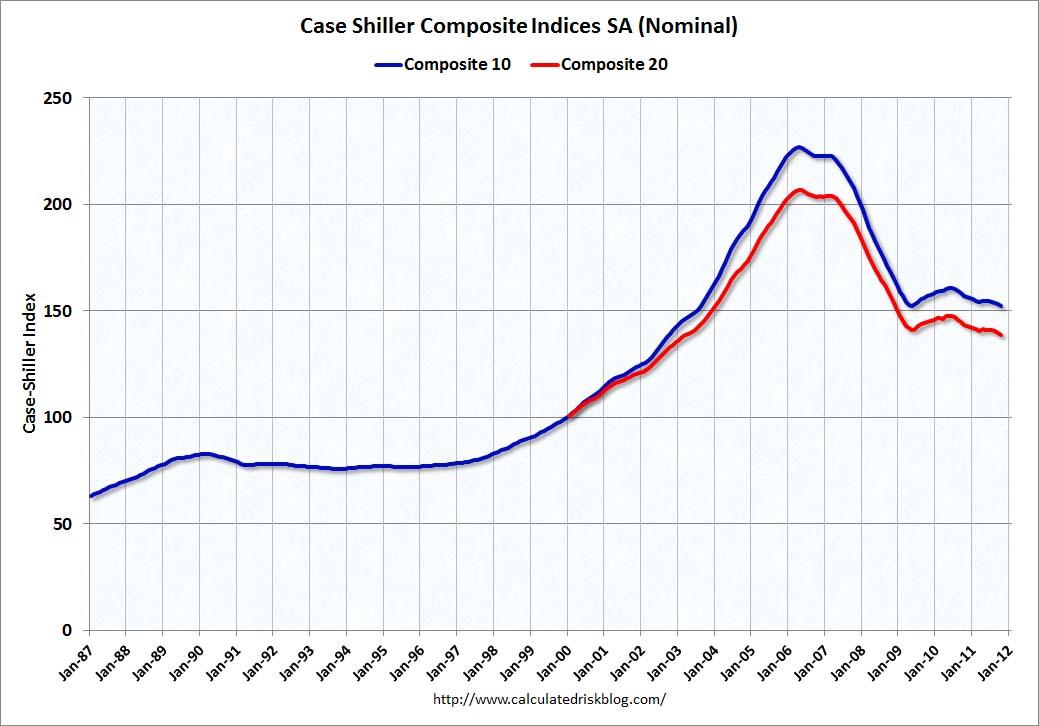 And what topped out at about the same time? It's not a surprise. Home starts (charts courtesy of Calculated Risk).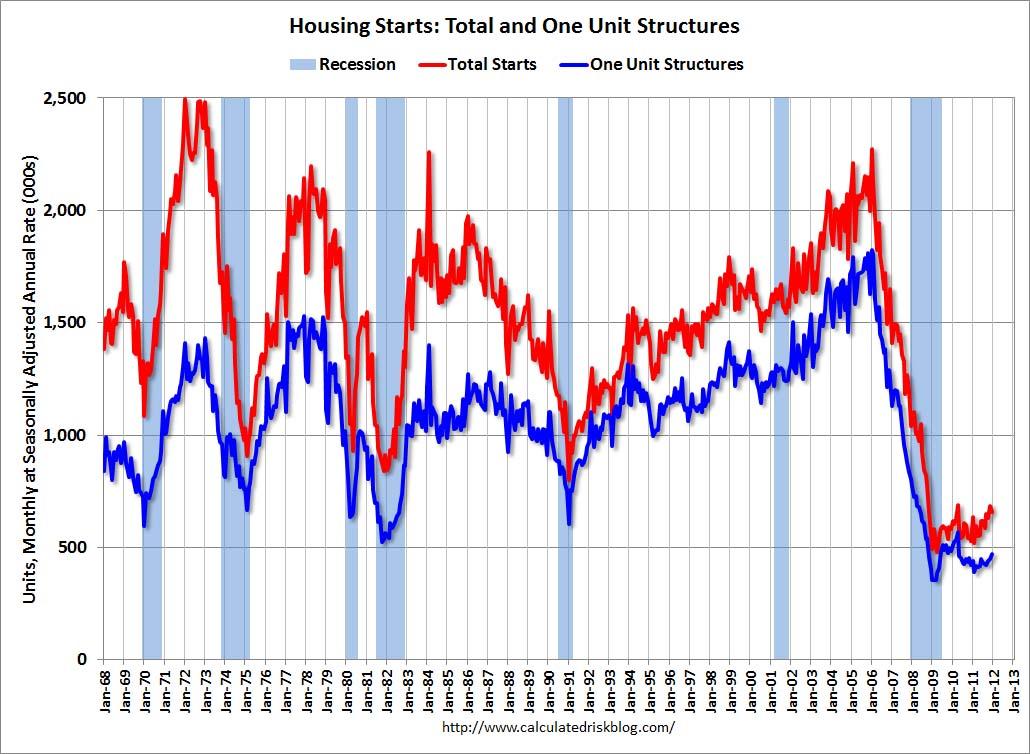 Thus we can safely say that home prices should be a good proxy for demand in the residential market, and if these head down, it's a sure bet that demand is weakening and residential construction will see reduced activity in short order.
Back to China

It so happens that the National Bureau of Statistics of China also follows the residential price movements. And what do those show? They show broad weakness. And as we've seen, once prices start falling, activity is sure to follow.
Comparing with the previous month, among 70 medium and large-sized cities, the sales prices of newly constructed residential buildings declined in 52 cities while that of 16 cities remained at the same level. Number of cities with decreasing chain indices rose by 3 as compared with the previous month. For 2 cities with increasing prices month-on-month, the increases were 0.1 percent.
Conclusion
China is the largest consumer of copper in the world, copper is used mostly in construction, and within construction, mostly in residential construction. In residential construction, when prices start falling, activity follows, less construction is started, less copper is used. In China, right now, residential prices are falling, residential construction is set to weaken further, and as such copper use will be severely impacted.
Since China is a massive importer of copper, copper producers such as Freeport McMoran (NYSE:FCX), Southern Copper Corporation Com (NYSE:SCCO) and Hudbay Minerals (NYSE:HBM) as well as copper ETFs/ETNs like iPath Pure Beta Copper ETN (NYSEARCA:CUPM), United States Copper Index Fund (NYSEARCA:CPER), First Trust ISE Global Copper Index Fund (NASDAQ:CU), Global X Copper Miners ETF (NYSEARCA:COPX) are sure to be impacted as well.
Disclosure: I have no positions in any stocks mentioned, and no plans to initiate any positions within the next 72 hours.