The Wall Street Journal reported that Facebook could IPO as early as February 1st with the hope to raise as much as $10 billion. This news comes after years of speculation about Facebook's valuation and how investors would respond to an IPO. Year after year the value has seemed to double. Only last year, Goldman Sacks (NYSE:GS) reported that they would purchase a substantial stake in Facebook at a valuation of $50 billion. Today, the company is reportedly valued between $75-100 billion. The question is whether that figure is both sustainable on a market front or realistic on a corporate front. It is quite evident that the partial reason for this valuation is due to it being "Facebook," the website that captivated the world. The problem is that the market does not show emotion over the long-term and this prompts the need to ask the question: after the dust settles, what is Facebook really worth?
Google as the benchmark
The best way to anticipate the future is to look toward the past for guidance. The largest tech IPO was done by Google (NASDAQ:GOOG) in 2004. The initial offer was $2.7 billion, leaving the company's stock at a value of $85 per share. At the time, GOOG was bringing in $962 million in revenue and reported a new profit of $106.5 million (below). The beauty of GOOG was that these numbers would pale in comparison to what the company could deliver in future years. The point at which the IPO occurred was perfect - it had the momentum and brand recognition, but was not delivering the sales results yet. This is the perfect situation for an IPO. The point when "hype" is stirred, but earnings, profits, and expansion are not yet fully captured. This is a recipe for long-term success. Today, GOOG is trading at $580 per share and the company is valued at nearly 900% that of its original valuation figure.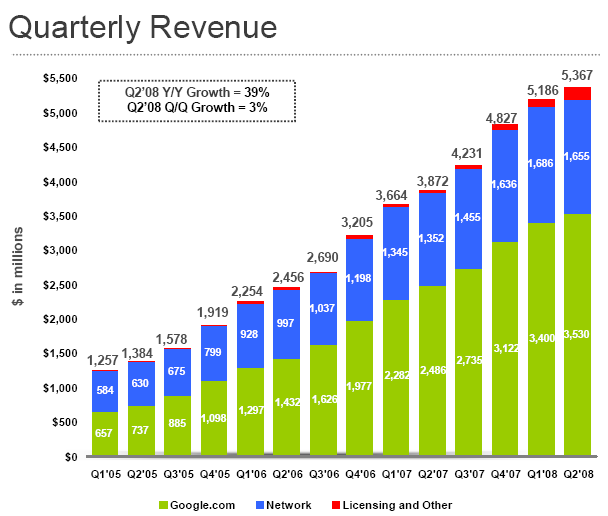 (Google's Revenue Growth 05-08)
This years IPOs
Technology IPOs are often difficult to predict because they come to market with the "hope" of being something great, but with the uncertainty of growth and competition. Just this year, LinkedIn (NYSE:LNKD), Groupon (NASDAQ:GRPN), and Pandora (NYSE:P) are all down roughly 25% collectively from their IPO price. This does not mark a landscape of particular promise for IPOs, but will FB be different? The question can really only be answered by looking at two key factors: 1. Current revenue and profit and 2. Future growth prospects.
LNKD: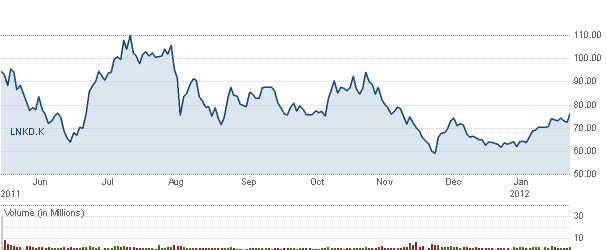 ((NASDAQ:CNBC))
LNKD shows volatility and a roughly 22% decline since its initial IPO. This is due to an overvaluation at the onset and the inability to meet growth and earnings forecasts.
GRPN: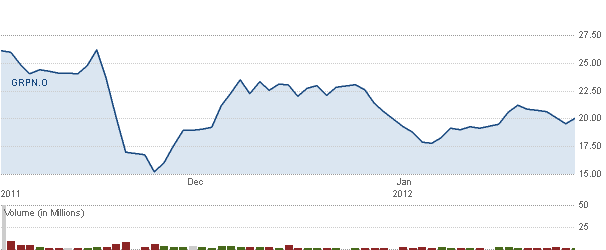 ((CNBC))
GGH is also down 23% since the original IPO of $700 million. Ed Woo, analyst at Wedbush Securities stated "investors have continuing concern about growing competition and Groupon's overall business fundamentals."
P: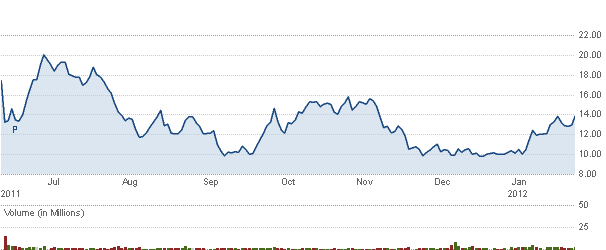 (CNBC)
P is down nearly 22% since its IPO of $235 million. The company struggles to build listener base and profit margins through advertising.
The Big Question: How does Facebook compare?
Revenue: Although the official numbers have yet to be released, analysts believe that Facebook will report revenue of roughly $3.4 billion. This marks a valuation that's off the charts due to its counterparts, GOOG, Apple (NASDAQ:AAPL), and Microsoft (NASDAQ:MSFT) all ranging from $190-420 billion (roughly 2-4 times Facebook initial market cap) in market cap, but bringing in revenue roughly 100 times that of Facebook. These numbers speak to the hype surrounding the Facebook valuation.
Growth: Facebook has roughly 800 million users, almost 12% of the world's population. The problem facing Facebook is that growth is difficult when your user base in that large. The problem is that Facebook may not be able to deliver the type of earnings growth that Wall Street would expect from a company valued at such a multiple. This alone could curb the upside potential of the stock after the initial hype has worn off.
Competition: In GOOG past earnings results they boasted that Google +, their solution to social media, has gained 90 million users last quarter. This speaks to the competition that a major Internet Mecca like GOOG could provide for Facebook in the coming years. This is not an industry that GOOG could not cannibalize and thus, Facebook may see growing competition and shrinking users and frequency of users.
Conclusion
It would not be wise to dabble in Facebook at the time of the IPO or anytime within the first quarter of their IPO. If the upside potential is there, your opportunity will not be lost, and if the company proves to be immensely over-valued, then you can stay clear. To minimize risk, stay clear of Facebook until the dust settles.
Disclosure: I have no positions in any stocks mentioned, and no plans to initiate any positions within the next 72 hours.