Two announcements rocked the solar market last week, one for the worse and one for the better. The first was news in Germany that suggested that lawmakers were planning on cutting back subsidies to the market that was beginning to overheat. The German market had added a new record of 7.5 gigawatts of capacity through solar panel installations, which was more than double the target for the year. This was initially taken as bad news, as the solar industry is heavily reliant on subsidies in order to maintain a profitable operation.
Yet the silver lining of this announcement still lies in the fact that the German market, the largest consumer market of solar power, is incredibly strong. Some of this pent up demand might have been, in part, due to the government's plans to completely phase out nuclear energy by the year 2022, 14 years ahead of its previous plans. Regardless of the source, the demand appeared to justify the repealing of subsidies in an expedited manner. However, it was the inability of the for the subsidy cut proposal to raise the unanimous support that sent solar stocks higher.
The second announcement that was taken more positively; statements by several CEOs of solar panel manufacturers suggested that China was gearing up for an explosion of demand in 2012. Suntech Power's (NYSE:STP) CEO Zhengrong Shi and Trina Solar's (NYSE:TSL) CEO Jifan Gao both expected China's solar market to expand between 4-5 gigawatts, a level more than double the 2.2 gigawatts installed in 2011. Such expectations optimistically surpassed the projections of most analysts, and sent solar stocks on a rally into the weekend.
As solar companies play off the recent news, which ultimately left a positive feeling all around, many of these companies are beginning to bounce off their lows and trade above the 50-day moving average. Such a sign seen across the board is often to perceived to be a bullish signal for the industry as a whole. In the very least, the stabilization of the industry's decline appears to have marked a defined bottom level. This can be seen in the following charts of several solar companies.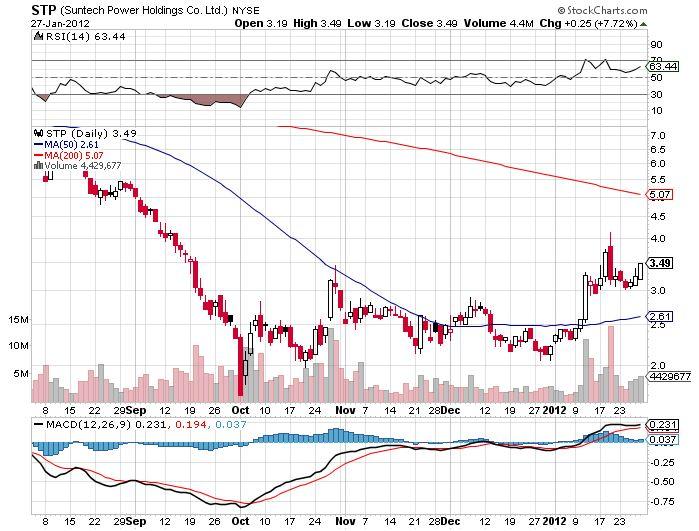 Click to enlarge
Yet, while it's possible for a solar breakout to begin soon, one that can retrace some of the enormous losses experienced in 2011, the industry is far from being healthy again. The looming threat of government subsidy cuts, only made more of a reality in Germany, can significantly hurt the profitability of most solar companies. Should this occur, the question of whether or not the industry can survive on its own at this stage in the game will once more be brought to light. Investors looking to capitalize on a solar recovery may fare better following the industry leaders that remained profitable over the past year rather than taking a cue from companies that fell the hardest. The following is a short list of some major solar players that have been battered in the year prior. All values were taken as of 1/27/2012.
| Company Name | Market Capitalization | 1-Year Return | Last Price | Forward Earnings |
| --- | --- | --- | --- | --- |
| Suntech Power | $630 M | (58.9%) | $3.49 | ($0.82) |
| SunPower (NASDAQ:SPWR) | $726 M | (46.1%) | $7.25 | $0.32 |
| LDK Solar (NYSE:LDK) | $653 M | (60.8%) | $4.91 | ($1.22) |
| First Solar (NASDAQ:FSLR) | $3.94 B | (70.5%) | $45.54 | $4.18 |
| Trina Solar | $611 M | (66.7%) | $8.67 | ($0.32) |
| Yingli Green Energy (NYSE:YGE) | $718 M | (60.8%) | $4.54 | ($0.29) |
| JA Solar (NASDAQ:JASO) | $303 M | (73.3%) | $1.84 | ($0.20) |
Disclosure: I am long (FSLR).