Bank of New York Mellon or BNY Mellon has a 200-plus-year old history, with its predecessor bank, The Bank of New York established in 1784 by American Founding Father Alexander Hamilton before its merger with Mellon Financial Corp. in 2007. Besides being the oldest bank in the U.S. and being founded by a Founding Father, the bank also has among its distinctions as being the first corporate stock to be traded on the NYSE. Today, BNY Mellon Corp. (NYSE:BK) has over $1.2 trillion in assets under management and $25.5 trillion in assets under custody and administration, thereby making it the largest deposit bank in the world. About $238 billion of its assets are invested in equities traded on U.S. exchanges per its 13-F filing for Q4.
The aseets are well-diversified into over 4,000 positions, with over two-thirds deployed in large-caps, another 20% in mid-caps, and the remaining 10%-15% in small-caps. With such a well-diversified portfolio, it is understandable that it holds a position in most U.S. traded equities, with larger positions in large-cap equities; hence, looking at just its holdings, or even its largest dollar moves would not be that useful. We focused instead on relatively large positions in which it added over 30% to its prior quarter position or where they similarly significantly cut a prior quarter position. The following are its major buys in Q4 based on that analysis, that are also trading under-valued compared to the peers in their group (see Table):
JDS Uniphase Corp. (JDSU): JDSU is a provider of communications test and measurement solutions, and optical products to telecommunications service providers, cable operators, and network equipment manufacturers. BNY Mellon almost doubled its position in the company in Q4, adding $72 million to its $70 million prior quarter position. JDSU has been in a rally mode since the beginning of the new year, up 30% YTD, and it trades at 14-15 forward P/E and 2.9 P/B compared to averages of 14.0 and 1.7 for its peers in the communications components group. We believe the stock may be over-extended a bit here, and would wait until after the company's next quarter report release on February 1 after market-close.
EXCO Resources Inc. (NYSE:XCO): XCO is an independent oil and natural gas company, engaged in the exploration, exploitation, development and production of onshore North American oil and natural gas properties with a focus on shale resource plays. BNY Mellon added $50 million in Q4 to its $7 million prior quarter position. XCO shares are near 52-week lows, down more than 50% in the past year, and it trades at a discount 12-13 forward P/E and 1.2 P/B compared to the averages of 20.6 and 5.2 for the U.S. oil & gas exploration & production group, while earnings are projected to rise slightly from current 57c on TTM basis to a projected 63c in 2012. Also, of the 17 analysts that cover the company, five rate it at buy/strong buy, ten at hold, one at underperform, and one at sell; and they have a price target of $12-$13, well above current prices in the $8 range.
LSI Corp. (NASDAQ:LSI-OLD): LSI is a designer of complex high-performance ICs and storage systems. Its silicon-to-systems solutions are at the heart of products that create, store, consume and transport digital information. Its ICs are used in hard disk and solid state drives, high-speed communications and storage systems, computer servers and PCs. BNY Mellon added $34 million in Q4 to its $66 million prior quarter position. LSI has mounted a strong rally since the beginning of the year, up over 40% in the last five weeks. It gapped up earlier this week on a strong Q4 report, and it currently trades at 11 forward P/E and 3.5 P/B compared to averages of 17.4 and 1.9 for its peers in the electronic components semiconductor group.
Frontier Communications Corp. (NYSE:FTR): FTR provides regulated and unregulated voice, data, and video services to residential, business and wholesale customers in the U.S. BNY Mellon added $56 million in Q4 to its $127 million prior quarter position in the company. FTR shares trade at 9-year lows and within striking distance of all-time lows, and at 16-17 forward P/E compared to the average of 29.8 for its peers in the regional wire-line telecom group.
Other major buys by BNY Mellon that are not under-valued based on a comparison to their peers, at least based on the typical earnings measure, include:
Sandridge Energy Inc. (NYSE:SD): SD is an OK-based independent oil and natural gas company, with their primary areas of focus being West Texas, the Cotton Valley Trend in East Texas and the Gulf Coast. BNY Mellon added $25 million in Q4 to its $55 million prior quarter position. SD is currently generating losses, and it trades at 1.6 P/B and 2.4 PSR (price-to-sales ratio) compared to averages of 5.2 and 7.4 for its peers in the U.S. oil & gas exploration & production group.
ICICI Bank Ltd. (NYSE:IBN): IBN is a provider of various banking and financial services in Indian and internationally. BNY added a new $50 million position in Q4. IBN trades at a 14-15 forward P/E and 1.8 P/B compared to averages of 7.8 and 1.1 for foreign banks.
Select Stocks that BNY Mellon made strong bearish moves on in Q4 (see Table) include oil field equipment and services provider Weatherford International Ltd. (NYSE:WFT), in which it cut $74 million from a $221 million prior quarter position; aerospace, defense and industrials company Textron Inc. (NYSE:TXN), in which it cut $94 million from a $245 million prior quarter position; leading biotech Gilead Sciences Inc. (NASDAQ:GILD), in which it cut $508 million from a $1.05 billion prior quarter position; and drug store retail chain operator Walgreen Company (WAG), in which it cut $441 million from a $802 million prior quarter position.
Table
click to enlarge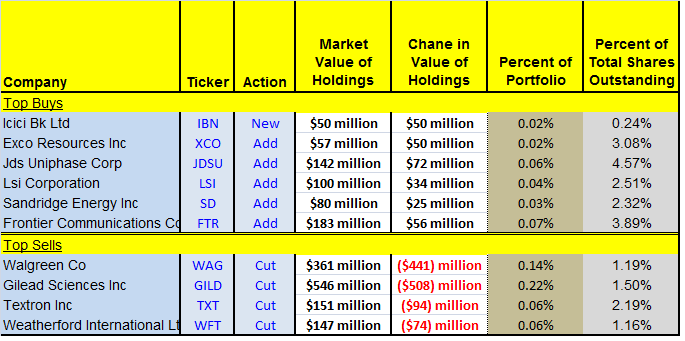 Credit: Historical fundamentals including operating metrics and stock ownership information were derived using SEC filings data, I-Metrix® by Edgar Online®, Zacks Investment Research, Thomson Reuters and Briefing.com. The information and data is believed to be accurate, but no guarantees or representations are made.
Disclosure: I have no positions in any stocks mentioned, and no plans to initiate any positions within the next 72 hours.
Disclaimer: Material presented here is for informational purposes only. Nothing in this article should be taken as a solicitation to purchase or sell securities. Before buying or selling any stock you should do your own research and reach your own conclusion. Further, these are our 'opinions' and we may be wrong. We may have positions in securities mentioned in this article. You should take this into consideration before acting on any advice given in this article. If this makes you uncomfortable, then do not listen to our thoughts and opinions. The contents of this article do not take into consideration your individual investment objectives so consult with your own financial adviser before making an investment decision. Investing includes certain risks including loss of principal.