Summary
Harley Davidson (NYSE:HOG) reported full year results for 2011 that caused the stock to rally, guidance for next year appears conservative, and newsflow throughout 2012 should be positive as guidance is raised. However, having rallied 15% in the past month, HOG has some upside, but is less attractive than previously.
Context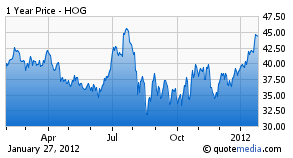 Previously, I wrote that Harley Davidson has upside to around $50, with the upside based primarily on volume growth, which is a primary lever for the stock price. Therefore, I wanted to take a look at management's 2012 volume projections recent and results to determine what the implications are for the stock.
Below is the guidance in full (as of Jan 24, 2012) full text here:
Guidance
Harley-Davidson expects to ship 240,000 to 245,000 motorcycles to dealers and distributors worldwide in 2012, a three-to five-percent increase compared to 2011. In the first quarter of 2012, the Company expects to ship 58,000 to 63,000 motorcycles.

For the full year, Harley-Davidson expects gross margin to be between 34.75 percent and 35.75 percent. The Company expects capital expenditures of between $190 million and $210 million in 2012, which includes approximately $25 million to support restructuring activities.
If correct, that growth would put Harley sales back to 2001-2002 levels for the company in terms of volumes, and interestingly, that might justify current prices, because over those years HOG was trading in the $37-53 range.
Annual guidance conservative based on historical seasonality
However, this guidance may be conservative, because for the past 18 years, Harley Davidson has, on average, done 24.1% its full year volumes in the first quarter. If they achieve 58,000-63,000 units in Q1 that implies (using the 24.1% number) that they would ship 240,000-261,000 for the full year.
Conversely, you might argue that the inconsistency between full year and Q1 guidance means that Q1 volume guidance is too high, not that the full year is too low. That's a fair consideration, but I think Q1 guidance is more accurate as we were already in Q1 when management gave the guidance, and that guidance seems too conservative anyway if we look at recent trends, which brings me to my next point:
Q1 guidance implies accelerating growth
Q1 implies 8-17% growth, likely an acceleration from Q4's 11%, and in Q4 all regions except Japan accelerated from their overall 2011 levels, with no region in decline (Japan was +2.5%, Europe +5.8%).
Why growth may slow according to management
Management claims that growth may slow for 3 reasons:
An upcoming ERP implementation at their York plant may disrupt production in Q2, and they want to load inventory ahead of that.
Concern about risks to the US and European economy.
In 2013, they hope to move to more of a 'just in time' inventory model with dealers holding less inventory. Dealers may sell down inventory in 2012 because of this, slowing HOG's sell-through to dealers.
(1) is a valid concern, but does not impact the fact that demand is increasing for their products at an accelerating rate (2) is just a concern at this point; in fact, HOG's growth is most sluggish in Japan at the moment and (3) is possible, but dealer inventories are relatively lean currently given lessons learned in the past recession.
Conclusion
HOG's guidance of the full year appears conservative. On current momentum, 10% unit growth for 2012 appears more probable, resulting in 260,000 units for the year, and broadly positive newsflow throughout. However, HOG is now at 19x earnings and has moved up 15% in the past month. $50 remains a reasonable price target for the stock, representing 13% upside from the current price. I continue to own HOG, but will start to reduce my position at over $50 without further positive news.
Disclosure: I am long HOG.