The stock market has run up over 20% in the last 80 trading sessions. Valuations are starting to get stretched and good bargains are getting much more challenging to find. However, stocks to avoid (or short for more aggressive investors) are abundant. Here are two that seem extremely overvalued and seem particularly vulnerable if market exuberance subsides or if equities hit turbulence.
Cepheid (NASDAQ:CPHD) -
"Cepheid, a molecular diagnostics company, engages in developing, manufacturing, and marketing integrated systems for testing in the clinical market, as well as for application in legacy biothreat, industrial, and partner markets. Its systems enable molecular testing for organisms and genetic-based diseases by automation". (Yahoo Finance)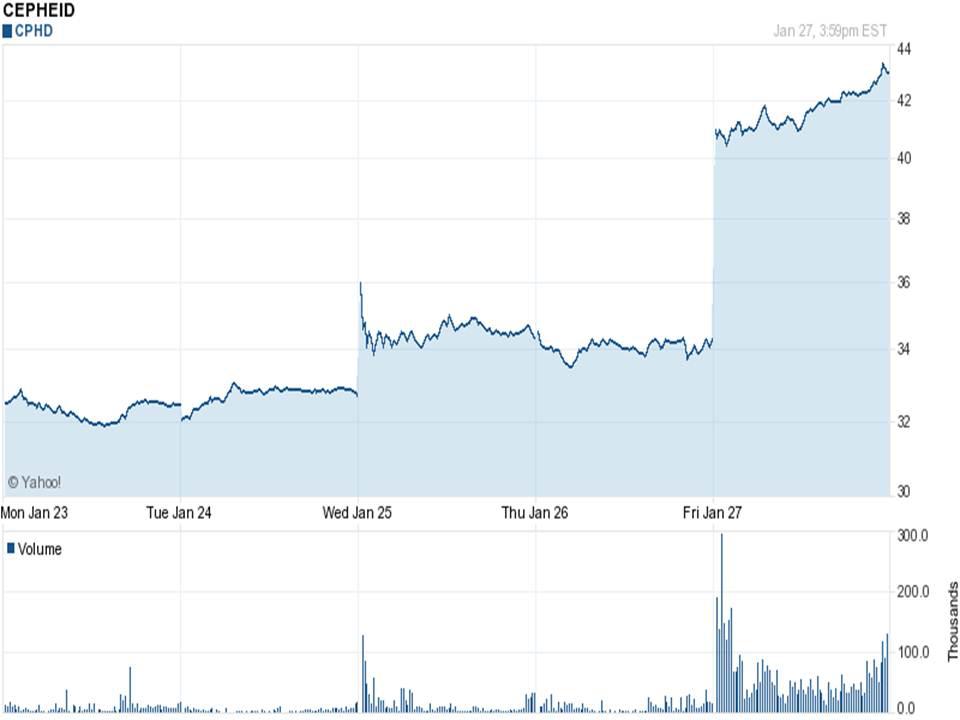 The Story: Cepheid has gone up almost 40% in the past five trading sessions, as the company had a stellar earnings report. It also upped guidance and now expects 55 to 60 cents in earnings for FY2012. The stock has also been buoyed Roche's (OTCQX:RHHBY) proposed buyout of Illumina (NASDAQ:ILMN), a competitor at a large premium.
4 reasons Cepheid is overvalued at $43 a share:
The stock has a five year projected PEG of almost 8 (7.7) and a forward PE of over 70.
Insiders were heavy sellers (over 25% of their shares over last six months) even before the recent run up in the stock price.
Up until the recent earnings reports, consensus earnings estimates for FY2011 and FY2012 had come down significantly over the past three months.
The company is selling at 100 times operating cash flow, over 10 times book value and approximately 8.5 time revenues.
Outlook: Given this extremely stretched valuation of Cepheid, I believe this stock should be avoided by investors. For more aggressive investors, I think this stock can be shorted. For investors that want to invest in the space, Life Technologies (NASDAQ:LIFE) offers a much better value.
CommVault (NASDAQ:CVLT) -
"CommVault Systems, Inc., together with its subsidiaries, provides data and information management software applications and related services primarily in North America, Europe, Australia, and Asia. The company develops, markets, and sells a suite of software applications and services under the Simpana brand. Its Simpana software suite includes solution for the backup and restoration of enterprise data for file systems, applications, databases, and virtual machine systems; integrated data archiving solution that optimizes data tiering and improves information governance; and enterprise-wide storage optimization for email and files reducing space on primary storage". (Yahoo Finance)
The Story: The stock has run up over 60% in the last year on overall enthusiasm for the data storage sector.
4 reasons CommVault is overvalued at just under $50 a share:
For a stock that is approaching $50, it is not projected to make over $1 a share until FY2013.
For all the growth in earnings or revenues over the past four years, Commvault's cash flow per share is approximately what it was in FY2008.
The stock is selling at the very top of its five year valuation range based on P/E, P/S and P/CF.
The stock is selling at just under a five year projected PEG of around 2.5, over 11 times book value and just under 6 times revenues. It also has a forward PE of just under 45, which seems generous for a company that has grown EPS at a 19% clip over the past half decade.
Outlook: The valuation of CommVault seems out of line with its growth prospects. EMC Corp. (EMC) appears to be a much better value in the storage space. In addition, I think CVLT is a good short candidate for aggressive investors.
Disclosure: I am long EMC, LIFE.
Additional disclosure: May also go short CPHD and CVLT in next 72 hours via options