Fortinet, Inc. (NASDAQ:FTNT) is expected to report earnings for last fiscal quarter after the closing bell on January 31, 2012.
Fortinet, Inc., together with its subsidiaries, provides network security appliances and unified threat management (UTM) network security solutions to enterprises, service providers, and government entities worldwide. The company was founded in 2000 and is headquartered in Sunnyvale, California.
52 Week High: $28.56
52 Week Low: $15.78
Float Short: 2.16%
On average, 10 analysts are expecting a drop of $-0.01 in earnings per share compared to last quarter's results of $0.13. The reporting quarter's estimated mean earnings are $0.12 per share.
The current trailing twelve months P/E ratio is 59.6. The forward P/E ratio is 55.19. This highly volatile stock is a classic example of a tech growth company looking at the chart. Emotion runs high with gaps moving the stock higher and lower on any given day. It's a great candidate for using options to "tame the price beast". I would tend to want to sell moves higher and buy dips and never try to chase this one higher. Fortinet does appear to have some solid factors going for it, but you better have a cast iron stomach for the ride.
I expect Fortinet to beat the mean estimate and to beat last quarter.
The company has rising revenue year-over-year of $324.70 million for 2010 vs. $252.12 million for 2009. The bottom line has falling earnings year-over-year of $41.25 million for 2010 vs. $60.18 million for 2009. The company's earnings before interest and taxes are rising with an EBIT year-over-year of $55.34 million for 2010 vs. $25.33 million for 2009.
Here is a look at the fiscal year revenue.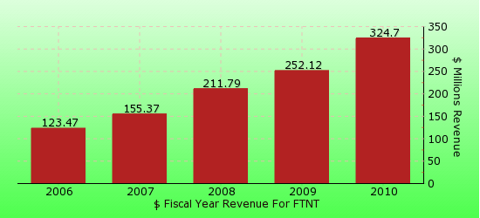 Here is the last few quarters to get an idea how well they perform compared to estimates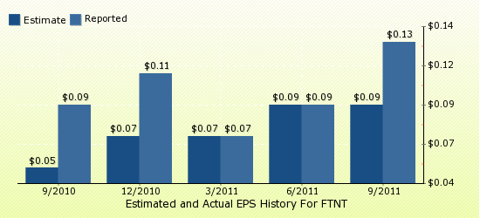 Reported earnings per share compared to the mean estimate. Differences are rounded.
The total short interest number of shares for FTNT


The number of days to cover short interest based on average daily trading volume for FTNT


Thank you for reading my article. Please also feel free to share your thoughts and comments.
I use a proprietary blend of technical analysis, financial crowd behavior, and fundamentals in my short-term trades, and while not totally the same in longer swing trades to investments, the concepts used are similar. You may want to use this article as a starting point of your own research with your financial planner. I use Seeking Alpha, Edgar Online, and Yahoo Finance for most of my data. I use the "confirmed" symbols from earnings.com that I believe to be of the most interest.
Disclosure: I have no positions in any stocks mentioned, and no plans to initiate any positions within the next 72 hours.