The Federal Reserve seems likely to increase investments in mortgage-backed securities in its on-going efforts to prop up the housing market. As a part of my on-going thesis that housing will finally bottom in 2013, it occurred to me that I should have some exposure to mortgage-backed securities. Just like buying gold is partially a bet that the Federal Reserve will keep destroying the value of the U.S. dollar, buying mortgage-backed securities is partially a bet that the Federal Reserve will keep parking a good chunk of its printed money in these securities.
Dynex Capital (NYSE:DX) is one of several companies in the business of buying mortgage-backed securities. Specifically:
Dynex Capital, Inc. is a real estate investment trust, or REIT, which invests in mortgage loans and securities on a leveraged basis. The Company invests in both Agency and non-Agency securitized mortgage products. The Company also has investments in securitized single-family residential and commercial mortgage loans originated by the Company from 1992 to 1998. The Company finances it investments through a combination of repurchase agreements, securitization financing, and equity capital. (Company profile)
Dynex Capital came to my attention because on Friday the company raised more equity capital by pricing a 12.5M offering of stock at $114M (or about $9.12/share). This represented a small 3.8% discount from Thursday's close. Given the tremendous surge in trading volume to 5.2M shares, it seems that the market welcomed the increase in liquidity in the company.
click to enlarge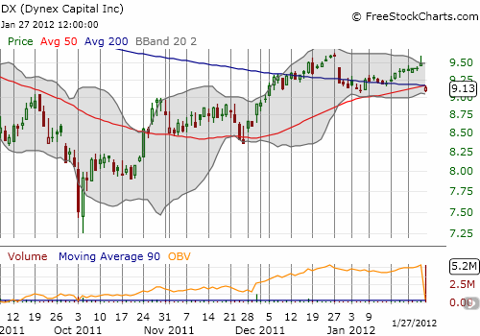 Click to enlarge
Dynex Capital is now down slightly for the year.
While DX is up a hefty 22% from the 2011 lows in October, the stock has been a relatively steady performer for many years. That is, dips in this stock have consistently represented buying opportunities for long-term holdings. The weekly chart below shows a stock experiencing a steady, multi-year recovery.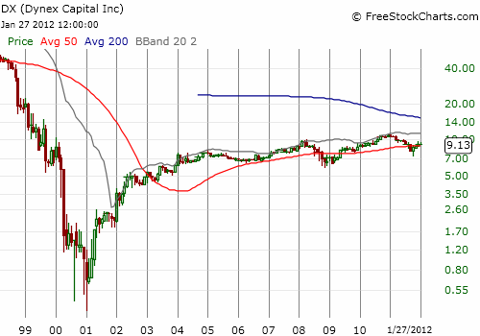 Click to enlarge
After a near-death experience in the 2001 recession, Dynex Capital has experienced a relatively steady recovery
A yield of 11.8% makes Dynex worth the wait. I bought a first tranche of stock on Friday just in case I do not get an opportunity to buy a lot more at even lower prices (yes, I am kicking myself for missing this one in last year's sell-off). The dividend was last raised December 8, 2011 from $0.27 to $0.28 per share with the following statement:
We are happy to be able to increase our dividend this quarter. Fundamentals are strong and our portfolio continues to perform well. Most aspects of our business are showing solid results and our net interest spread has improved modestly during the quarter. Prepayments this quarter have been lower than forecast and credit performance thus far has been favorable…While one can never be certain of the future, these trends allowed the Board to increase our dividend this quarter. We are committed to providing an attractive risk adjusted total return to our shareholders and this dividend increase is a step in delivering on that commitment…
The ultimate clincher for me with Dynex is that company executives loaded up on stock last year. Chairman and CEO Thomas Bruce Atkins purchased 81,088 shares for a total value slightly over $700,000. Executive Vice President and Chief Investment Officer Byron L. Boston purchased a much smaller stash of 2,297 shares for a total value of $19,000. I have added Dynex to my list of stocks that should not be ignored because of the support of insider-buying.
The biggest concern with moving into housing-related stocks at this point is that the stocks representing this industry have run so far, so fast in the past few months. In fact, we have been here before, twice. The SPDR S&P Homebuilders ETF (NYSEARCA:XHB) has found support roughly between $13-14 three times, including 2011′s bottom. The weekly chart below demonstrates the rough contours of XHB's three "recovery runs."
The first one ended with a near parabolic move in one week in April, 2010. The second recovery run lasted almost a year before succumbing to last year's sell-off. This current recovery run is the steepest yet. Note well that the net result of all this volatility is that XHB has essentially gone nowhere for the last two and a half years, hardly a blistering pace. So, whenever the bottom-fishing and quick trading in housing-related stocks gives way to real bets on an eventual housing recovery, these stocks should see significantly more upside on a breakout type of move.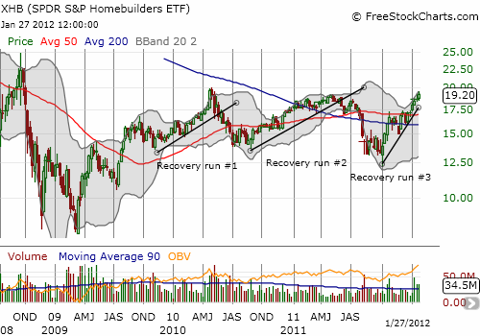 Click to enlarge
Could the third time be a charm for XHB?
Source for all charts: FreeStockCharts.com
Be careful out there!